Well, it looks like there's even more fallout from the controversial cucumber challenge.
As we reported recently, the challenge is basically women showing off their "oral talents" on a cucumber.
Lil Boosie shared one woman's video on his Instagram account.
YFN Lucci commented and left an upside down smiley face on the post.
This angered Reginae and she called him a clown in response.
They have since broken up, leading to a very petty back and forth on Instagram.
Now "Love And Hip Hop Atlanta" star Akbar V is getting caught up in the drama.
Apparently, she took Masika Kalysha and Kash Doll's call to stop the challenge personally. She herself has uploaded her own participation video days ago.
Check out Masika's tweet and Kash Doll's video below.
View this post on Instagram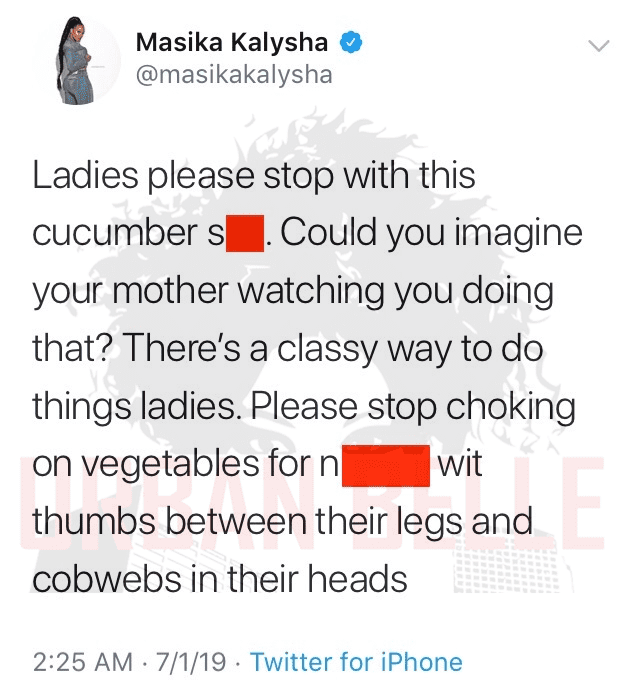 Akbar responded. In her response, she called Masika out for having a baby after Fetty Wap allegedly asked her to get an abortion. As for Kash Doll, she said it's hypocritical to be offended by the cucumber challenge and not twerking.
Akbar also accused Masika of sleeping around with people in the industry.
Of course, Masika responded. She stated she wasn't even talking about Akbar and had no idea she made a cucumber challenge video. But she threw some shade and recommended Akbar focus on getting custody of her kids.
Check out the video below.
View this post on Instagram