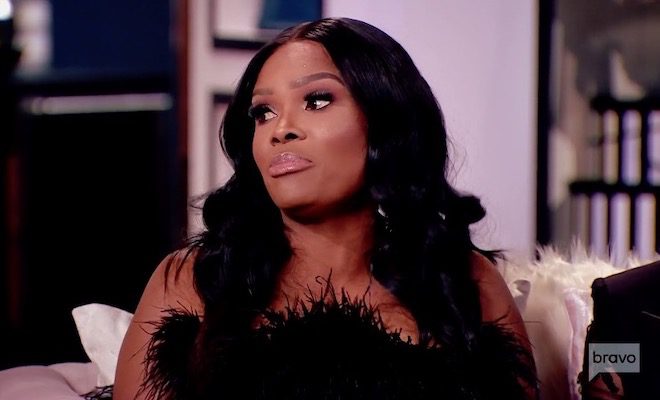 Jackie and Simone discuss their friendship.
Both women admit they aren't as close as they used to be. Simone makes it seem like Heavenly is to blame for that. Apparently, Simone is upset about all the things Heavenly has said about Cecil. She says that she can't be friends with Heavenly after all the things Heavenly said about her and Cecil.
Heavenly and Simone end up arguing and Simone calls her the "biggest, ugliest liar" there. Regardless, Heavenly says Cecil started it and he tweeted her first.
Jackie and Simone hug it out.
Simone breaks down in tears when she once again says she's not as close to Jackie anymore. She denies that Jackie's friendship with Heavenly bothers her. Andy says that's clearly a lie.
Both Jackie and Simone admit they haven't even been spending time with each other. After they both say they want to be around each other again, Jackie walks over to hug Simone.
Jackie says she would leave the show before she loses friendships.
Quad and Mariah are up next.
They discuss the drug accusations. Quad says Mariah took a "planned drug test." And she saw Mariah do drugs about 8 years ago.
Mariah brings up the interview Quad did with the Jasmine Brand when she said Mariah comes to film with coke on her nose and producers worry about Mariah's kids. Toya, Simone, and Buffie say they have never seen Mariah show up high to film the show.
Mariah admits that she holds Jackie to a higher standard and she was disappointed Jackie repeated the accusations on her podcast and didn't say, "alleged."
Jackie says she's never known Mariah to be on drugs.
Quad gets mad and says she doesn't want to have to expose Mariah some more but she will if she has to.
Lake is brought up.
She then brings up the accusations about her allegedly sleeping with Lake's ex-husband. Mariah says Quad had the whole season to address Lake about it and never did. And Lake is who she needs to talk to. And the police report and court documents are out there.
After Quad says she will take a polygraph test, everyone is stunned. But Mariah says they can do that. After a lot of screaming, Andy says it's time to move on.
Lisa Nicole Cloud has something to say.
A viewer calls Quad out for having a man come to her event to accuse Lisa Cloud's husband of sleeping with him. Quad defends it and says that she can't help what other people say.
Andy says Lisa wrote in and asked how Quad feels to get her karma via a divorce from Greg. Quad claps back that she did something Lisa didn't have the courage to do herself.
When Andy asks if anyone believes any of the accusations made by Quad and Mariah, it's clear none of the women do.
The husbands talk to Andy.
Cecil says that Greg is doing very well and they still hang out. He's happy in his current relationship. Even though the marriage is over, Greg has nothing but nice things to say about Quad. As Quad hears this, she breaks down in tears. Contessa consoles her.
The men talk about their night with the strippers. Damon says he didn't like the dancer on him because he prefers to stay in his own lane. He doesn't like too much attention or drama.
Simone and Heavenly go off on each other.
Damon also says again that he wasn't happy to see the model pick up Heavenly at Toya's Sip and Paint. After Heavenly says Cecil needs to own being a mitch aka "man b*tch," Simone gets fired up. She accuses Heavenly of defaming Cecil and says he's not always drunk. But he got drunk with Damon one night so "b*tch f*ck you." Heavenly also says, "b*tch f*ck you" and gets taken away by Contessa.
What are your thoughts on part two of the reunion?
View this post on Instagram
View this post on Instagram
View this post on Instagram
View this post on Instagram
View this post on Instagram