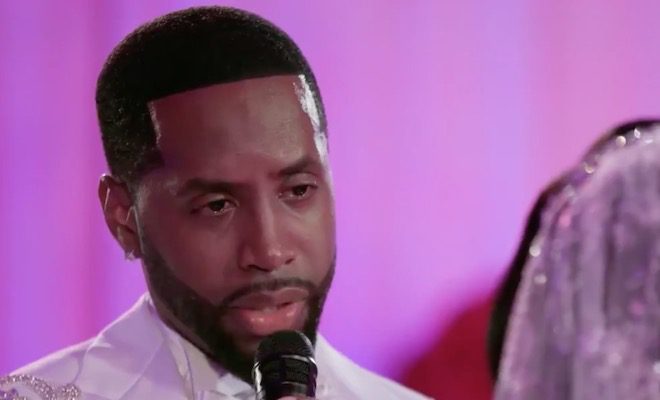 Safaree vents to Yandy.
After having a blowup with Erica at the bachelorette and bachelor party, Safaree goes to Yandy's place to vent. He explains that he invited Rich to his party and this didn't sit well with Erica. He didn't like how Erica's friends came for him about it.
Yandy says that it's normal to have problems in a relationship, but you just have to commit to fixing them. Safaree says that he doesn't feel as happy as he did the night he proposed and Yandy says every day won't be great. But walking away from the commitment over one fight doesn't make sense.
Regardless, Safaree says he doesn't want to tolerate negativity because it will only get worse with time. He storms out of Yandy's place.
Remy gives Erica advice.
Erica isn't in the best headspace either. She talks out her feelings with Remy. Erica doesn't understand why Rich was there because Safaree knows how much Rich has disrespected her over the years.
Remy says that Erica needs to understand that great marriages are about being able to work out issues and loving each other more for it. But Erica says all she wanted to do was see Safaree step up and protect her. While she gets he's not a confrontational person, as a man Safaree should have stood up for her.
Tahiry wonders if the wedding is still on.
Kimbella gets a call from Juelz. He tells her that he got the pictures she sent him. Juelz really wishes he was there with his family.
She tells him that she's in a good place with Chrissy. He's happy to hear this because he's very close to Jim. So Kimbella tells him that she's thinking about letting his brother do something with some of the music he's already recorded.
It's the day of Erica and Safaree's wedding. Tahiry shows up to the venue as everything is being set up. She tells Erica that she wasn't even sure that the wedding was still happening after Safaree and Erica clashed.
The couple moves forward.
Safaree woke up with a new attitude. He realized that things won't always be great but he has to always fight for their relationship. He would be a fool to ever walk away from Erica.
When he gets to the venue, his sister gives him a gift from Erica. It's a rosary with a photo of his slain uncle in it. Safaree breaks down in tears and feels so loved.
When they see each other at their first look, both of them break down in tears. Safaree gifts Erica with a love bracelet made out of her deceased father's signature. He wants her to feel like her father is there on her big day.
Jim is back home.
Chrissy catches Jim smoking in the house. She calls him out and they joke about it. He's back from a recent trip to LA. And Chrissy hopes he will be clean in their new house.
They talk about Kimbella. Jim wants to go by and check on her. He'll always have love for Juelz.
Joe has had enough.
Tahiry and Joe speak at the wedding. Joe tells her she doesn't have to be weird and they need to kill the narrative of them trying to rekindle anything. Not too long after, Yandy and Jonathan pull up. Jonathan is Yandy's plus one. There's a bit of back and forth between Jonathan and Tahiry.
Joe tells both that his issues with Cyn are not their business and nothing for them to be fighting over.
Jonathan says Cyn's feelings are his business. He feels it was messy that Erica tried to get them back together. And Tahiry didn't seem to mind this. Regardless, Joe says everyone just needs to mind their business.
Karlie Redd and Sierra arrive and are told they weren't on the guest list. They are asked to sit outside in the reception area.
When Erica walks down the aisle, Safaree weeps.
Jim and Chrissy come through for Juelz and Kimbella.
As they say their vows, the couple sheds some tears. Erica is a dream come true for Safaree. And Safaree is a sense of peace Erica never knew. They kiss and make it official.
Juju, Chrissy, and Kimbella catch up. After Kimbella says that Juelz feels like a lot of people don't care about him anymore, Chrissy hands over an envelope from Jim. It's money and Kimbella appreciates this. Chrissy stresses that this doesn't mean that they think that they need the money. It's just about looking out for family.
Erica catches up with Sierra and Karlie. She explains there were issues with the guest list. But there are no hard feelings between the women.
What are your thoughts on the episode?