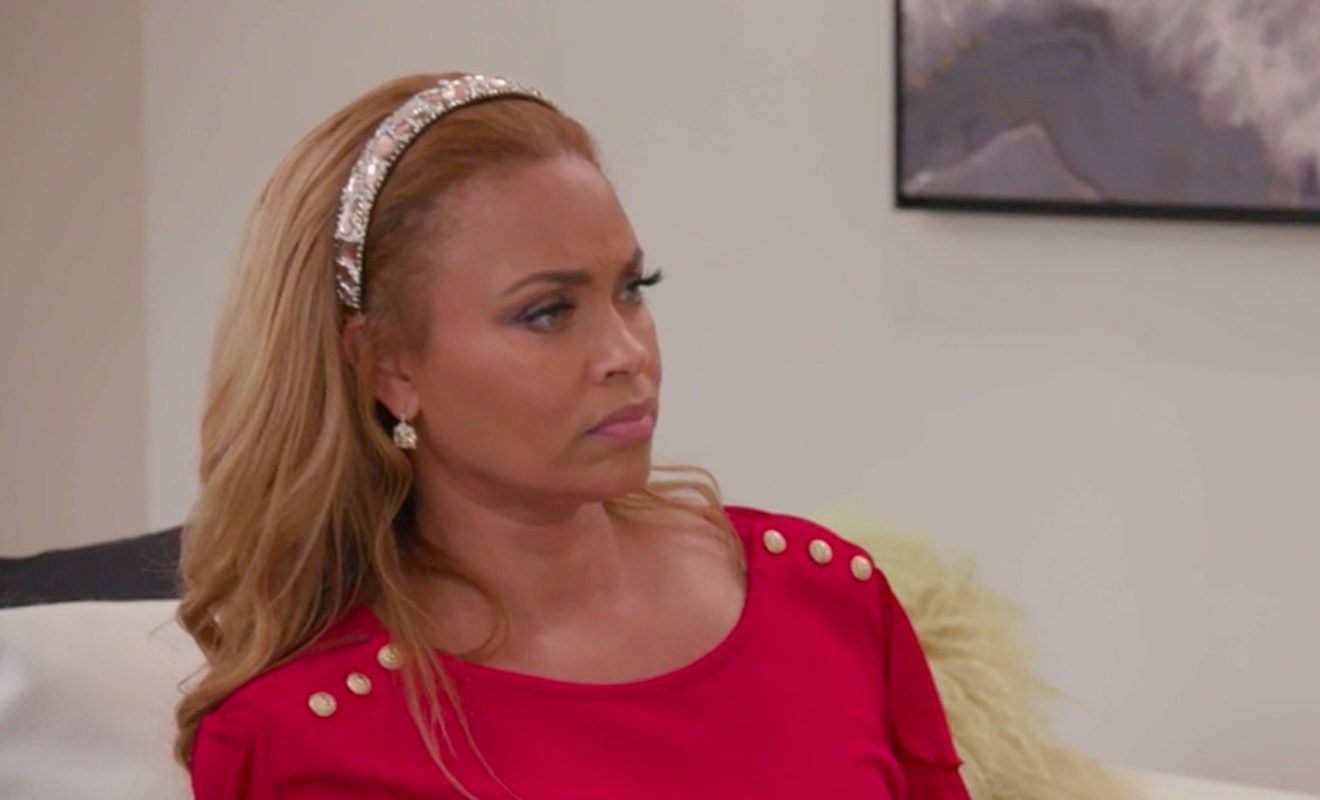 Monique wants to talk about what happened.
It's been five days since the altercation. Candiace says she's still in shock. She doesn't understand how they got there. Monique used to look at her like a sister.
Meanwhile, Monique tells Chris that she's been stressed out lately about motherhood. And after the altercation, she's still trying to piece together what happened. She's not even sure why she has a lip injury. But she's going to set up a meeting at Karen's place so they can all figure out how to move forward. Candiace won't be invited.
Wendy, Robyn, and Gizelle have already decided they are Team Candiace and Monique is the problem.
Candiace isn't feeling Karen's support of Monique.
Karen later calls Candiace and asks her if she wants to be able to speak to all the women after Monique does. This upsets Candiace who says Monique is "dangerous" and "unpredictable" so she can't understand why Karen is extending so much grace to Monique.
At Karen's house, Gizelle shows up with a security guard. After Ashley says Monique said she isn't proud of her actions, Robyn says this is a lie, and shows everyone the tweet Monique penned after which read, "Ask and you shall receive."
The women think the altercation was embarrassing for all black women.
Before Monique gets there, Robyn, Gizelle, and Wendy are convinced Monique has been leaking stories about the altercation to the blogs. Wendy also says she's always on the frontlines fighting for people of color, and this is a bad look for black women.
Gizelle says they have always been able to hold themselves above the stereotypes. Robyn and Wendy agree, once again saying this is bad for black women. And Robyn even goes as far to say that Monique is a bad role model for her daughter.
Regardless, Ashley defends Monique and says that they wouldn't hold men to the same standards.
Monique arrives and tearfully says that she doesn't want to be defined by one bad choice and one bad moment. So she apologizes for putting them in harm's way.
The women aren't here for Monique's version of events.
She tells them Candiace asked what she was gonna do, and Candiace asked if Monique was going to drag her. And when a drink was thrown in her face, she started swinging. After Candiace started yelling insults, which included calling her a hood rat, she wanted round two and ran to find Candiace.
But at some point she feels she may have blacked out and just reacted.
Robyn says that Candiace didn't throw wine in her face. She then asks Monique why she leaked tings to the blogs about the altercation. But Monique says she didn't tell the blogs anything. She told one person what happened two days later.
They ask her about the tweet and Monique doesn't deny what she tweeted. Wendy once again says this is a bad look for black women.
Gizelle leaves.
While at therapy, Candiace says that Monique has not reached out to her. And she's been getting bullied on social media because people think it's her fault. She also says she didn't do anything to warrant her being physically attacked.
Ashley says that she believes Monique understands she has a problem and she will get help. So she supports her.
Gizelle then goes on to say that Monique has shown the real her multiple times when she said she would punch Gizelle in the face, the umbrella situation, and now Candiace. And her daughters don't even want her to be around her anymore.
So she doesn't want to be around Monique anymore, and she leaves the meeting with her bodyguard.
In a green screen interview, Gizelle says that she and Jamal have images to protect. So being around Monique is not a "good look."
After Gizelle leaves, Karen says Gizelle made her mind up before she got there.
Robyn and Wendy aren't convinced.
As for Ashley, she says Candiace has said horrible things to all the women there, including her. So she doesn't understand why Wendy is on Monique's neck.
Monique says that people should also be able to acknowledge that provoking people and saying horrible things is just as bad as being violent. Wendy disagrees and says she didn't fight when she was called the N-word.
At this point, Monique breaks down in tears and says maybe she should just leave the show. For now, she will take a step back. And not show up to group events. She'll also get some help from her pastor.
While Robyn admits Candiace goes too far with her words, she'd never assault her. In a green screen interview, Robyn makes it clear that she thinks Monique is fake for holding Baby Dean during the meeting.
Wendy isn't seeing it for Monique either.
Regardless, Karen and Ashley plan to support Monique through this time.
What are your thoughts on the episode?
View this post on Instagram
View this post on Instagram
View this post on Instagram
View this post on Instagram
View this post on Instagram