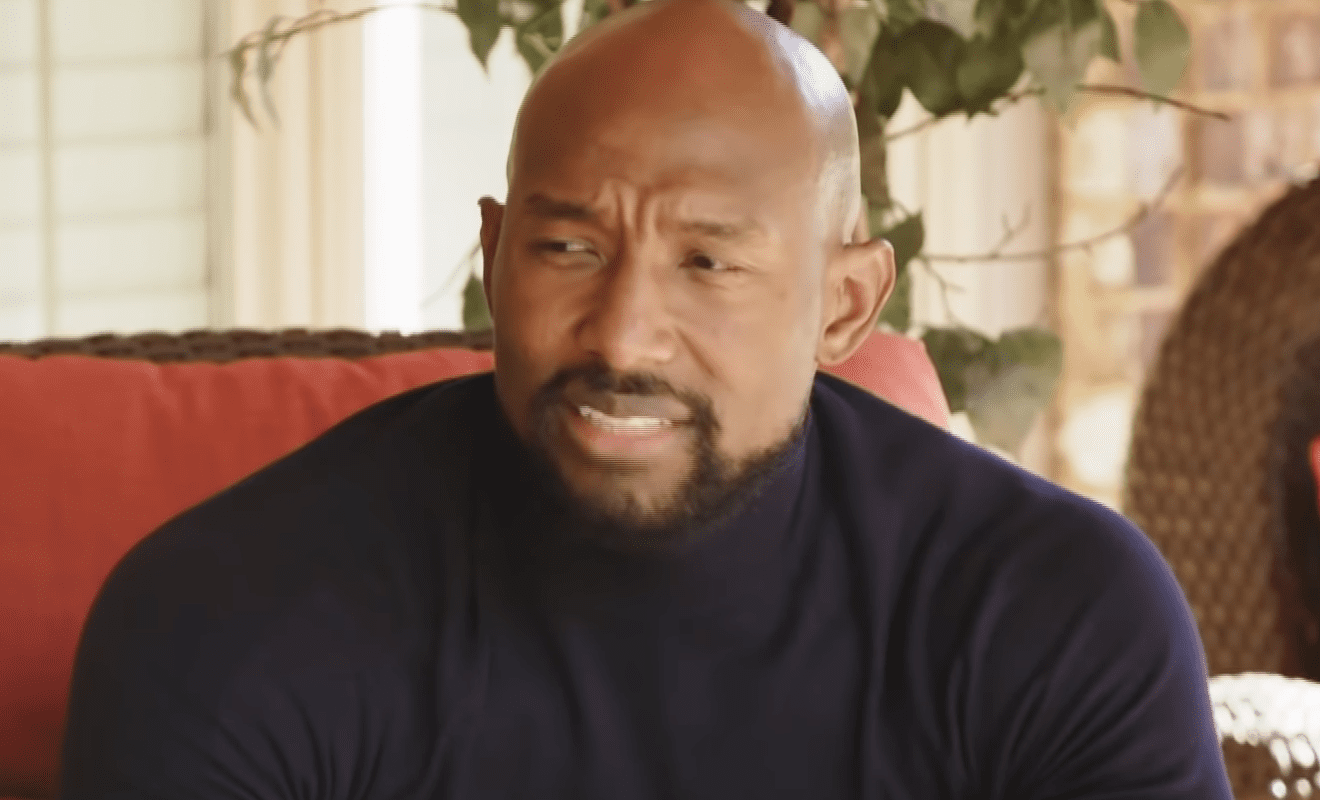 Marsau tells LaTisha she was wrong.
The episode beings with LaTisha cooking breakfast and Marsau notices she isn't happy. He checks in with LaTisha and she vents to him about Destiny's retreat. While LaTisha was reminded of the good times she had in the past with the ladies, she once again clashed with Melody. LaTisha tells Marsau what Melody said and how she "called BS on it," referring to Melody as a liar. 
Marsau says LaTisha started the argument calling Melody's comments BS and needs to take ownership for it. He also doesn't care what Melody and Martell have said. In his opinion, the two of them are drowning. LaTisha says Marsau has a point as Melody shouldn't control her happiness. 
Kimmi and Melody catch up.
Speaking of Melody, Kimmi stops by Mel's house to talk. Of course, Kimmi and Melody talk about the girls' trip and how LaTisha was negative towards Mel's vulnerability. Melody tells Kimmi she should've spoken up. However, Kimmi wants to stay out of it and both Melody and LaTisha have their own truths. Melody then drops the news of Martell's baby with Arionne on Kimmi. This news shocks Kimmi but she still stands on what she said about Martell, calling him a "nice guy." 
Next, Kimmi brings up an Instagram post of Melody seemingly on a date. Melody plays off the question, saying she's learning what being a single woman is like. In her green screen interview, she says pities Martell. She believes he just wants to hurt her since he doesn't have control over her.
As Kimmi talks to Melody, Maurice hosts Martell at his office. Martell is asking for advice regarding his divorce. Maurice asks if he wants to go through with the divorce and Martell says no. Martell brings up how he had what he wanted in marriage with Melody. Maurice brings up his experience with his divorce from Kiuwa and how his light was dim in him until he got married to Kimmi. And despite that marriage, his son with Monster is still dealing with the fallout from the divorce. 
Deep down inside, Martell wants his family still intact and this divorce doesn't feel real. 
Marsau makes a surprising decision.
Blaque Cigar Lounge is almost ready for the soft opening and LaTisha's excited for a tasting. As they taste the food for the soft opening, Marsau gives his feedback about the food as they feel it's lackluster. This leads to Marsau talking to LaTisha about a General Manager for the event. While she has an interview lined up with an experienced person, Marsau wants to hire Jaylin. This frustrates LaTisha but Marsau believes Jaylin is the right person for the job. 
The next day, Marsau is with the chef going over plate presentation for the menu and their soft opening. Jaylin stops in as Marsau wants to interview him for the General Manager role. During the interview, Marsau asks Jaylin about something he failed at. Jaylin takes a bit of time to answer the question, which doesn't go over well. Despite this, Marsau trusts Jaylin and feels he will do his best for the cigar lounge. 
Meanwhile, Melody's removing signage from her office. Holt & Holt is dissolving and she's feeling emotional about it. So it irritates her when Marsau stops by for a chat. Melody tells Marsau this office is going to be her office but for her exclusive company. Marsau made an "executive decision" to extend an olive branch between Melody and LaTisha. Interestingly enough, this move goes well. Marsau says if they both want positivity, they'll move forward. 
He asks Melody to stop by at their soft opening and warns her Martell was invited. Melody brings up how he and Martell dogged her out on social media. In her interview, Melody says Marsau gets on her last nerves and she isn't sure if she'll show up. She then cracks jokes about Marsau taking a long time in actually completing the lounge. 
Melody gets blindsided by Chris and Nell Fletcher.
The next day, Chris Fletcher's wife Nell invited her over for a talk. However, this talk seemingly blindsides her. It's an intervention for her and Martell and Chris invited Martell over for the talk. However, Melody isn't interested in moving forward with any kind of marriage with Martell and doesn't appreciate the sneaky move. 
But they've counseled the Holts in the past so Melody will stay. Martell is happy Melody didn't drive off when she learned he was present. 
The talk begins with Chris and Nell speaking about their experiences with infidelity. Chris says Martell has to man up and own his mistakes and Melody has to be willing to take him back. Nell asks if they want to be married to each other and Melody laughs it off. This irritates Martell. This makes Martell claim how he was busier with the kids, bringing up their last argument. Apparently, Martell says he was burned out taking primary care of the kids. 
An argument spurs up when Melody brings up Arionne's pregnancy. Melody brings up she lost respect for Martell. Nell says Martell is making a laughing stock out of Melody. 
Martell crosses the line.
Things get tense when Melody says he slept with multiple people in their marriage. This causes Martell to yell at Melody to stop claiming to be a victim. He says he stepped out when Melody "stopped" taking care of him. Melody then throws a glass when he says Arionne "[BLEEP] takes care of him." 
Mel has to be held back by Chris and Nell pulls Martell away. Nell apologizes for even setting this up as Melody cries out about Martell constantly triggering her. When he walks to his car, Chris slowly walks up to the passenger side to listen to Martell. Meanwhile, Melody vents to Nell about everything, crying in her arms. 
In his interview, Martell says dealing with Melody is like dealing with a double-standard. When Melody calms down, she apologizes to Chris and Nell for her outburst. She then brings up how Martell had two prior mistresses before his current one.
At the end of the episode, Melody says Martell is getting the ending he regrets. 
What are your thoughts about the episode?