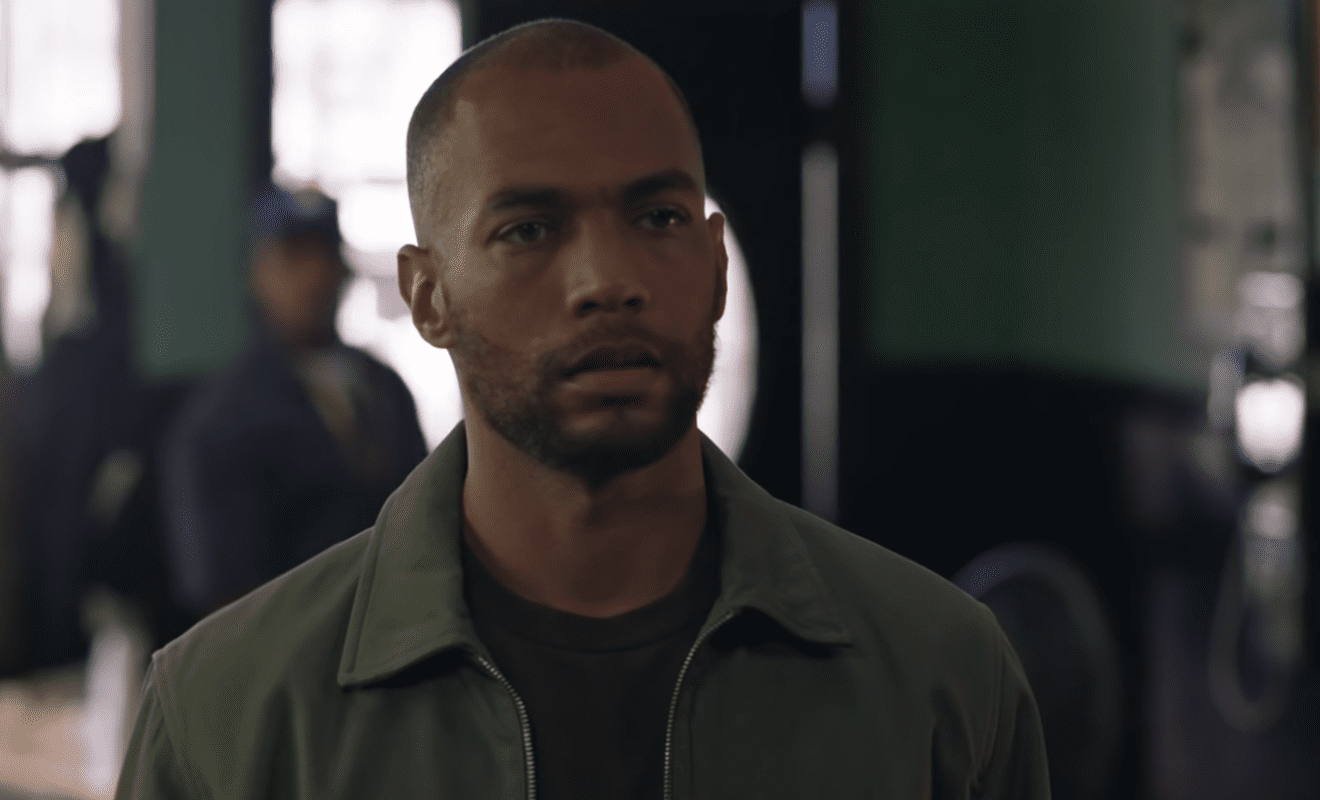 Issa runs into Condola and Lawrence.
The episode begins with Issa running across Condola and Lawrence at the hospital. Out of panic, she yells out "wait" to get their attention. Despite the interaction starting off awkwardly, Condola lets Issa hold the baby. Suddenly, she throws the baby across the hall and kicks Condola into the stroller before walking away. 
Luckily, this was a dream and she snaps out of it at home. She then looks at Lawrence's Instagram account and begins to wonder about him. She's surprised he moved back to LA. To distract herself, she calls Nathan over and they sleep together. When they're done, they cuddle in bed yet Nathan remains distant. 
Later on, Nathan's at the shop, and Suge is late, irritating his customers and the other barbers and stylists. To appease one of Suge's clients, Nathan offers to cut his hair which is a huge no-no in the barber world. Meanwhile, Issa's delivering food to Molly's family. Molly's at a retreat and she feels guilty about taking the work trip in light of everything going on with her mom. Issa does her best to let Molly know her family has everything under control. 
Crenshawn's slander causes Issa to lose clients.
Issa's in the Fairfax district with her assistant and they meet up with black artists regarding an Art Walk she's planning featuring Black artists. The artists notice she did previous work with Crenshawn and they aren't warm to the idea of working with Issa in light of the controversy. 
Later that evening, Molly's with the other lawyers from the firm and they are enjoying their time together. They all mention that Molly was hard to work with at first.  However, they love Molly now. They had a red good time and drank a lot. So much so, Molly woke up with a watch in her bed not remembering what happened. When Molly meets up with her other partners, they let her know that she was the life of the party. 
To try to make up with Crewhawn, Issa stops by his studio with brownies as an olive branch. When she meets with Crenshawn, she apologizes for everything that happened. But this leads to a tense conversation between the two. Crenshawn feels Issa doesn't have integrity. In fact, it inspired a new sweatshirt line. 
Nathan clashes with Suge.
Back at the shop, Suge walks in and is mad at Nathan. He feels Nathan stole a client. Things get tense when Suge calls Nathan crazy, bringing up his bipolar condition. Before things turn violent, Suge's client walks in, and things break up.
Back at the retreat, Molly's struggling as her phone is blowing up and she's distracted with what's going on at the hospital. Later on, Taurean checks in on Molly to find out what's really going on. Finally, Molly opens up about her mom having a stroke. Taurean empathizes with Molly and brings up a similar family issue he had. His brother battled cancer. He then tells her that they can't let work get in the way of their personal lives and issues. This seemingly causes weight to be lifted off Molly's shoulders. 
Molly gets good news about her mom, and Issa and Nathan clash.
Meanwhile, Issa runs into a happy Condola talking crazy to her about Lawrence and their relationship before she kicked Issa into a pile of trash. Luckily, it's just a dream. 
Back at the hotel, Curtis calls Molly with good news. Their mom is awake and is about to be discharged from the hospital. While she can't talk, she can clearly communicate with Molly. This causes Molly to cry tears of joy. When Taurean stops by with a swag bag from the event, they hug. Meanwhile, Nathan tells Issa he's not into being at the shop anymore and that LA may not be for him. This causes an argument between Issa and Nathan. He calls Issa inconsistent. Issa questions why he didn't think of her before considering moving out of LA. 
The episode ends with the two sitting quietly eating dinner with their argument unresolved. 
What are your thoughts about the episode?