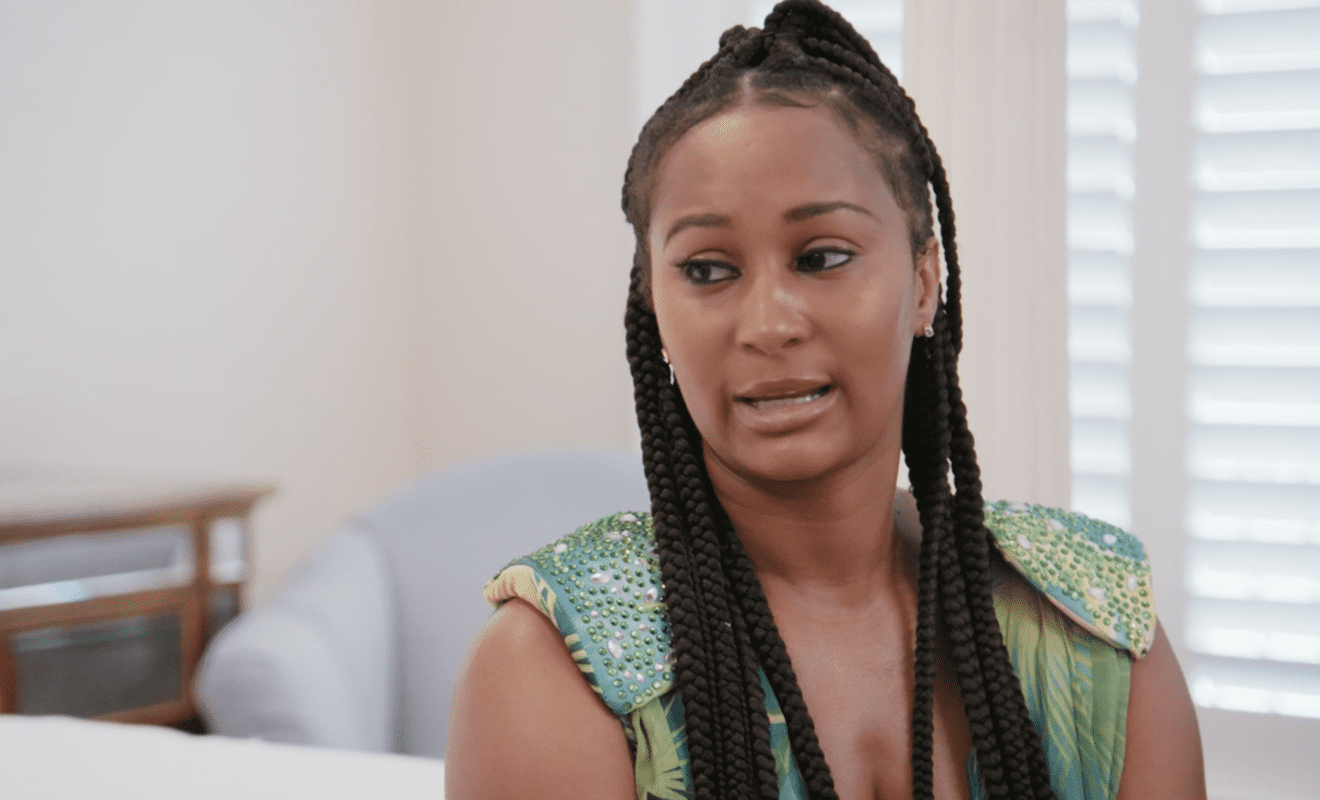 Melody vents to Vanessa.
The episode continues with Melody's Destin vacation. Melody's getting dressed when Vanessa walks into her room. Vanessa arrives to cheer from her grandkids.
While Martell plays games with the kids, Melody vents to Vanessa about the trip, specifically how Martell invited LaTisha and Marsau to the house.
Meanwhile, Martell tells Marlene he's thankful to be on the trip with Melody and the family. This makes Marlene happy since her heart broke during their divorce. In a flashback scene, Marlene is seen crying as Martell tells her about the divorce and getting his mistress pregnant.
They both agree he and Melody need to always do what's best for their children. Martell is going to enjoy the rest of the vacation because he doesn't know if this could happen again.
Melody rents a yacht trip for the family.
After the talks, the entire family heads out to enjoy another day in Destin. This time, Melody rented a yacht and the kids are excited about it. Martell notices Melody took a shot at him when she asked him if this was the first time on a yacht. In an interview, Martell said he's going to not let the jab damper the trip.
Despite this, Melody and Martell have a good time with the kids on the boat, despite Melody being shady towards him.
Marsau learns details about Kimmi's diagnosis.
Back in Huntsville, Marsau returned home from his vacation and he's tearing down a fence. Maurice stops by to tell his brother about Kimmi's diagnosis. Marsau knew about the diagnosis as LaTisha told him. However, he doesn't know all of the details. Maurice tells him that it's an aggressive form of cancer that was caught early.
Marsau's biggest concern is how Maurice is taking the news. Maurice feels bad because Kimmi missed a mammogram because he pushed her to do real estate. Despite this, Marsau tells Maurice to not beat himself up about it.
Marsau listens as Maurice tells him he's scared for Kimmi. Despite this, Marsau does his best to talk to his brother, telling him to be honest with Kimmi.
The two hug and shed tears when they end their conversation.
Martell apologizes.
Eventually, the storm in Destin passes and the Yacht Melody rented sets sail. Melody is relieved as she was able to fulfill her kids' dream of riding on a boat. While they're in the water, Melody and Martell are talking with their moms and Martell says he's healing from the divorce.
He explains how he didn't retaliate at the shade Melody clearly threw his way. Vanessa says he and Melody have to continue respecting each other.
During their talk with Marlene and Vanessa, they talk about how Marlene raised Martell and his sibling. Melody says it explains how and why Martell acts the way he does. Vanessa tells Martell and Melody that they're still family even though they are no longer married.
As day turns into night, Martell takes everyone out to dinner. Melody's surprised to learn she and Martell are sitting separated from their kids and parents. She hopes this isn't another attempt to reconcile. But Martell wants to use the dinner to talk. He wants to let her know he's ready to move forward with their co-parenting relationship.
Melody isn't too interested in re-hashing things from their past. Despite this, Martell's adamant he's ready to move forward. She does let Martell know it was inappropriate to invite LaTisha and Marsau over. Melody lets it be known that the Scotts will always be her enemies and Martell was the ringleader for turning them against her.
Martell tells Melody to stop talking. This really irritates her. She wants Martell to own this behavior and he keeps sidestepping. Martell does his best to bring their conversation back on track.
As the conversation progresses, Martell reveals he's open to attending parenting classes. He also accepts accountability for everything he did and should've been a better person in their marriage. Melody appreciates hearing this from him.
The vacation ends with Melody and Martell in a good place.
In the morning, everyone is prepping to leave. But before they do, Martell and Melody have a talk on the balcony of their vacation house. The conversation starts off rough when Martell tells Melody she should "give a little" referring to the separate table for them at dinner.
Despite this, Melody is willing to keep moving forward as long as the past remains in the past. But Martell wants answers as to what went wrong in the marriage before the cheating.
Melody brings up that they could do vacations together as a family especially if they are dating other people. She also says as long as he respects her boundaries, all will be good. Martell brings up how he had to overlook a few triggers to keep the positive energy going.
It's Martell's hope he and Melody can continue being good co-parents.
What are your thoughts about the episode?
View this post on Instagram
View this post on Instagram
View this post on Instagram
View this post on Instagram
View this post on Instagram