By: Amanda Anderson-Niles
The Rihanna Karrueche Tran twitter beef continues. If you're like any one of the millions that follow Rihanna for her daily Twitter rants and epic shade throwing, then you know that Rihanna doesn't throw shade for no reason. In fact, when she usually does throw shade, it's usually to ex boyfriend Chris Brown's girlfriend of two years Karrueche Tran. While Karrueche Tran has been one of Rihanna's favorite victims for Twitter beef, his ex girlfriends aren't off limits either. Draya, who's sole relevance is tied into her stint on Basketball Wives isn't safe from Rihanna's mastered skill of epic wig snatching cyber style. Sure it's 2012 and Chris and Rihanna seem to be cordial again, but that doesn't make the Rihanna Karrueche Tran twitter beef null for the feisty pop singer.
Last night, Rihanna snatched more wigs and scalps after a fan tweeted Rihanna a congratulations on nabbing yet another magazine cover and fashion spread. Rihanna seemed mighty proud to be on the cover of Bazaar, but she also needed to drag Chris Brown's girlfriend Karrueche Tran and ex girlfriend Draya since both are "models" who can't seem to actually be caught dead modeling…unless anyone is counting Instagram uploads.
Here's Rihanna's tweet which eventually set off hilarious responses from Karrueche Tran and Draya:

Of course, both responded accordingly. Draya SEVERAL times: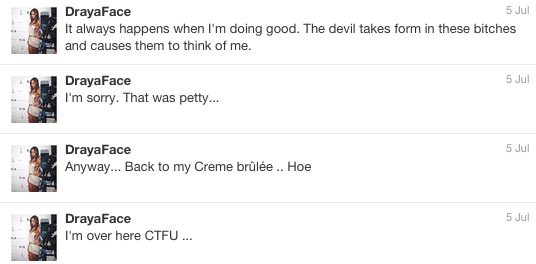 Leave it to Twitter to make being messy even easier for celebs and their pseudo famous enemies.