By: Amanda Anderson-Niles
Are Jennifer Williams and Terrell Owens dating?Jennifer Williams might be basically a single woman after filing for divorce from her estranged husband Eric Williams, but it surely doesn't mean she has a steady man just yet. Despite that, for the average celebrity, a picture is really a thousand words for the press. So even when someone is pictured with a person, it's not uncommon for dating rumors to begin to circulate the gossip blogs. Sometimes the speculation is right on point, and other times the rumors are way off base. But when Jennifer Williams was spotted out shopping with former NFL Terrell Williams, rumors began to surge that the two were an dating. We have to say we found that hard to believe since Terrell Owens seems to have a distinct interest in white women only these days. Regardless, here's one of the photos that drove the urban gossip blogs crazy yesterday:
Of course, it was only a matter of time before Jennifer took to her Twitter account to set the record straight. So is she dating Terrell Owens?
Peep the tweets: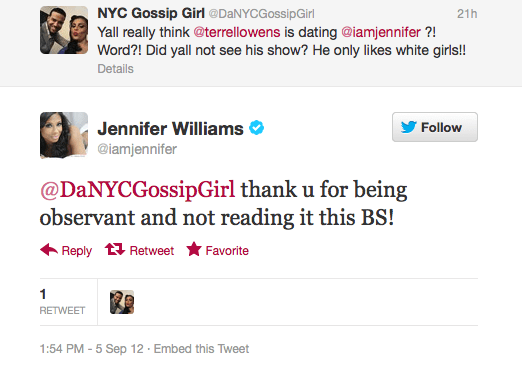 Well there you have it. Looks like Jennifer Williams and Terrell Owens are NOT dating.