By: Amanda Anderson-Niles
Kim Kardashian's relationship with Kanye West has been a controversial one, and they're only a few months in. But judging by the personalities of the two, it's clear they probably wouldn't have it any other way since both absolutely crave attention. Despite that, that alone is what makes Kanye's close friends Beyonce and Jay-Z incredibly different. Beyonce and Jay-Z have worked effortlessly to keep the details of their own relationship private. And although they have been married for 4 years, we just saw a glimpse of Beyonce in her wedding dress for the first time last year. And with the birth of the couple's first child, daughter Blue Ivy, it's clear that Beyonce's fan base is itching for a more personal side to Beyonce, and as a result, the singer has launched her own Tumblr blog to post photos and letters for her fan's indulgence. Besides a few photos and videos, Beyonce still has managed to maintain privacy for her own personal life.
But many feared that would be compromised if she ever embarked on a friendship with Kim Kardashian. So when the two were spotted looking friendly at a Watch the Throne concert, many of Beyonce's supporters were outraged. The anger allegedly became too much for Beyonce and as a result, they say she has began to distance herself a bit for Kim to keep her fan base happy. And the other day, reports even suggested that Kim might be feeling the same way, as both barely said a word to each other at Jay-Z's performance the other day; a stark difference from when the two were laughing it up at the Watch the Throne concert. Both camps insist there's no beef between the two, but according to some recent gossip, they say Kim Kardashian and her handlers are on a mission to make Beyonce look like a major b-tch, all in an attempt to make Kim look like a victim who's only wanting acceptance from her boyfriend's friends.  And one of our industry friends said specifically that Kim is so desperate to get sympathy from the public while she goes through her divorce proceedings from Kris Humphries, that she has no problem throwing Beyonce under the bus in the process.
Here's what they said:
"Kim' s handlers are some of the most cut throat people in the business. People can't understand why Kim Kardashian won't go away…but I'll tell you why she hasn't gone away. Her publicist actually sends fake stories, good or bad to the blogs daily. Kim doesn't mind when she gets negative press, she worries when she doesn't get any press at all. And Kim tweets controversial pictures just to make sure she'll get some action from the press. And it works every time. Her new target now isn't her ex husband to be Kris, but Beyonce! She needs to play the victim role, so she can get the public to forget about her divorce and make her become favorable. Kim will do anything to clean up her image right about now. She wants to be a real actress and get into fashion, but her image is tainted. So expect some bizarre stories about "Bad Ole Beyonce" very soon. Her team is set to make Beyonce seem like the typical mean girl who refuses to accept her friend's new girlfriend."
We weren't sure about this piece of gossip, but then we saw this:
Beyonce Knowles has reportedly accused Kim Kardashian of trying to steal the limelight from Jay-Z.

The incident apparently took place at the Budweiser Made In America music festival last weekend, the 42-year-old hip-hop star's other half got upset when Kim, 31, tried to be included in a Ron Howard documentary that was being filmed at the Philadelphia event about the rapper.

An eye-witness told website Radar Online: "Kim was desperate for attention in the VIP area and was getting in the way of cameras that were supposed to be filming Jay-Z.

"She kept saying she was a huge fan of Ron Howard and would do anything to be cast in one of his films, so Kim was using this as an opportunity to impress the movie maverick.

Beyonce, 31, politely reminded Kim that the short wasn't about her, but Jay-Z told her to make peace with the 'Keeping Up With The Kardashians' star – because of his friendship with her boyfriend Kanye West.

They continued: "However, Beyonce wasn't amused that Kim was using her husband's documentary to audition for Ron.

"So, she took Kim to one side and told her that the day wasn't about her, it was about Jay-Z, his work in organizing the event and there were other celebrities and musicians there that needed coverage too.

While Beyonce is said to have made peace with Kim, she apparently was comforted by her mother after the altercation.

The insider added: "Step forward Jay-Z, as gracious as he is, to act as peacemaker. He said to Beyonce that she needs to play nice with Kim because he is pals with Kanye.

"Later that night, Kim phoned her mum Kris to complain about the harsh treatment she thought she got at the festival."
And interestingly enough, that very story is spreading like wild fire. (Checkmate, Kim). Oh and if you don't think Kim and her team sends stuff to the blogs, look at this older post, Kim's former PR person admits what Kim does for press:
As a former publicist in Hollywood, there are many things I did, one of the most common tasks was leaking items to the press for former clients.

Leaking photos for a celebrity client, shocking right? Not so much…So as I read today about former client Kim Kardashian's Playboy photos that were recently released leaked, it comes as absolutely no surprise. Surely she had something to do with it to get more attention, because some can never get enough.

While Kim was with ex Reggie Bush, I did many things at her request in hopes of having the public take their minds off stories of cheating scandals and breakup rumors that often circulated. Kim was most often affected by my buddy Fred who runs MediaTakeOut.com. Whether it was staging a photo outside a jewelry store in hopes of leading others to believe she was scouting an engagement ring or sharing exclusive photos of she and Reggie all happily coupled to lead the world to believe their relationship was picture perfect, she always wanted to stay on top of the media circus and on a good note.
And what's Kim's favorite blog? Well MTO of course. The publicist sends a snap shot of one of the many emails they would send. This one was used to spark those engagement rumors that popped up while she was dating Reggie Bush :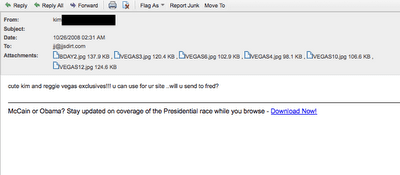 We highly doubt Beyonce told Kim off at any event. From the people we know who work with Beyonce, they say she's an absolute sweetheart. But as more and more "leaks" about Beyonce being rude to Kim (oh, and being jealous too), we're starting to think that this piece of gossip is totally true.