By: Amanda Anderson-Niles
Was Tameka Raymond evicted by Usher? Tameka Raymond seems to make the headlines for virtually the same story every few months. For the last year it seems, the gossip blogs continue to speculate that Usher is putting his home for sale and forcing Tameka to move out of the home that she's been living in since the end of their marriage. Each time the reports reappear, Tameka has taken to her Twitter account to blast the accusations and claim them to be false. So it's no surprise that history repeats itself again when another story of Tameka being evicted continues to spread to the urban gossip blogs.
TMZ reported a couple of days ago that Usher has listed his Georgia home that Tameka is currently residing in for sale for $3.2 million. They also claimed once again the the R&B singer has given Tameka a notice of an upcoming eviction as a result of the sale. Although TMZ claims to have evidence of the listing, it appears that Tameka is still once again resorting to her Twitter account to blast the website for what she says is reporting inaccurate information and downright lies. Tameka Raymond rants on Twitter and claims she was not evicted.
She tweets (read from the bottom up):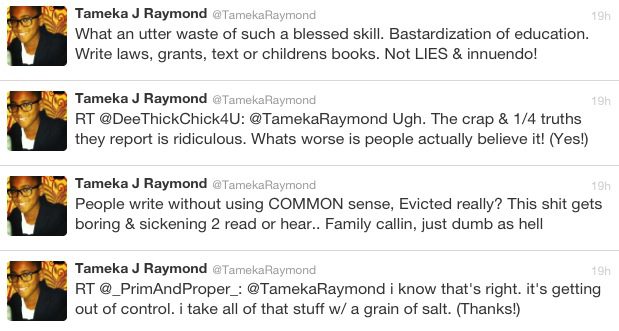 The home Tameka Raymond is residing in does belong to Usher, but as a part of the divorce settlement, she has been allowed to stay in the home. However, Usher can put the house up for sale at anytime according to reports.