By: Taren Vaughan
Nicki Minaj calling Steven Tyler a racist on Twitter? Nicki Minaj holds no punches when it comes to her true feelings about things. And she rarely lets stuff slide when it comes to people's remarks that they make towards or about her. The Head Barb is not known for biting her tongue when it comes to other artists in the industry and has been very vocal when it comes to her beef with fellow 'American Idol' judge Mariah Carey, which has been questioned several times for its realness. Regardless, the topic has continued to be brought up by into conversation, Nicki even letting the beef with Mariah carry over into her new music. Other celebrities even got involved in what was going on between the two, some taking sides in the feud. As Nicki Minaj has had her share of harsh words for both Mariah, and Barbara Walters too over the interview that she did with Mariah, Former 'Idol' judge Steven Tyler is now the latest celebrity to tick Nicki off. Talking with MTV News, Tyler was asked how he felt about the new 'American Idol' judges and how they judged the talent that they saw. And in his response, he made a comment in reference to Nicki Minaj and how he thought she would react to having a contestant like Bob Dylan perform for her during an audition.
And he said:
"If it was Bob Dylan, Nicki Minaj would have had him sent to the cornfield."
Nicki wasn't too happy with what Steven Tyler had to say about her and felt as though his comments were pretty racist (read from the bottom up):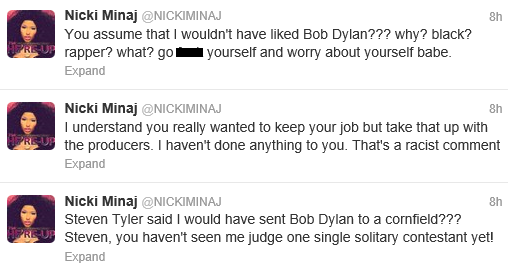 Peep the clip of Steven Tyler's comments that set Nicki off:
Was Steven Tyler out of line with his comments? Or did Nicki read too much into it?
Speak on it.