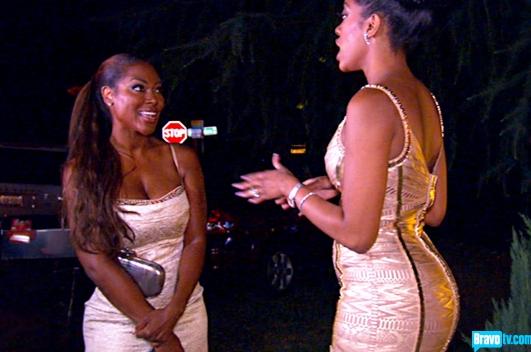 By: Amanda Anderson-Niles
The Porsha and Kenya fight is one of the most anticipated points of Season 5 of Real Housewives of Atlanta. Kenya and Porsha's beef originated from something as petty as Porsha accidentally calling Kenya Ms. America at a charity event. Kenya took the slip up as intended shade, and an argument followed after Kenya walked out of Porsha's event. Since then, both Porsha and Kenya have been going back and forth with trading insults. Kenya seems to think Porsha is a spoiled brat who lacks class and didn't have to work for anything she has, while Porsha seems to think Kenya is jealous that she has a husband and a genuinely happy life as a housewife. The beef eventually leads to a rumored Porsha and Kenya fight, but it was reported a few months ago that it would be NeNe and Kenya to come to blows in front of the cameras. Both ladies denied that on their Twitter accounts.
It appears that Porsha and Kenya's fight may have actually been prevented by NeNe. In a recent interview with US Weekly, NeNe claims that she had to step in and keep the ladies from throwing down in Anguilla. According to Porsha and NeNe, Kenya completely snapped and got vicious to the point that she attempted to attack Porsha.
Porsha tells US Magazine of her altercation with Kenya in Anguilla:
"She called me a f*cking b*tch and I told her she's classless and ghetto. When I'm put in the face of someone who's fake and phony, then we will clash."
NeNe says she wasn't afraid to step in and stop Kenya from taking things too far and getting physical with Porsha:
"I pulled Kenya away because she was going to hit Porsha. She was looking wild and crazy! Kenya claims she's strong but I'm strong too. I was like, "I'll hold you down!'"
Of course Kenya stayed true to her mean girl label and seems to have no regrets about attempting to attack Porsha. She tells the publication:
"Porsha blatantly disrespected me. Listen, I'm from Detroit. I'm not going to let her get away with that type of behavior! Good girls go to heaven. Bad girls go everywhere!"