By: Amanda Anderson-Niles
The crazy Rihanna and Chris Brown saga didn't really turn out like Chrihanna fans expected it. When it was rumored that Chris Brown and Rihanna would be getting back together back in October just days before he publicly called it quits with Karrueche Tran, most us didn't expect Chris to manage to keep both women in his life ever since the public break up. Much to our surprise, the break up only created what looked like a love triangle between Chris, Rihanna and Karrueche. Since ending things with Karrueche, Chris has been splitting his time between both women and hasn't really done much to hide that fact. This hasn't gone over well with Rihanna though, and she's made it clear through her Twitter and Insagram accounts that she was not pleased that Chris has not severed all ties with Karrueche. Although we were informed that Chris is still technically a single man, it was clear that Rihanna wanted him exclusively. Unfortunately for her, not only did she have to share his time with Karrueche, but she also has French reality television stars and random groupies to worry about if she wants Chris all to herself.
In addition to hearing about Chris partying with Karrueche in Paris and friends of the aspiring model telling Wendy Williams that Chris and Karrueche still act like a couple, those close to Rihanna say the singer is emotionally devastated by Chris' behavior. According to a relative, Rihanna is starting to think that Chris will never change.
Well it appears that Rihanna really has reached her breaking point with Chris Brown (at least for now). The singer took to her Twitter account and declared herself as single earlier today: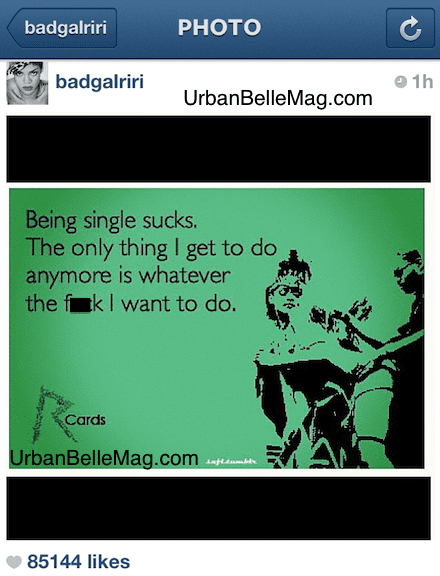 As we recently reported, we did hear that Chris has been single since breaking up with Karrueche in October. We just wonder if this is Rihanna's way of making it clear that she thinks Chris Brown might be a lost cause. It's not like she hasn't thrown shade to him before on Instagram.