By: Amanda Anderson-Niles
Nick Cannon and Mariah Carey's marriage has held steady despite the rumors and speculation surrounding their relationship. It's no secret that many would have to consider Mariah as the one who wears the pants in the marriage considering that the singer has been known to be a certified diva for years. Nick doesn't seem to be phased by Mariah's reputation or diva like behavior, and that's most likely one of the reasons the couple is still together despite  the many rumors that surround their relationship. Nick's even had his wife's back during her whole beef with rapper Nicki Minaj and he's been very vocal about where he stands on the American Idol controversy surrounding the two newbie judges. So one would think a tweet about Beyonce's GQ cover would be completely innocent right? Well it was until it became a cue for random people to bash Mariah Carey's physical appearance.
As we recently reported, it's been confirmed that Beyonce covers the February issue of GQ Magazine. When a photo of the cover leaked on Instagram, the social networks exploded with comments regarding how sexy Beyonce looked despite being a new mom to daughter Blue Ivy.
There's no doubt that Beyonce looked absolutely amazing on the cover, but Nick not only irritated Mariah Carey's fans (which she affectionately refers to as lambs) but his tweet caused many people to drag Mariah Carey and her weight.
Here's what Nick tweeted, but then deleted quickly after when he realized that it might have been out of line and that it caused some sort of Mariah Carey bash:
"Wow, did you see Beyonce on the cover of GQ?"
Nick's tweet caused a flood of Mariah Carey digs: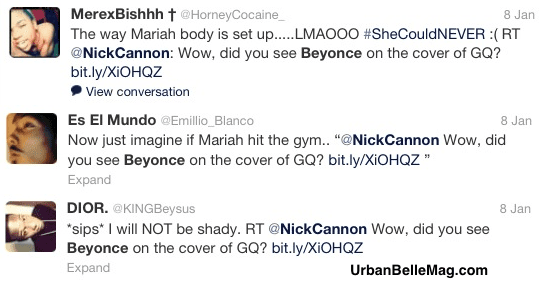 On top of the all the Mariah Carey insults and jokes about her weight, Mariah Carey's own fans were not too happy because they felt Nick was "lusting" for another woman who wasn't Mariah so publicly:
After Nick's mentions were destroyed, he promptly deleted the tweet.