By: Amanda Anderson-Niles
Actress Meagan Good might be enjoying the newlywed life and being a born again Christian, but those new additions to her life haven't been without controversy. When reports confirmed that Meagan was dating and engaged to be married to a pastor, many people expressed their thoughts that Meagan was the last actress they expected to marry a pastor. Meagan took the criticism in good stride, and she hasn't really allowed any of it to bother her much. Besides showing a little irritation on her Twitter account once pictures spread around on the blogs of her grabbing a stripper pole at her bachelorette party, the actress doesn't seem too phased that so many people have something to say about her personal life.
Now that Meagan is married to a young pastor, she is looking at things at lot differently, especially new trends in the Hip Hop community that aren't healthy trends for young people to follow.
If you've been listening to the latest mainstream rap music, you should be familiar with the popular drug of the moment, "Molly." Described by many as the new crack, the drug has been referenced in numerous rap songs by many of up and coming rappers in the business. While many young people are treating the drug like it's nothing more than a fad or party favor, some are preaching against it since it has so many unhealthy effects.
Meagan Good took to her Twitter account to slam the drug and inform her followers of its unhealthy consequences.
She tweets:

Interestingly enough, Meagan's tweet angered people. Her mentions got nasty thanks to people who apparently don't see the harm in "popping a molly." Peep some of the tweets: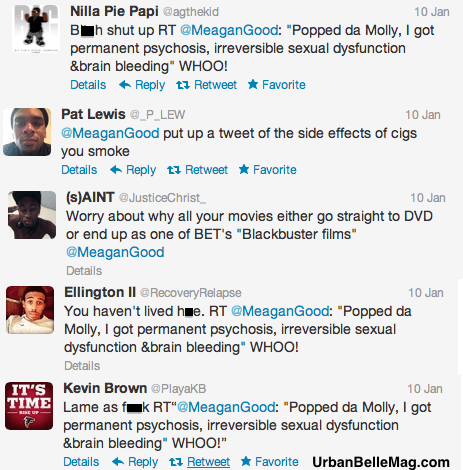 Meagan admitted she was shocked people were angry that she was speaking out against a drug: