By: Amanda Anderson-Niles
Kanye West has made it clear for the last several of his albums that he's not afraid to risk it all and step outside of the box musically. Although his addiction to taking risks has been successful in the past, Kanye's latest album "Yeezuz" has been struggling in sales. Although Kanye was able to go gold with "Yeezus," it took a lot longer than he thought it would and even rap's newest golden child J. Cole has outsold Kanye with his latest album "Born Sinner" and he did so even though he didn't have half of the marketing budget Kanye did. As a result of Kanye's slow album sales, industry insiders have pretty much labeled Kanye's latest album a disappointment, especially since all the controversy surrounding the album's name didn't translate into album sales.
As a result of the album's name and Kanye's bold decision to refer to himself as a god, Kanye has managed to anger a lot of people. Some people flat-out take Kanye's self-proclaimed god status to mean he's no longer a Christian (Kanye did put his love for Jesus on display on his debut album "The College Dropout"). So it's no surprise so many people were shocked he said in his interview with Kim Kardashian's mother Kris Jenner that he is a Christian and wants to raise his daughter North with Christian values. He even said he wears a "What Would Jesus Do?" bracelet quite a bit and it helps him keep his relationship with God in tact.
Actress Meagan Good has been very public on her restored relationship with God and she even married big time pastor DeVon Franklin. After she posted the clip of Kanye talking to Kris Jenner about his love for God, her followers began to slam her on Twitter for writing "Kanye loves Jesus." After the negative tweets came in, Meagan decided she had enough and tweeted the following (read from bottom to top):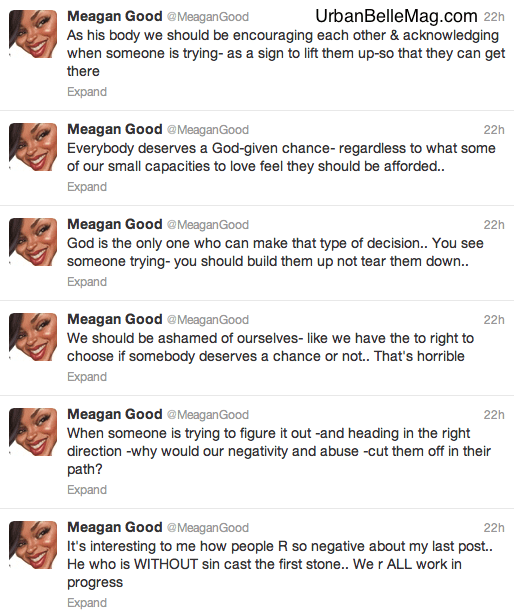 Meagan also told her followers the constant judging she sees people invoke on others is one reason she doesn't follow religion and instead seeks to keep a spiritual relationship with God in tact instead. Meagan also says she thinks Kanye is misunderstood and he's really trying to get back on track with God.
Check out the clip she posted that caused all the drama below: