By: Amanda Anderson-Niles
Sundy Carter married man affair rumor finally confirmed? It's been rumored for years that "Basketball Wives LA" star Sundy Carter had a child with a married man, but now the new reality star is admitting to it on her Twitter account.
Just days after Sundy's criminal past was exposed, someone apparently found it hypocritical for Sundy to call out Draya for her past when she seems to have just as scandalous of a past too. Sundy felt no need to be ashamed though (read tweets from top to bottom):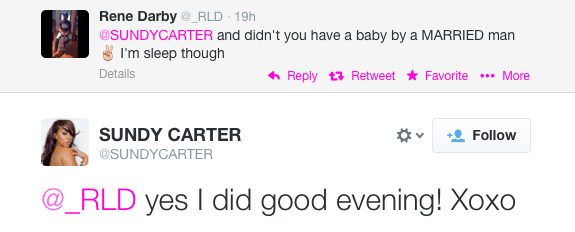 Apparently Bossip reported back in 2010 that Sundy fathered a love child with former NBA player Larry Hughes. According to the site, Hughes met his daughter for the first time in 2007. Sundy claimed she had no idea Larry was married:
Sundy was seriously dating Larry Hughes for over a year and NEVER knew he was married. They took trips together and she went to a majority of Wizards and Cavaliers games.

The little girl was born July 2007 and Hughes denied her at first, but after Sundy sought legal counsel and forced a paternity test (see gallery for paternity test), he was proven to be Kennedy's father.

Although Larry agreed to child support, he has been inconsistent and he and Sundy are feuding now over payments, health care and Kennedy's trust fund. Despite their differences Larry met up with Sundy yesterday so that he could spend time with Kennedy.

His wife had no knowledge of the meeting and she continues to believe that Larry is not Kennedy's father DESPITE the paternity test and the obvious resemblance.