By: Amanda Anderson-Niles
Last night, Cynthia Bailey pretty much told the world that she believed NeNe Leakes was a bad friend to her, and she doesn't feel that they can ever rekindle their friendship at this point. Apparently Cynthia says it was hard to get past NeNe calling her husband Peter Thomas a b*tch, but she was even more upset that NeNe appeared on "Watch What Happens Live" and subliminally suggested that Cynthia be fired from RHOA.
NeNe is clapping back of course and last night she took to her Instagram account to put her former bff on full blast. She started off by writing a lengthy open letter to Cynthia:
AS HOPEFUL AS I WAS 4 US 2 BE LIFE FRIENDS I'AM NOT SURPRISED OUR FRIENDSHIP HAS ENDED & IT TRULY SADDEN ME! REALITY FRIENDSHIPS NEVER LAST ANYWAY SO HOW FOOLISH WAS I TO THINK I HAD MADE SOMETHING SPECIAL! IT'S AMAZING WHAT PEOPLE R WILLING 2 DO 4 THE LOVE OF MONEY, RELEVANCY & 2 STAY ON TV. WITH CYNTHIA'S SELL OUT PERSONALITY & BLOW WITH THE WIND PERSONA I KNEW IT WAS ONLY A MATTER OF TIME! IT'S ALWAYS THE ONES THAT R THE CLOSEST TO U THAT WILL TURN ON U! I WAS TOTALLY BLINDSIDED BY ALL THIS! YES I SAID PETER WAS ACTING LIKE A BIOTCH N EARLY OCTOBER OF LAST YEAR & I HAVE APOLOGIZED NUMEROUS TIMES 4 IT! CYNTHIA & PETER ACCEPTED MY APOLOGY & WE SIMPLY MOVED ON! YES MOVED ON 2 TALKIN, TRAVELING & TEXTING SEVERAL TIMES A DAY AS WE ALWAYS DID! THE 4 OF US WENT 2 DINNER, CYNTHIA HOSTED MY CURVY GIRLS MODEL CALL @ BAR ONE & PETER WAS THERE 2 HELP OUT! THEY WERE @ THE HOSPITAL WITH ME, THEY SPENT THANKSGIVING @ MY HOME, WE CELEBRATED NEW YEARS EVE TOGETHER N VEGAS, WE WERE HANGING OUT TOGETHER DURING FASHION WEEK! SHE ATTENDED THE RED DRESS HEART TRUTH FASHION SHOW WITH ME & MICHAEL COSTELLO'S FASHION SHOW, WE CELEBRATED HER AN EARLY BIRTHDAY BRUNCH IN NYC @ LAVO! WHEN THE EPISODE AIRED 4 ALL 2 SEE & TWITTER-VERSE HAD THEIR SAY I GUESS SHE CHANGED HER MIND & DECIDED SHE NEEDED 2 BE MAD NEARLY 6 MONTHS LATER!…..I KNOW U TRYIN 2 PULL THE SYMPATHY CARD BUT IF U WERE SUCH A GOOD FRIEND? Y DIDNT U PULL ME ASIDE & TALK 2 ME ABT HOW U WERE FEELING INSTEAD OF DICING OUR FRIENDSHIP UP N FRONT OF A BUNCH OF PEOPLE WHO DONT CARE! SURELY I'AM WORTHY OF THAT CONSIDERING I HAVE CARRIED U ON MY BACK! I CAN ADMIT WHEN SOMETHING HURTS THE SAME WAY I CAN APOLOGIZE WHEN I'AM WRONG BUT HEY WHO CARES ABT A STUPID FRIENDSHIP WHEN U NEED 2 SECURE ANOTHER SEASON ON THE SHOW! THE SADDEST THING ABT BETRAYAL IS THAT IT NEVER COMES FROM THE ENEMY! 4 THE RECORD I DONT HATE U! I JUST HATE U TURNED INTO EVERYTHING U SAID U WOULD NEVER BE! GOOD BYE FRIEND!….PS: IF U OR ANYONE ELSE THINKS THE DEMISE OF OUR FRIENDSHIP IS YOUR STORY LINE 4 SEASON 7, THINK AGAIN FLIP FLOPPER
NeNe then posted text message conversations she had with Cynthia too. In the following message, Cynthia texted NeNe after the Mexico trip was filmed and it appears they were discussing how to film an upcoming scene:
That text pretty much confirms that this show has become pretty scripted, despite being a reality show.
In another text message posted by NeNe, Cynthia assures the reality star that no one can replace her as the queen of RHOA: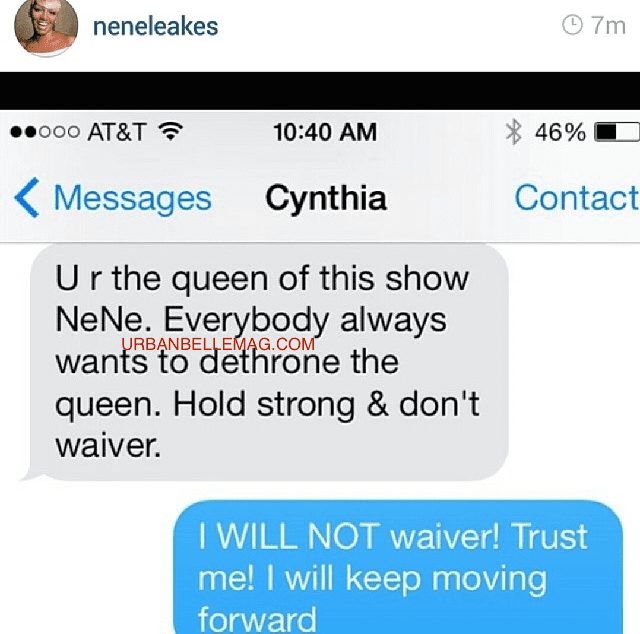 NeNe has since deleted the screenshots. It appears this rift between NeNe and Cynthia is about to get very ugly.