By: Amanda Anderson-Niles
We told you yesterday that we thought out of all the rumors floating around regarding just why Solange attacked Jay Z so viciously in an elevator, the Rachel Roy angle seems the most plausible.
As we reported recently, it's been confirmed by multiple sources that Solange yelled at Damon Dash's ex-wife at the Met Gala before she went off on Jay Z, and some sources are claiming Solange is angry with both because she feels they have an inappropriate friendship.
Body language experts are even claiming that Beyonce's treatment of the situation in the video looks as if she kind of approved Solange's behavior and it was also confirmed that Bey and Solange left the event in a car together while Jay Z left alone in another car.
Interestingly enough, the media has been labeling Rachel Roy as a good friend to Kim Kardashian and the fashion designer must be enjoying all the press she's been getting in the last two days because she took to Twitter yesterday and tweeted Jay Z lyrics while promoting her fashion line: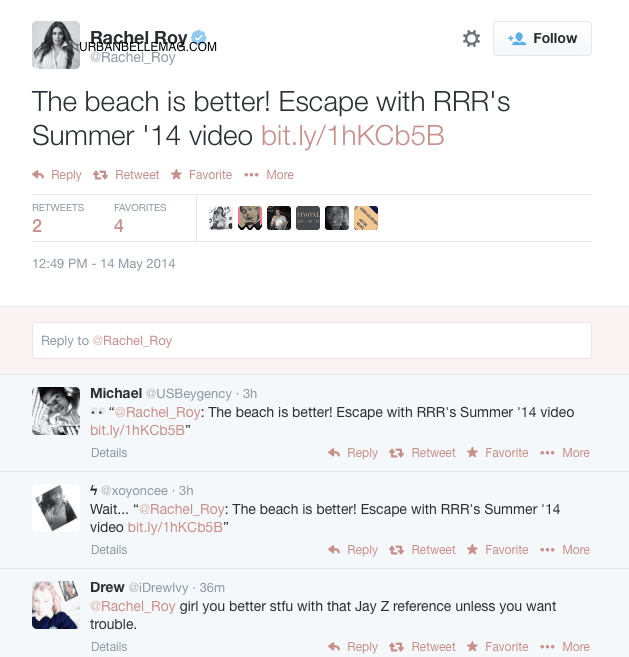 Keep in mind "The Beach Is Better" is a song from "Magna Carta Holy Grail." Could this be a subtle jab at Beyonce and a confirmation that the tea is right? When many of Beyonce's fans and media outlets began to call her out, she then tried to deny she was being messy:

The timing of the initial tweet makes Rachel's denial hard to take seriously.
And as a bonus, Damon Dash's recent jab at Jay Z on his Instagram account and praise for Solange also makes the gossip seem even more plausible. He posted this hours after the elevator footage began to spread like wildfire: