By: Amanda Anderson-Niles
If you've been keeping up with social media for the last couple of days, then you know Snoop Dogg has been going in on Iggy Azalea and it all started after she called him out for posting a meme that clowned her about how she looks without makeup to his Instagram account.
Since then, both have been clapping back at each other on social media, but Snoop has gotten really gutter in the last several hours with his responses.
In the following video, he tells Iggy:
"Say b*tch, you f*cking with the wrong n*gga. And yo n*gga better check you before I do. Funky b*tch. Yeah, you. F*cking c*nt."
  Iggy's boyfriend and NBA player Nick Young also spoke up for Iggy and tweeted the following (read tweets from top to bottom):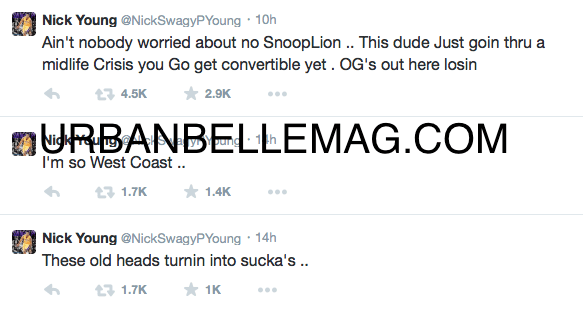 But the most interesting tweets of all would be the ones rapper Azealia Banks tweeted. The female rapper recently had a nasty beef with T.I. and she's trying to understand why the media didn't show her as much support as they are showing Iggy amid Snoop's nasty disses. She tweets (read tweets from bottom to top):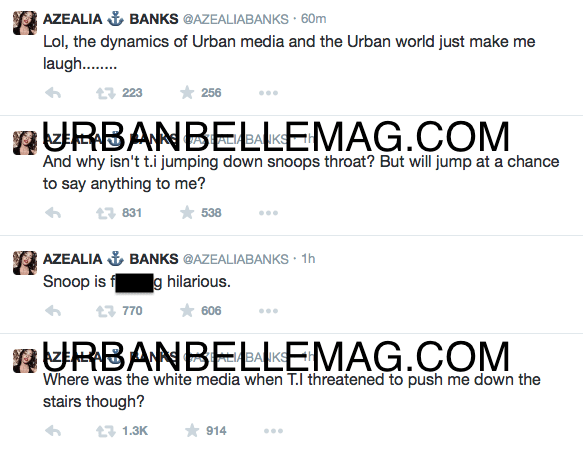 Does Azealia have a point? Spotted at Fameolous
UPDATE: Snoop has since "apologized" for his comments about Iggy. Check out the video and IG posts below.