By: Amanda Anderson-Niles
RHOA star Kenya Moore made it clear on the season seven premiere of the hit show that she's still upset Porsha Williams attacked her at the reunion, and she feels like it's pretty messed up that none of the other housewives besides Cynthia came to her aid.
However, Kandi Burruss has always said that she felt Kenya's dragging was well deserved, and on the season premiere she even joked that Kenya may have been bragging about being tough and able to handle a fight because she's from Detroit, but she learned that day that people from Atlanta shouldn't be underestimated.
Kenya wasn't too happy with Kandi's commentary and she tweeted the following (read tweets from top to bottom):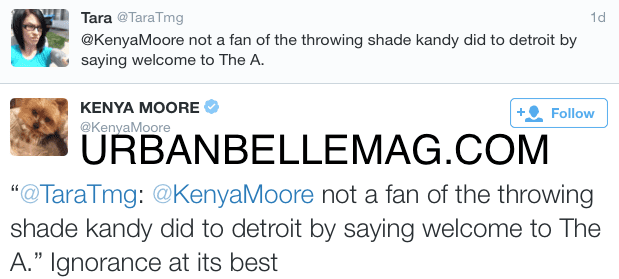 Kenya also had a few more words for Kandi in her recent blog too:
In as much as I respect and like Kandi, ignorance is not a handicap. I am from Detroit and often fashion myself to be a Detroit Barbie. I am crafty with my hands and am a trained fighter who can defend myself. With that said, being from the hood doesn't mean you have to be ghetto and ignorant. It's hypocritical to say you do not condone violence, BUT… There simply is no BUT. Let's not send the message to all the little girls and young women to think it's cool to be ratchet or take violent actions that land them in jail.