By: Amanda Anderson-Niles
Reality star Khloe Kardashian has always been the most liked out of the Kardashian clan, but she may have hurt her own popularity with her recent Instagram activities.
While she's making headlines for her romance with rapper French Montana, now she's getting plenty of social media attention for posting what some felt was an offensive meme.
She posted the following last night and got backlash:
While many of Khloe's fans thought the meme was hilarious, others weren't laughing: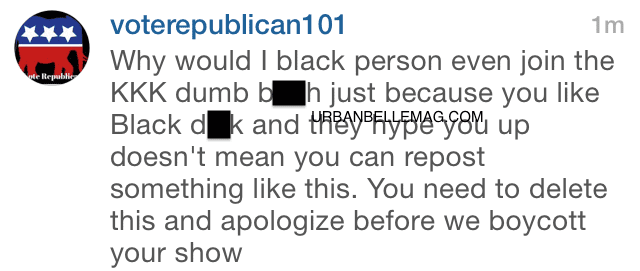 Again, not everyone was offended. Espcially those who are also involved in interracial relationships with black men:
Khloe has since deleted the meme from her account. In the meantime, big sis Kim Kardashian decided to save her little sister from the backlash and impending media dragging, and posted a photo of her booty again to change up the topic of the conversation. So far, it's worked.