By: Amanda Anderson-Niles
Claudia Jordan got her peach because she had no problems going after NeNe Leakes as a RHOA newbie, but NeNe thinks Claudia was hired from day one as some elaborate plan crafted by Kenya Moore to take her down.
In a new blog post, NeNe writes:
"The Thirst Is Real" and it's sad to me that some folks are so attention starved that they waste their time and efforts conspiring on how to bring me down and constantly making me the topic of their conversations and social media posts. Focusing on the career they claim to have and creating their own achievements should be a much better place of their focus.

Trust this…. I get it and if you watch closely, you will get it too. You never even get to see the behind the scenes puppet masters either yet they like to shift the blame this way! Luckily I am in a place in my life right now that is awesome and I don't plan on ever going backwards for anyone. I know who I am, I know my purpose in life, yet I know people wanna see you stoop to their level, they wanna see you fail, they want you to help make them relevant but this beast won't EVER be entertaining you. If I never knew who I was, this experience has taught me that I am Nene Leakes! Yesssss, hunni.
NeNe also once again makes it clear that she isn't ashamed of her stripper past, and she's unfazed that her time as a dancer was used by Claudia as an insult.
In related news, ever since Claudia, Kenya, and Brandon hopped on Twitter to express their outrage over NeNe's "halfbreed" comments, apparently someone who had old issues with Claudia has been digging up old dirt.
Specifically, an older video of Claudia making some tasteless jokes about dark-skinned people has been making rounds on social media for the past two days:
In the video, she says:
"I really didn't think it was a good idea with all these Black people walking around…. cause Black on Black it's hard to see.

"I can't really see who's who in all Black. I can only see the Beige people like Cecily, Jason, Janlan, (Kinda) Tina, Myself…

"Everybody else I only see teeth and eyes. So whatever…"
And if that's not enough, an older video of Claudia going in on Tiny Harris  also isn't helping her mean girl shamming of NeNe Leakes either.
In the video, Claudia says the following about Tiny (who later asked for VH1 to make her a cohost on her short lived talk show "Tiny Tonight":
"Is anybody else concerned about the fact that he's willing to pay 3 million dollars just to be in a house alone with Tiny? I'm just saying….

"She escaped the pretty line…..I wouldn't know whether to lube up or put a nickel in her back….

"None of y'all would f*ck her, be honest. At least not from the front."
Tiny didn't find the comments funny though (screen obtained by The Shade Room):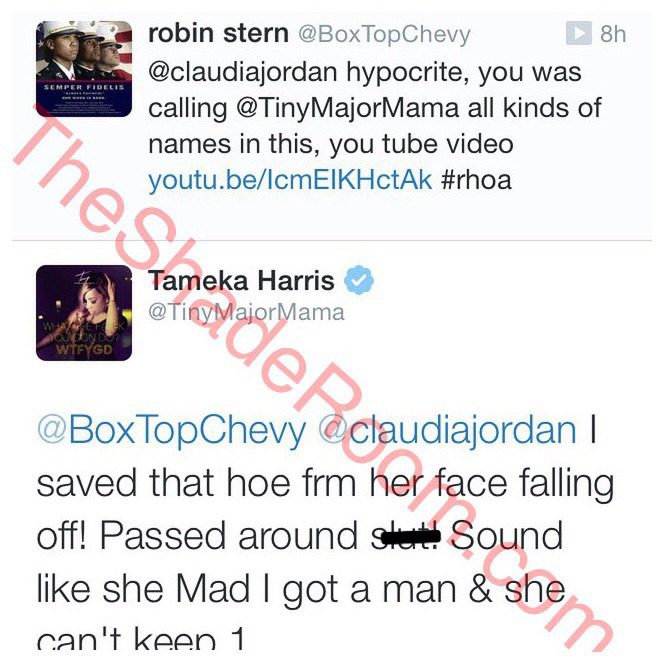 We've also noticed that there are several Twitter accounts posting some rather scandalous accusations regarding Claudia's past in the industry. We're not so sure Claudia could have imagined her showdown with NeNe would turn into an outpour of her own alleged demons.
Messy.
Claudia has since apologized for both videos.