Masika Kalysha is ready to pop off on anyone who befriends her nemesis Alexis Skyy.
As you may already know, Alexis claims she was in a relationship with Fetty Wap for two years until he knocked up Masika.
She joined the LHHH cast to confront Masika onscreen, and Masika is furious the producers have allowed this.
She's also heated that Alexis has actually made friends with some of the cast, including Nia Riley.
Moniece and Masika teamed up against Nia on social media the other day, but Nia clapped back and claimed that their friendship is fraudulent since Moniece likes to talk trash about Masika behind her back.
Now Miss Nikki Baby is making similar accusations.
When Masika hopped on Twitter after the episode aired and called Nikki out for being fake, Nikki posted a video to Twitter of Moniece and Masika talking trash about her in the past.
Nikki claims their discussion is exactly why Masika is a hypocrite and the reason why she feels no need to be loyal to her or Moniece.
Check out Masika's tweets first (read from bottom to top):
Nikki's tweets (read from bottom to top):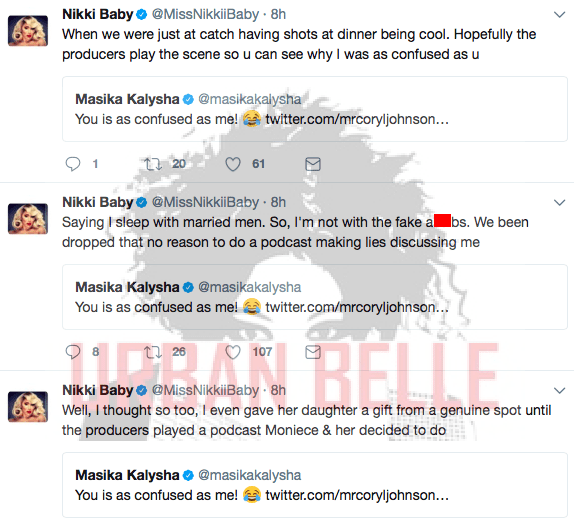 And here's the video Nikki retweeted in which Moniece and Masika had a lot to say about Nikki and her dating life:
the receipts never lie sissss @masikakalysha #LHHH pic.twitter.com/lbtnkVLm6l

— Team Nikki Baby (@TeamNikkiLHHH) July 25, 2017
Masika also made some serious accusations about Hazel-E and her boyfriend Rose Burgundy:
Hazel of course responded with accusations of her own:
UPDATE: Hazel-E, angry from the abuse allegations from Masika, escalated their beef to a new level.
For those that do not remember, it was rumored that Masika's child was hospitalized earlier this year for allegedly ingesting an Xanax pill. Allegedly, as a result of this incident, the Department of Family and Child Services were called on Masika, launching an investigation into the incident.
Hazel posted the following comment on Instagram:
hazelebabyDon't ever f****n say my n***a beat me or my mother you can pull his police reports, I'm not you and he's not young berg who dragged yo ass through a hotel room b***h! But you are a deadbeat, prostitute, porn star of a mother. I got your police records from being arrested in 2003 for prostitution, you might have closed your dcfs case from the public, but that don't keep you safe. Lie again on me b***h and you won't be able to 40 yard dash from me. It's all fair game cuz we at war right! Go check ya baby into rehab with teairra b***h! And keep my name out your f****n mouth!
Check out the posts below.
And of course, Masika did not take this sitting down. In fact, Masika thew her own escalated bomb, alleging that Hazel is infected with a STD. Masika even posted screenshots of emails of Hazel telling someone to go get tested.
Check out her posts below.