Kanye West attempted to turn the social media sphere on its head when he re-activated his Twitter account and began tweeting about supporting views of conservative political pundits, and supporting Donald Trump. As his friends and other celebs called him out in private and on social media, very few celebs came to his defense.
Erykah Badu was one of the few to defend Kanye and his opinions.
Recently, regarding Kanye's recent opinions, Erykah tweeted Kanye the following:
See. That's what you get for brain… U know that's illegal in most states right?
This tweet didn't go over well with her followers or Black Twitter in general. In fact, followers immediately called her out for tweeting out that comment.
People called her out for appearing to sympathize and seemingly support Kanye's opinions and opinions of those that want to continue to oppress African-Americans. But Erykah wasn't here for that criticism.
To one person she said:
Ok that's fair I'll take that..even Tho my points are consistently missed. . But yeah I can see THIS YE subject was bigger than me before I commented .lol. But AGAIN.. still I say speak your mind.. even if U don't have the most popular opinion. But expect a HEAVY resistance. ??
And another:
No baby, Not a matter of a individuals being "wrong"or"right".Perhaps a matter of accepting (& I'm going to stretch &even say 'respecting') the thoughts of others when they are "different " from YOURS or those of the "group's".Something is "wrong" with that. DIALOGUE vs DEMONIZE
Check out the interesting conversation below.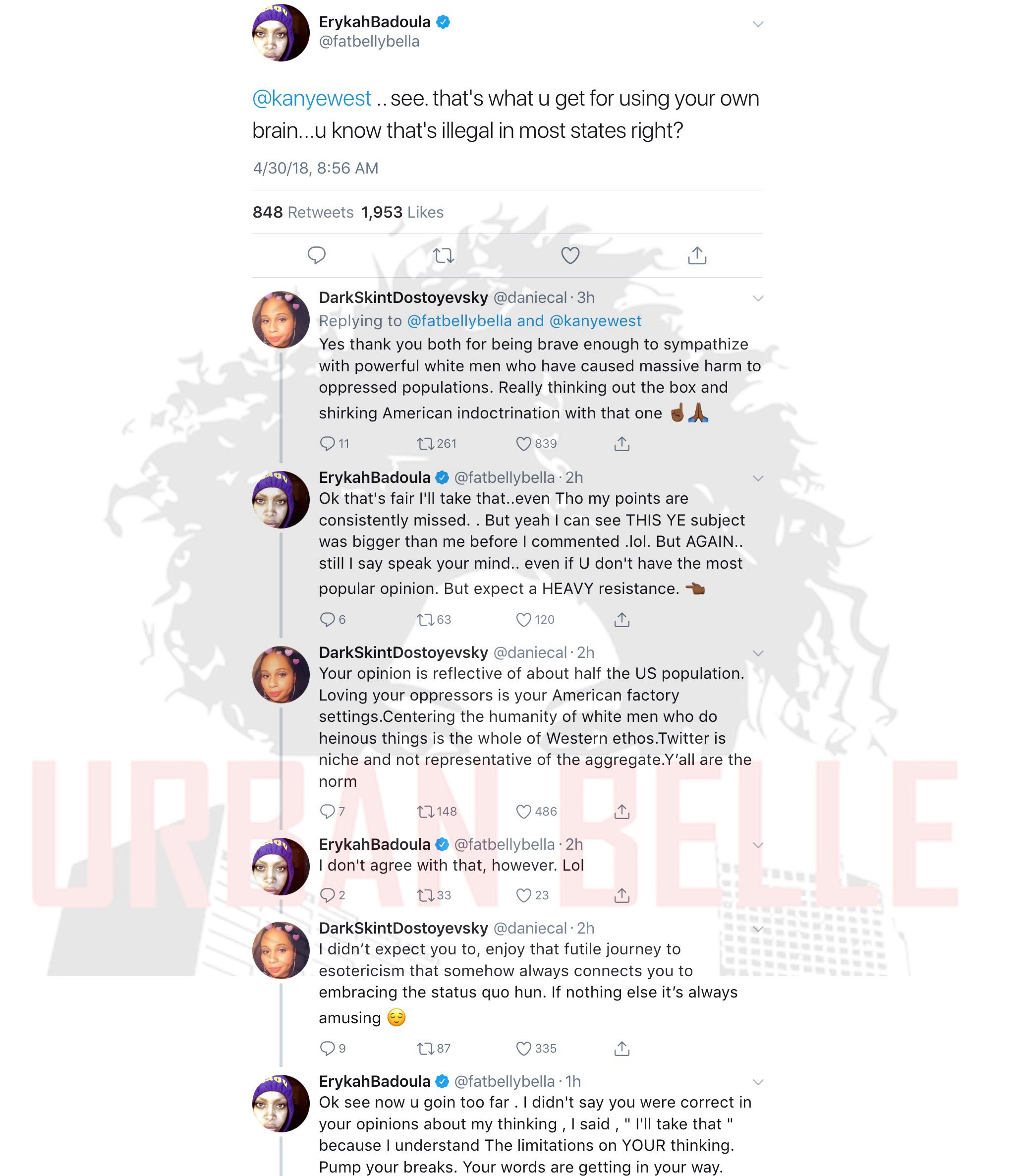 In other news, Kanye West keeps digging a deeper hole. This time, during his interview with TMZ, he says it sounds like the 400 years of American Slavery "seemed like a choice."
He also double-down on his positive views of Trump and said the hip-hop community also loved Trump before he became president.
After the interview, TMZ's Van Lathan checked Kanye for the foolishness he spewed on tape. Van called him out for saying things like slavery being a choice.
Check out what he said and Van's response below.
Kanye West stirs up the TMZ newsroom over TRUMP, SLAVERY and FREE THOUGHT. There's A LOT more that went down … and the fireworks are exploding on @TMZLive today. Check your local listings for show times. pic.twitter.com/jwVsJCMPiq

— TMZ (@TMZ) May 1, 2018
. @VanLathan x @kanyewest pic.twitter.com/zgquKJ0KE3

— Angie Martinez (@angiemartinez) May 1, 2018