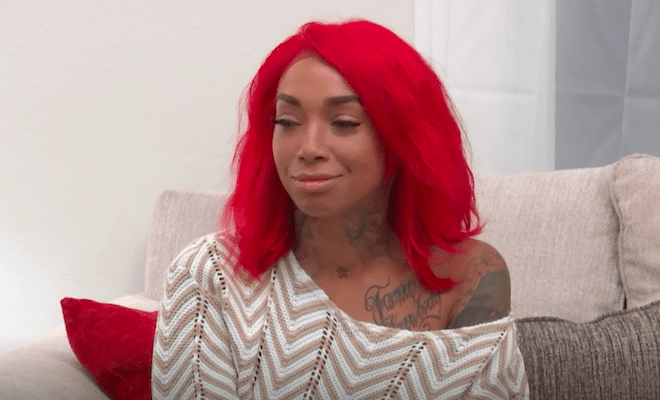 It's time for the gang to make things right with Ceaser.
Teddy and Tati recap what went down the previous night.
The party was horrible and they know Cease has reached his breaking point. They aren't sure why no guests showed up to the party.
Walt appears a few minutes later and questions why Cease fired him. He also doesn't like that Cease accused Walt of being a drunk. Yes, he had some drinks the night before, but that did not hinder him from inviting people to the party.
In Teddy's mind, he also feels Cease took things too far.
Donna then joins them and they discuss the fact that she was fired too. She's not worried though because Cease has fired her before and it never sticks.
She also feels like she's needed in the shop.
The grand opening party for the New Orleans shop is the upcoming weekend.
"We have to redeem ourselves." – Alex
Jadah and Tati have yet another confrontation. 
Back at the New Orleans rental house, Donna meets with the rest of the gang.
Donna is convinced she has an idea that can fix things. The plan is for them to go out in thongs and hold up signs to promote the new shop.
They get some visitors. It's Elliott and Sky's bestie. Sky is on better terms with Elliott after he fooled around with Kevin despite agreeing to having a baby with Sky.
Jadah Blue pops up as well. Tati isn't happy to see her.
As they have a toast, Tati asks Jadah if she's still sleeping with anyone at the shop. She'd like to know in advance this time so they won't have another altercation like they did in Miami. Jadah gets annoyed and tells her she's not. They then start arguing.
"Worry about your p*ssy not mines, b*tch." – Jadah
Tati then throws her drink on Jadah.
They then approach each other to throw down. Both throw punches before being broken up by security. Tati grabs Jadah's wig and snatches it off.
"B*tch I'm not done with you, yet." – Jadah
Walt and Cease hash it out.
In the New Orleans shop, Cease is still there trying to clean things up.
Ace arrives and helps him. While talking, Ace says that he feels like the others got caught up in the party lifestyle of New Orleans. But Cease feels that's no excuse for their behavior.
Walt comes by and asks Cease if they can talk.
He explains to Cease that he wasn't the only one partying and drinking.
Cease gets irritated and reminds Walt that no one came to the party at the shop. Walt's job was to pass out flyers, but no one showed up to the party. Despite this, Walt feels like Cease singled him out.
A few minutes later, Cease admits he was wrong to call Walt out in front of everyone else. He admits to Walt that it's the most stressed out he's ever been.
"I can't afford to f*ck up." – Cease
They dap it up and Walt tells Cease that he has his back.
With the New Orleans shop officially opening the upcoming weekend, the gang decides to start interviewing prospective artists. Cease comes back to the shop and is surprised to see the group there cleaning up.
When he spots Donna, he reminds her that she was fired. But Kitty urges Cease to allow Donna to return. So he drops it.
Sky is behind the bar making drinks.
Melody arrives to the shop and she clams she has a client coming soon. She misses her man and baby. Her cousin Pete agreed to meet with her the next day so she decided to come to New Orleans.
She's really nervous about meeting Pete.
Tati and Teddy spend some time together alone.
Ever since Tati arrived to Black Ink, she feels like a lot of the other girls have been ganging up on her. Teddy tells her that he's in her corner and he's really attracted to her. He also feels like she is always getting picked on by the other women in the shop.
They flirt and Teddy tells her he is starting to like her.
Melody gets stood up by Pete.
It's the grand opening for the New Orleans shop.
So the gang goes to Bourbon Street to promote.
Later on, Melody meets with her cousin Pete at a bar. He's over 30 minutes late.
She's starting to feel like he won't be showing up. This saddens her. She realizes her mom was right in telling her that her estranged family doesn't care about her.
An hour passes and Melody calls her mom to tell her what happened. The tears start flowing.
Her mother tells her she told her that this was a bad idea.
Hours later, the party to celebrate the new shop starts.
Sky clashes with a bartender, Jadah is fired.
They toast to the new shop. Sky is proud of the bartenders she hired. But she gets into it with one of the bartenders after they call her bougie for wanting a shot glass and not a plastic one.
She ends up tossing her drink at the woman and has to be restrained after she tries to assault her.
This irritates Cease because he feels this isn't the time or place for altercations.
Jadah shows up not too long after, and Kitty tries to talk her into leaving. Jadah refuses to leave and she approaches Tati to see if they can talk.
Teddy walks up on them and asks Jadah what she's doing.
Tati wants to talk but Teddy says no because he's going to handle Jadah.
He pulls Jadah to the side and tells her to stop bullying Tati. They start arguing and he tells her to leave. He then tells her she's fired. Cease walks up and Teddy tells Cease that Jadah is causing all the problems at the shop. Teddy tells Cease he wants Jadah gone.
"Is that what you want?" – Cease
Cease then tells Jadah she has to go home. She breaks down in tears and tells them that Tati threw a drink at her first.
No one is trying to hear what Jadah has to say so she storms out the shop.
What are your thoughts on the episode?
View this post on Instagram
View this post on Instagram