Well it looks like Cardi B is still making time to respond to her critics on social media.
She's been in the headlines plenty for the last several weeks due to her drama with Nicki Minaj. Apparently Cardi hasn't been happy with Nicki for a while now, but things became explosive after Cardi ran up on Nick during New York Fashion Week.
According to Cardi, Nicki liked a tweet that criticized her parenting. Now Nicki has denied ever liking said tweet, and many of the Barbs claim that the tweet in question was Photoshopped.
However, Cardi is having some new drama on Twitter.
Hours ago, she clapped back at a young woman who made it clear that she doesn't like Cardi's new single, "Money."
Check out the tweets below.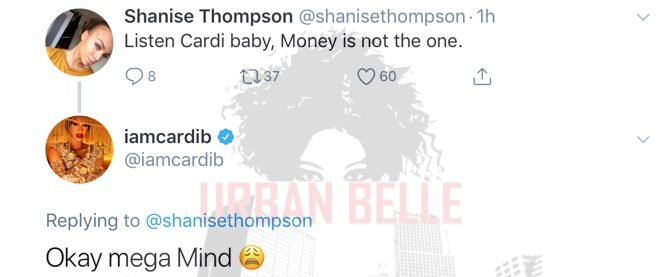 Ever since Cardi's clap back, Twitter users have been divided on Cardi's response. Some feel Cardi is being too sensitive. And others feel Cardi had a right to respond.
What are your thoughts?