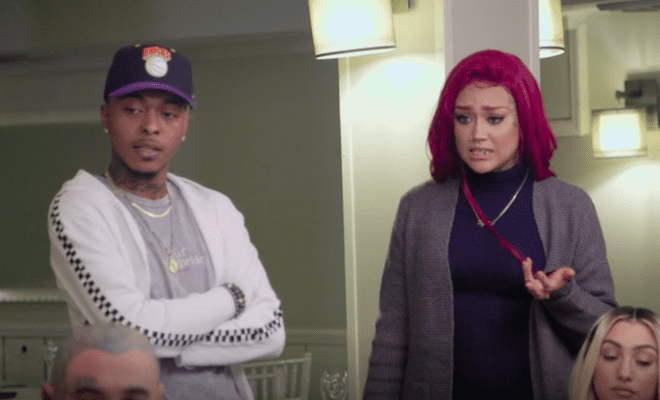 It's Bae's wedding weekend.
So the gang is packing up to head out to Westchester.
Tati arrives to the shop and says that she can't remember what happened the night before. Walt informs her that she left the party with another man.
"I need to talk to Teddy." – Tati
After Bae and her mother pull up, the group heads out.
In a green screen interview, Bae says that she invited Richard to her wedding on top of Cease's other feuds with Sky and Donna. So she's not sure how things are gong to play out.
As Teddy is driving out to the wedding spot, Cease calls him to check in.
Teddy is still feeling some kind of way about what Tati did. He says that they never discussed being exclusive, but he feels what she did was wrong.
Tati gets the cold shoulder from Teddy.
Apparently Cease is the one who booked the mansion in Westchester.
When the gang starts to arrive, they are all impressed by the house.
After Teddy gets there, he ignores Tati.
He throws some shade and Tati tells him she wants to hash things out.
But Teddy isn't hearing it and storms off after refusing to have a conversation.
Bae's mother leaves the house with Nikko, so Bae can party with the others. But things get a little awkward after the new Black Ink tattoo artists pop up.
Regardless, Bae allows them to stay since she did invite Richard.
The next day Cease shows up with two personal butlers.
They toast to the weekend.
Things are coming together for Sky.
Her shop has come a long way and it's almost ready for the grand opening.
Des is there to help out. But Sky is confused as to why no one from Black Ink has confirmed they are coming.
Teddy finally talks to Tati.
When they get alone, Tati apologizes. She says she got drunk and she feels really stupid. Teddy says the whole thing really embarrassed him.
"Listen, I know I f*cked up." – Tati
Tati says she didn't really realize how much she liked Teddy. Teddy says he feels the same way. That's why he opened up to her about his brother.
They hug it out and agree to move forward.
Alex has some reservations.
As Donna is packing up for Bae's wedding, Alex says that he doesn't want to go and be around Cease.
In a green screen interview, Alex says that he feels Cease was out of line when he fired the both of them.
While Donna agrees, she doesn't want to let Bae down. So she feels they should go to the wedding anyway.
But Donna is able to convince Alex to go with her even though he knows things won't go well.
Bae tells Cease who else has been invited to the wedding.
Cease, Kitty and Bae prepare to do some horseback riding.
Sky is blowing up Kitty and Bae's phones to see if they are going to the boutique's grand opening. Both have no plans to since it's Bae's wedding weekend.
Not too long after, Bae tells Cease that Donna, Alex and Richard are coming to the wedding.
This upsets Cease, especially since Richard recently blasted Cease on Instagram for the world to see.
Donna and Alex arrive.
As Kitty and Tati are trying on their bridesmaids dresses, Donna and Alex show up. And it doesn't take long for Donna and Tati to stat arguing again.
But Bae reminds them that it's her wedding weekend, and she doesn't want any drama. So both women end their bickering for now.
It's Bae's rehearsal dinner.
After the group has a toast, Richard and Nikki show up.
Of course, Cease isn't happy and he calls out Richard for blasting him on Instagram.
"Get the f*ck out of here." – Cease
After Cease calls Richard a cokehard, Richard and Nikki get up to leave. However, Nikki tuns around to give Cease a piece of her mind before leaving.
She demands that Cease apologizes and Richard pulls her away, telling her to stop. The couple leaves.
At this point, Teddy says he wanted to punch Richard in the face but they are supposed to be family.
Cease says Richard isn't family anymore, so Teddy can run up the next time they see him.
Minutes later, Donna and Alex show up.
Donna says she is just there for Bae. But Cease insists on confronting them anyway.
After Cease asks the couple if they have anything to say to him, he then decides to walk up on Alex and swing. Teddy sneaks up on Alex from behind and the cousins attempt to jump Alex. Alex defends himself and security intervenes as Donna steps in to help Alex as she hits Cease repeatedly in the head.
What are your thoughts on the episode?