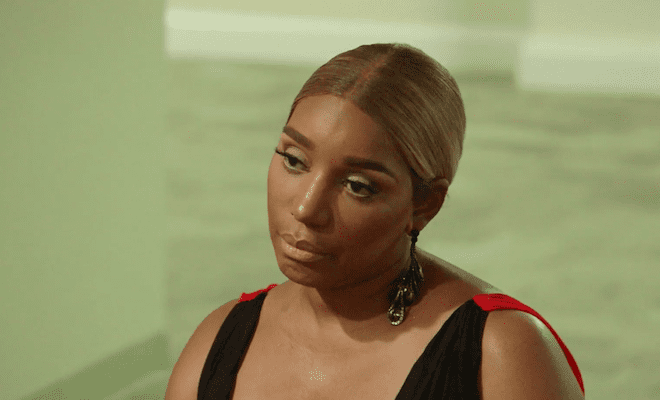 Shamari stops by NeNe's boutique.
They discuss Gregg.
Apparently he is now back at home from the hospital.
In a green screen interview, NeNe says that she's still not in a good place with Gregg. This has taken a toll on her emotionally.
Shamari then brings up her throwing up at the Bye Wig party.
She feels awful that she threw up in NeNe's bathroom.
NeNe jokes that it's no big deal because her maid took care of things.
They then discuss what happened in NeNe's closet with Kandi and Porsha.
Shamari says that everyone needs to understand that NeNe is really stressed out right now. So her snapping should be understood. Since both of their husbands won't be able to attend Eva's wedding, they decide to go together.
It's five hours to Eva's wedding.
She's nervous and currently getting her nails done with her bridal party.
Regardless, she's happy to know that Michael will be her husband.
Before the wedding starts, Eva hands her mother over a sweet hand written note.
In a green screen interview, Eva says her dad had a stroke and her mother had to become his caretaker. They have been through a lot together and she knows her mother will always be there for her.
Shamari calls up NeNe to see if NeNe is still picking her up.
NeNe says she's not sure because she's been fighting with Gregg. So she's not even sure she's going to the wedding.
When they hang up the phone, Shamari calls Tanya and Tanya agrees to pick her up.
Cynthia and Kandi discuss NeNe.
After Kandi puts on her dress, Todd tells her she may be showing too much side boob.
Kandi refuses to change and assumes her dress shouldn't be a problem.
Todd hopes the food will be good and Kandi tells him the food cost $1000 a person.
Kandi, Todd, Cynthia and Mike ride together to the wedding.
In the car, they discuss the drama at the Bye Wig party.
In a green screen interview, Kandi says she feels NeNe took things way too far. So she's not sure she's going to still be in a good place with NeNe.
Since Marlo went back and told NeNe what Kandi and Porsha said, Kandi thinks things could get worse.
NeNe arrives at the wedding and speaks to everyone. She's a little nervous about giving her toast but she's going to do her best.
It's time for Eva to walk down the aisle.
She breaks down in tears when she sees her father who is also in tears.
He walks her down the aisle.
Of course, this is an emotional moment for Eva.
Michael is proud of the sight of his bride to be.
When the couple faces each other, they read their written vows.
This is emotional for NeNe and Marlo and NeNe's assistant comforts her.
Dennis sheds a tear too and Porsha wipes it away with a loving smile.
NeNe continues to struggle to listen to the vows.
She recalls marrying Gregg and being happy in earlier times. Producers flashback to scenes from their wedding.
Cynthia envisions marrying Mike someday.
After Eva and Michael are declared husband and wife, everyone cheers.
At this point, NeNe goes to the bathroom to get herself together. She wanted to leave but Marlo convinced her to stay to do the toast.
A little later, Cynthia and Mike join NeNe and Marlo.
Shamari comes over and tries to cheer up NeNe. They try to discuss what's going on with Gregg but NeNe gets too emotional.
Meanwhile, Marlo catches up with Kandi and Porsha.
Of course, they discuss the closet drama.
In a green screen interview, Kandi says Marlo is stirring the pot by reporting back to NeNe what they talked about.
Regardless, Marlo says she's going to get NeNe so everyone can talk for themselves.
NeNe tells Cynthia that Gregg was talking about separating before she headed to the wedding.
They are already living in separate rooms now but Gregg is open to now living in separate homes.
"He said he would go ahead and find a place." – NeNe
In a green screen interview, NeNe says Gregg has been so mean. But she gets look at as the bad guy, and Gregg just lets her take the rap.
Regardless, Cynthia believes that Gregg and NeNe will be able to work things out.
Marlo then approaches and tells them that it's time for NeNe to hash things out with Kandi and Porsha.
NeNe isn't thrilled by this and says the wedding isn't the right place to do this. But Marlo insists.
The men have some small talk.
Todd asks Mike when he's going to propose to Cynthia.
Mike says he loves Cynthia but he jokes about not being quite ready to pop the question.
But their future looks bright.
NeNe, Marlo, Porsha, Cynthia, and Kandi go to the side to talk.
Kandi says NeNe was acting aggressive and Kandi feels she was just tying to diffuse the situation.
NeNe doesn't agree with this and she then says that all the women do is disrespect each other's homes.
She reminds them about roach gate with Kim and Brielle. After that, NeNe doesn't feel comfortable having people all in her house.
Both Kandi and Porsha say they understand that. But for Kandi, things went too far when she overheard NeNe calling them b*tches.
After NeNe says that she doesn't feel like everyone has been supporting her, Porsha says she feels like they have been supporting her.
When NeNe reminds her that she supported Porsha throughout her violent moments on the show, Porsha says that NeNe pulled on a camera man.
Regardless, Porsha says that everyone is there for her.
They all hug on her and NeNe starts crying.
When they decide to get back to the rest of the wedding festivities, NeNe once again say she's not sure she can give the toast at Eva's reception.
By the time they find Shamari, they realize she's drunk.
Kandi pulls her to the side and tells her to get it together.
As Eva and Michael get ready for the reception, Eva helps her daughter Marly dance.
In a green screen interview, she says Michael doesn't have to officially adopt Marly because he's already her dad.
Shamari is at the table with the others being drunk. Turns out she didn't eat anything prior.
In a green screen interview, Shamari says she thinks she may have had some bread.
NeNe decides to give the toast.
She encourages the new couple to respect each other, be great communicators and not go to bed mad at each other.
Everyone cheers when she finishes. She once again heads to the bathroom once she finishes as Eva and Michael dance together.
What are your thoughts on the episode?
View this post on Instagram