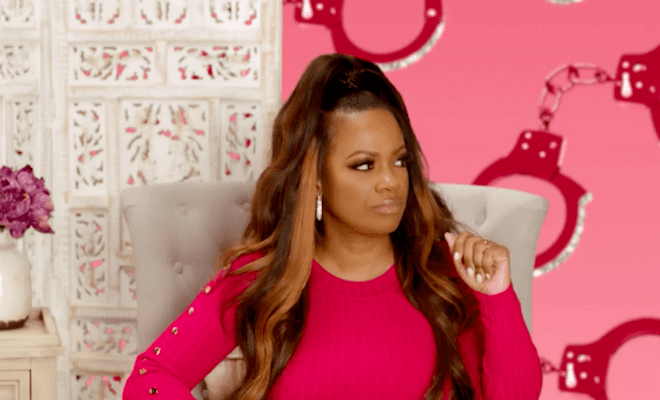 Well it's safe to say NeNe won't be making peace with the majority of her castmates anytime soon.
As of now, she's not in a good place with Cynthia, Kandi, Porsha, Eva or Tanya.
And her fallout with Eva appears to stem from the last two episodes.
Apparently Eva is upset about what went down with NeNe at her wedding.
She also feels like NeNe didn't really have her back after word got out regarding accusations made by two of Eva's bridesmaids.
So she clapped back at NeNe on a RHOA fan page. This was in response to a YouTube video NeNe made last week.
Check out the post below.
View this post on Instagram
And Porsha clapped back as well. She denied that her stating she was scared during the closet scene was a voiceover done in the studio.
Check out the post below.
View this post on Instagram
To no surprise, NeNe responded on her YouTube channel.
And she did not hold back.
Here's what she had to say in response to Eva:
Marlo brought your information, okay? And don't tell me I can't sit at Marlo's house and listen because I'm in a contract and I'm being paid to sit and listen.

That's my job, okay? Just like it's her job to go out and do her scenes with her cast mates. That is my job. I did not talk about Eva. The person that talked about her, she's not addressing them.

She's continuously addressing me. You know why? Because I'm the one you want to address, okay? Let's be very, very clear about that. She wants to address me because I'm the HBIC. And she needs to secure the bag. Some of her crazy a*s, dumb a*s friends told her, 'Well if you against NeNe, it may help you.'

Checkers…start playing chess, sis because the girl that talked about you, you don't have nothing to say to her.

You all coming over here for me.

Then you had the nerve to say, 'You had your mic on when you weren't supposed to have your mic on coming out there to talk to me.'

Hold it! You don't write my check. We all wear mics. We're all paid to wear a mic. Be very clear. We're wearing mics because that's what we do.
NeNe also says that unlike the other women, she would have stopped Eva from saying something that could have been damaging.
She denies trying to ruin Eva's wedding and says that she wasn't the only person emotional that day, so what's the problem?
NeNe also reminds Eva that she wasn't the one who initiated the sit down with Kandi and Porsha at the wedding. That was Marlo.
She also said she had nothing to do with Bravo doing flashback scenes of her wedding on Eva's wedding episode.
It was then said that Eva had beef with Kandi but they have linked up now.
NeNe said the following:
Remember you called me up and said that you were upset with Kandi? That Kandi was going on her very own YouTube show talking about you consistently. You called her up and told her you who wanted a meeting with her outside the cameras about talking about you.

Yet, that's the person you on linked up with.

You also said that when we were in Spain, she was trying to get you on her side.

Looks like she on got you to be on her side now, sis.
Porsha was also addressed.
When it comes to Porsha, NeNe stands her ground and once again says Porsha saying she was scared in the closet scene was a voiceover recorded in the studio.
She reminds Porsha that the women she's linked up with now didn't even like her last season.
But NeNe was the one who supported her the most when she got into multiple altercations on the show. She even referred a lawyer to Porsha after Porsha was arrested for assaulting Kenya at the reunion years ago.
NeNe's beef with Cynthia is also discussed.
She denies having a true beef with Kenya. But she believes that the whole time she was friends with Cynthia, Cynthia would stir the pot between them.
So it's no telling what Cynthia has told Kenya to cause Kenya to now have an issue with NeNe. She feels like Kenya just started coming for her on Instagram a few months after last season's reunion aired.
Kandi is exposed.
When one of NeNe's fans asked if Phaedra will ever come back, NeNe said the chances are very low. And it's because Kandi called Bravo and told them she would quit the show if Phaedra returned.
NeNe thinks it's interesting that Kandi refuses for Phaedra to return for the good of the show, but Kandi is in interviews saying she wants everyone back that she believes NeNe is on bad terms with.
At this point, NeNe feels it's obvious Kandi only wants people on the show who will go after NeNe.
As far as all the women ganging up on her, NeNe says it's doing the opposite of what they want it to do. They want her off the show, but them ganging up on her just pushes producers to bring her back next season as the center of all of the drama.
But if she were to leave the show after the season, there would still be conflicts. And that's because she says producers wouldn't allow them to all get along because the show needs drama.
Check out the full video below.
UPDATE: Porsha posted screenshots of a hostile text message conversation she had with NeNe last night.
Check it out below.
Porsha post text messages between her and Nene! ? #RHOA (1/2) pic.twitter.com/s6TR6na3c4

— Joey (@OMFGRealityTV) March 29, 2019
Porsha post text messages between her and Nene! ? #RHOA (1/2) pic.twitter.com/s6TR6na3c4

— Joey (@OMFGRealityTV) March 29, 2019
Now NeNe has responded:
Nene also post text messages she sent Porsha after she gave birth! ? pic.twitter.com/IIT2YREAZN

— Joey (@OMFGRealityTV) March 29, 2019