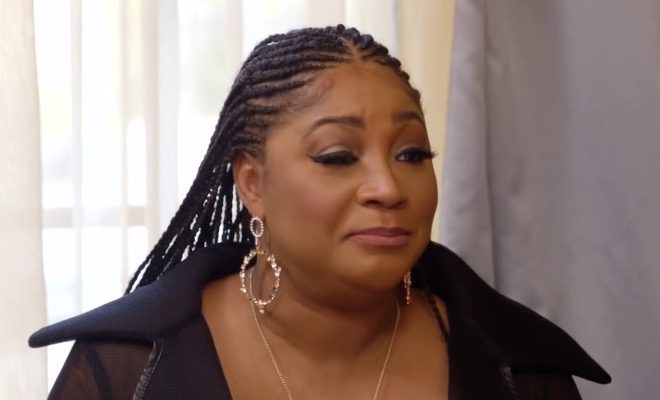 Tamar lands a role on "The Bold and The Beautiful."
The episode begins with Tamar and Toni spending time with one another since Tamar returning from "Celebrity Big Brother." Toni gloats and is ready to collect her expensive purse from Tamar as part of a bet. Previously, Tamar and Toni placed a bet on whether or not Trina and Von secretly married.
Meanwhile, in LA, Towanda meets up with Traci and their mom Evelyn.
They are all still excited about Tamar winning "Celebrity Big Brother." Traci wasn't there as she's still feeling some type of way about Tamar's friend LeTroy amid his altercation with her manager Cliff. Evelyn thinks something is wrong if Traci and Tamar fall out due to Cliff and LeTroy. But Traci feels like Cliff and her team treat her more like family than Tamar.
Later on, Tamar gets to be on her favorite Soap Opera, "The Bold & The Beautiful." She gets to be in a scene with Heather Tom who she called, "The Beyoncé of soap operas."
Tamar gets even more excited when she grabs her script, warning that she has 5 lines.
A trip to Nigeria is in the cards for Tamar.
David stops by to support Tamar and she's happy he stopped by. While in the dressing room, David asks a question. His mom wants to meet Tamar and that just causes her excitement to spill over when he asks her to be his guest in Nigeria.
When Tamar gets to set, Tamar gets to play the role of room service.
Towanda and Von hang out as they look at engagement rings for Trina. During her interview, Towanda revealed Gabe gave Trina his blessing about Von before his passing. She acknowledged she's definitely willing to keep this engagement a secret until it happens.
Tamar's treating Evelyn, Towanda, and Traci to lunch. Towanda revealed she lied about being married to Sean. But, that doesn't deter Tamar from telling everyone that David's taking her to Nigeria.
Evelyn and Traci feel Tamar may be moving just a touch too fast here.
"You meetin' his family awfully fast. Are you pregnant?" – Traci
There's no baby on the way. Tamar gets asked if she would move to Africa if things worked out.
"I would move anywhere for that man." – Tamar
Afterward, Tamar's press tour continues when she's a guest on her "Celebrity Big Brother" housemate Natalie Eva Marie's podcast. Her relationship with Kandi came up and feels that they could've formed an alliance. Later on, her marriage to Vince comes up. She notes that she's very happy she and David aren't involved in any business with one another.
Gabe gets honored with a memorial.
The family is hosting a funeral/memorial to honor Gabe. Toni brings Trina to the home where they're hosting. While everyone is talking, Trina reveals she still calls and texts Gabe's phone.
Evelyn asks how Von's dealing with everything. Trina calls him, "A trooper and a half."
Finally, everyone shares their fondest memories of Gabe. This helps Trina remember that Gabe was family. Clips of their past interactions with Gabe are shown. This causes Tamar and Toni to sing their "Ding-a-Ling of Gold" song made in honor of Gabe and Trina's relationship.
Things get surprisingly interrupted when Towanda runs off to vomit and Toni asks if she's pregnant.
David comes through for Tamar.
Tamar visits David at his office to invite him to the birthday celebration the family is doing for her. Unfortunately, David is going to be busy with his company's app release. Tamar emphasizes that this is big deal because everyone is bringing their significant others. Meanwhile, Traci tells Kevin Sr. about the trip and he's excited about meeting the guys.
Luckily, David is able to find a way to make the trip.
The episode ends with David leaving Tamar with a smile on her face.
What are your thoughts on the episode?