Cardi B and Yung Miami seem to have had it up to here with the shade they receive on social media over the use of writers.
This time, as the ladies got ready to take the stage this past weekend during Summer Jam, Cardi and Caresha clapped back at perceived shade from fellow rapper Asian Doll.
On June 1st, Asian Doll posted the following tweet, @'ing Megan Thee Stallion (who also performed at Summer Jam).
We be writing our s***
While Megan was @'d by Asian Doll, she decided to stay above the fray. Meg's cool with Cardi and Caresha and praised them on social media and on songs.
So, it's no surprise when Meg posted to her IG story that she's staying out of any shade thrown.
However, many critics of City Girls and Cardi B did not. And apparently, Yung Miami had enough if it.
She responded to the shade on her Instagram account.
Check out the clap back below.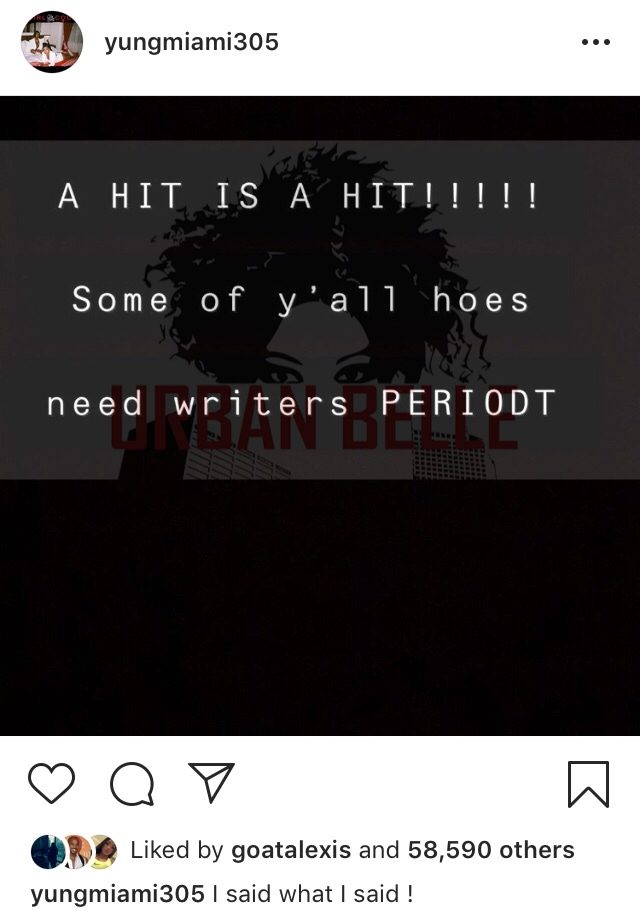 Not to be outdone, Cardi B responded to everything on Sunday while on Instagram Live.
With over 30,000 people watching, Cardi doubled down on what Yung Miami said. In fact, Cardi said that the same ones throwing the shade on social media were the same ones reciting the words to "Act Up" in the club or at their concerts.
Check out the post below.
#CardiB goes live and speaks on ghostwriting and more! ?? @iamcardib pic.twitter.com/ihmiIm2A5X

— WORLDSTARHIPHOP (@WORLDSTAR) June 3, 2019