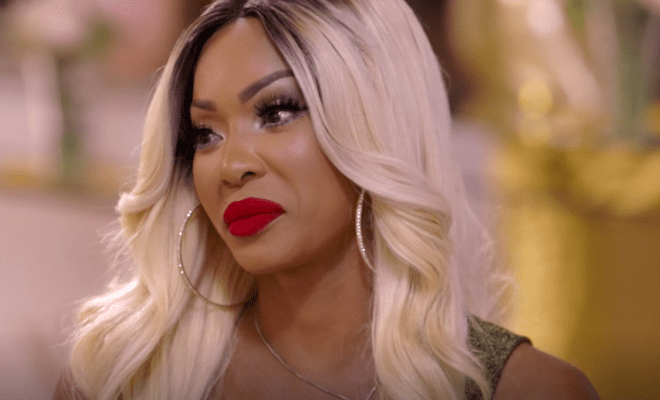 There's drama at Emani's birthday party.
Joc and Kirk catch up.
The two men talk in Kirk and Rasheeda's future lounge. Kirk is there cleaning things up.
Joe needs to vent now that Kendra moved out and lives in a hotel.
Minutes later, Scrappy joins them.
Meanwhile, Rasheeda is planning a mother and daughter event. Kirk's ex, Erica, Karlie and Rasheeda's mother are there to discuss the details.
Erica tells them Bambi's mom Cece started some problems with Erica's mom Mignon.
Cece started the drama.
According to Erica, Cece said, "Here I go," to Mignon and Momma Dee when she saw them. She was trying to start a confrontation.
So Erica then confronted Cece and told her to chill out to keep things peaceful. Scrappy got upset and he then went off on Erica telling her she can't talk to Cece.
Scrappy tells his side and says that all the women were acting immature.
The drama led to Emani crying at her own birthday party.
Joc then tells them about what Karlie has been saying about him. He blames her and his baby mommas for Kendra being done with him.
He says none of the rumors are true.
At this point, he feels like people don't want him to be happy.
Karlie tells the women that she's still having drama with Mo. So the mother and daughter event will be good for her. But she doesn't want Pooh there. Rasheeda says it should be fine because she doubts Pooh would start drama at that kind of event.
A frustrated Joc snaps.
Joc calls a meeting with his baby mommas, Shekinah, Sharonda, and Karlie.
It comes out that Sharonda was the one who said Joc has been messing around with the stylists.
Joc goes off on his baby mommas and Sharonda. Eventually, he gets so angry that he starts breaking some of the salon equipment. This startles the women.
He demands everyone leaves the shop and he tells Sharonda he's shutting the shop down. Shekinah ends up slipping and falling amid all the chaos.
Tokyo's mom is in town.
She's going to attend Rasheeda's event and Tokyo shows her mom her new place.
They discuss Tokyo struggling to deal with her grandmother's death.
She also struggles with the fact that her biological father isn't in her life. Her mother tells her that her biological father loves her but he had to move to Africa. He wasn't able to move back to the states.
Scrappy confronts Momma Dee.
He holds her responsible for what happened at the party.
But Momma Dee says that it was Bambi's mother Cece who came for her and Erica's mom Mignon first.
However, Scrappy says that they all handled it wrong. He feels all the women should have been able to hash things out.
Scrappy also feels like none of the women have been looking out for him since he got into a car crash.
"Everybody care about what they care about." – Scrappy
He storms off.
Erica is heading to the hospital to give birth.
Emani comes with her for the big moment.
Karlie catches her daughter Jasmine up on some things.
While Jasmine's at home, Karlie tells her that she's taking a break from Mo.
Jasmine says she's taking a break from school. It's been hard because people have been coming up to her about the rumors Pooh has been spreading.
Karlie tells her to never put her life on hold because of what people say. Plus, she plans on handing Pooh. She's convinced Pooh was never her real friend.
"I got a surprise for her." – Karlie
Meanwhile, Pooh tells her daughter that Karlie is jealous of her life.
Erica is back at home after delivering twins.
The babies are still at the hospital and she's hoping doctors can get the healthy so they can come home soon.
Emani and Mignon are there to support Erica after a 13-hour delivery.
Joc goes by Kendra's office.
Kendra is in the middle of a meeting but walks out to talk to Joc briefly.
He tells her he doesn't want to be without her.
Kendra says he broke her heart. She tells him that he doesn't hear any lies about her. So she just wants her time to think about things. In the meantime, she doesn't want Joc coming around her office.
Pooh and Karlie's daughters clash.
It's the day of Rasheeda's Mother and Daughter dinner.
When Karlie takes the mic to talk about her daughter, she says Jasmine quit school because of the rumors Pooh put out.
She took a lie detector test to prove Pooh has been lying.
As she holds the results in her hands, Jasmine takes off her shoes and tries to run up on Pooh and her daughter.
Pooh and her daughter are ready, so security has to restrain everyone.
As Pooh and her daughter are escorted out of the event, Pooh's daughter taunts Jasmine and tells her it only takes four years to graduate college, not seven.
What are your thoughts on the episode?
It seems like some real ish went down at Emani's birthday party…who's to blame tho? #LHHATL pic.twitter.com/BeddRXnpxt

— Love & Hip Hop (@loveandhiphop) July 9, 2019
I mean… the bright side is at least they won't have to bicker anymore… #LHHATL pic.twitter.com/ganHKNhDlO

— Love & Hip Hop (@loveandhiphop) July 9, 2019
MENTAL HEALTH IS IMPORTANT YA'LL ?️ #LHHATL @Tokyoxvanity pic.twitter.com/IWWisVLGEs

— Love & Hip Hop (@loveandhiphop) July 9, 2019
When your mom is reality TV royalty, it doesn't always come with its perks! #LHHATL pic.twitter.com/HDmWpArxrh

— Love & Hip Hop (@loveandhiphop) July 9, 2019