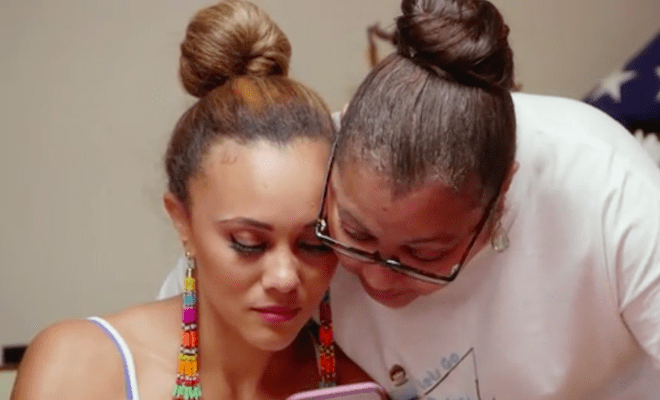 Dorothy and Candiace struggle to mend things.
Candiace and her mother try to talk out what they have to do to fix their relationship.
One thing Candiace wants her mother to do is to stop giving her so much advice.
She gets irritated when Dorothy tells her that she doesn't really know how to talk to people.
Although Dorothy says she will stop being shady, Candiace doesn't believe she can change.
Gizelle tries to get to the bottom of things.
Ashley is back at the restaurant.
She says Michael's legal problems have made them closer.
Minutes later, Gizelle stops by.
She tells Gizelle that she and Michael are doing it twice a day and still trying to get pregnant.
They then talk about the accusations against Michael.
Gizelle asks Ashley if he really groped a cameraman.
Ashley says Michael wouldn't grope someone he doesn't know like that.
Gizelle says that she doesn't think Michael should be touching anyone when he's married.
"So you're okay with it?" – Gizelle
Ashley continues to stress she can't say too much for legal reasons.
Chris and Monique talk.
They are at the doctor's office with the kids to get a 3D sonogram.
Chris tells Monique she needs to stay out of Candiace's and Ashley's drama because she's pregnant. And he doesn't want her to have complications when she recently had a miscarriage.
Minutes later, Karen and Candiace show up.
Monique says she is glad she accepted the olive branch.
They talk about the blowup.
Monique says they texted and made up after everything happened. But Monique really misses the old Candiace.
Candiace says her issues with her mother have always been there but became worse after the wedding.
But she doesn't want to blame things on her mother.
Regardless, Candiace and Monique shed some tears and hug it out.
Gizelle spends time with her daughters.
They pick some apples and have some ice cream.
Her daughters accuse her of not spending enough time with them and showing favoritism.
Gizelle hears them out and says she's going to do better.
She realizes that she's going to have to improve balancing her personal life and career.
Juan wants another kid.
Robyn tells her hairstylist that he wants a baby girl.
She says that he wasn't really there when the boys were kids.
But she's not trying to have another baby until they remarry.
Ashley sees her therapist.
She tells her about the accusations about Michael.
Ashley wants to put up a brave front because she doesn't want to ever be weak.
But the accusations are upsetting to her.
She also admits that she looks at Michael as a paternal figure since he dad left her when she was little.
Her therapist points out that Ashley feels like she has to do the right things so Michael won't leave her like her dad did.
She wants Ashley to understand that Michael is her husband and not her father.
Gizelle takes her daughter Angel out to lunch.
Angel explains that she feels like her twin and older sister get more attention from Gizelle.
Gizelle says that's not true but she knows she can worry about Angel a lot less because she's such a focused go getter.
But she will start checking in on her more.
So they are going to start having Angel and Mommy projects.
It's time for Ashley to handle her daddy issues.
Ashley goes by her mom's Sheila place.
They discuss Ashley's father.
Sheila says he acted like he wanted to be a dad but then switched up and left.
Ashley tried to reach out to him on Facebook but he blocked her.
She takes Sheila's phone and looks through his pictures on Facebook.
Ashley then breaks down crying when she sees he has relationships with his other kids.
Although Michael doesn't think this is a good idea, Ashley says she wants to locate him.
Chris spills the tea.
Monique, Karen, Candiace and their husbands go out to dinner.
They talk about Ashley and Michael.
Chris says he was called as a potential witness but he didn't see Michael grab the cameraman.
Candiace is convinced there's footage somewhere that proves Michael did it. And it's only a matter of time before it comes out.
What are your thoughts on the episode?
View this post on Instagram