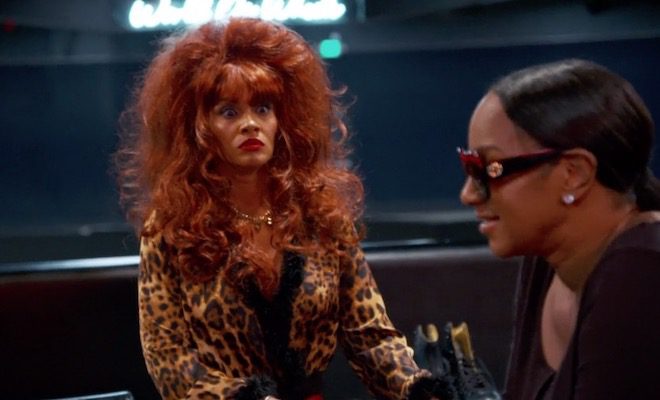 Malaysia buys a new home.
The episode begins with Kristen and Malaysia having family time with their children. Malaysia is planting roots in Atlanta by purchasing a house. So Malaysia's in a good place. She's happy to hear of Kristen's plan of throwing a 90's themed skate party.
CeCe isn't invited. Kristen still feels a kind of way about CeCe and the family drama.
Meanwhile, Jennifer's hanging with Jackie and OG, recapping their trip to San Diego. OG vents about CeCe and begins to question her relationship with her. OG now feels as if CeCe says things behind her back and wants to talk to her about this.
Surprisingly, Jackie tells Jennifer that she's hearing from people that Jennifer's talking poorly about children again. This time, she's hearing rumors Jennifer's talking poorly about Malaysia children. Jennifer denies saying anything about Malaysia's kids.
As this happens, Byron and CeCe are having a good time reading Jackie's s*x book.
More drama's revealed involving CeCe and Kristen.
Things turn negative when CeCe tells Byron about old text messages involving Kristen and CeCe. Byron wants to know why CeCe wants to bring up something that happened two years ago. But CeCe's main concern is how Kristen and Thomas feel about Byron.
Jackie and Evelyn spill some tea. 
The next day, Jackie invites Evelyn and Feby to a pole dancing class. Of course, Evelyn takes shots at OG, specifically at how she believes OG's toes were hanging over her heels in an earlier episode. Evelyn will now call OG "Toe-G."
Next, Feby tells them how CeCe and Tami supported her at her showcase in LA. Things turn negative when Feby and Evelyn talk poorly about Tami. First, Feby brings up Tami, critical of her rap abilities. She says Tami needed her daughter to help with her raps because she raps "old school." And she doesn't "got it" anymore. Next, Evelyn brings up how Jennifer said Tami's credit card was declined at a stylist's shop.
Jackie then brings up how someone in Atlanta told her that Jennifer's spreading rumors about Malaysia and her children. Evelyn wants to call this person for evidence. Jackie agrees to give Evelyn his number but warns her Malaysia will be upset.
Evelyn calls and he picks up. She's able to have a conversation with Jackie's Atlanta associate Anthony. When Antony screams in the phone, Evelyn gets suspicious. He tells Evelyn he's a huge fan.
Anthony claims Malaysia got kicked out of her house and can't afford to live where she's living and is a bad mother to her kids.
Anthony then tells Evelyn that Jennifer and her friend Dominique were spreading these rumors. When the call ends, they come to the conclusion that Anthony's telling the truth and they are disgusted with Jennifer.
OG gets the truth out of CeCe.
Meanwhile, CeCe's at her clinic when OG stops by to confront her about talking about the text messages. Specifically, CeCe called OG an "Ugly a** hoe."
At first, CeCe says Kristen would go as far as to spoof texts. But OG isn't hearing this. She tells CeCe she knows the texts are real. And she wants CeCe to be honest.
CeCe apologizes and OG accepts the apology.
Jackie tells the others about the rumors.
Later on, Kristen and OG hang out with Tami and Jackie. All four of them are shopping for an outfit for the skate party. Tami tells them she won't be in attendance.
Of course, Jackie tells the girls about Evelyn and her calling Anthony about rumors involving Malaysia. Jackie tells them Jennifer told this rumor to Dominique and Dominique spread the rumor.
Kristen tells Jackie not to put her in this. Jackie then tells Tami about Feby's shade regarding Tami's rapping abilities.
Next, Jackie and Chantal have mommy-daughter time taking tennis lessons. During a break, they talk about family. Jackie wonders openly about Douglas going off to college.
Feby gets caught up.
Meanwhile, Tami's working on her "Tatiana Trill" character, and works with her dialect coach to work on Tatiana's British accent.
Feby and OG stop by the lesson and Tami confronts Feby about the shade the threw. Tami didn't like the age shade but Feby says Jackie's lying about all of this.
Feby then brings up Evelyn's "Toe-G" shade. OG doesn't seem to believe it, remaining unbothered. Tami says there's no black girl magic or black excellence in their circle when Feby brings up what Jennifer said about Tami returning "juice-stained" pants.
The game of telephone continues when Jackie and OG hang out when Jackie's looking for custom skates.
OG tells Jackie that Feby's tired of Jackie being messy and she's involved with all of these rumors. Feby's hanging out with Evelyn and tells her about Tami confronting her the other day. Evelyn has questions about their girl code.
Feby brings up how she doesn't have time to beef with a senior citizen, referring to Jackie. But Jackie's ready to hurt Feby if things don't stop.
Kristen updates Malaysia.
It's the night of Kristen's party and everyone dressed up in their best 90s costume. This includes Evelyn dressed up as Peggy Bundy. When Malaysia arrives, they all take a shot to celebrate Malaysia's new home.
Of course, Kristen feels it's a good time to tell Malaysia about Jennifer's new rumor. Malaysia learns that through Jackie, Dominique and Jennifer's been talking about her kids, calling them dirty. Feby notes that Anthony didn't say anything about the kids looking dirty in a green screen interview.
Malaysia cries when she learns Jackie told other people about Jennifer's rumor. Evelyn also wants Malaysia to ask Jackie about why she's telling everyone about this.
Malaysia's family shows up to the party.
Jennifer and Dominique show up not too long after. Malaysia immediately confronts both of them. Jennifer denies ever speaking on Malaysia's kids.
Jennifer says she never heard the rumor a day in her life. Dominique also denied hearing this. Interestingly enough, Malaysia feels betrayed when Jennifer says she heard the rumor from Jackie and questions why she's always being accused of saying something nasty.
When Jackie arrives, Malaysia pulls Jackie aside and asks her about the rumors. Jackie tries to avoid this and this results in Malaysia getting in Jackie's face.
Things escalate rather quickly and people have to separate them both. Everything redlines when Jackie's friend Dion starts yelling at Malaysia.
The episode ends with two factions yelling and screaming, preparing to fight over this rumor.
What are your thoughts on the episode?
"They need Jackie Christie so let me give it to 'em" ? Is it next Wednesday yet? ? #BasketballWives pic.twitter.com/BhTINGEQcr

— Basketball Wives (@BasketballWives) August 15, 2019