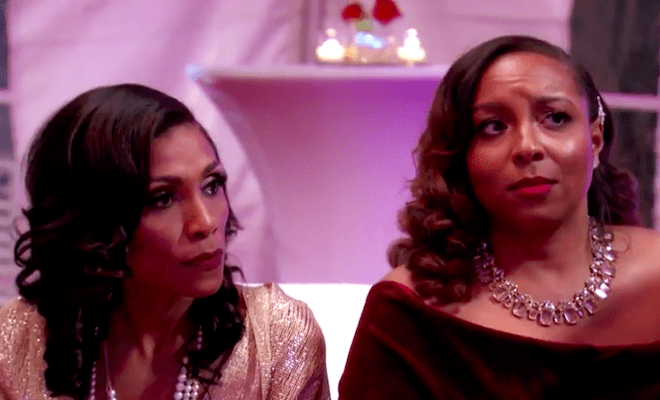 There's still tension in the group.
Heavenly and Jackie are doing their Open & Honest podcast. Simone is listening and so are the other women. Jackie says some secrets should be taken to the grave no matter what happens. She asks Heavenly if Quad should have said Mariah did drugs. Heavenly says Quad shouldn't have said that.
They then discuss husbands of friends being shady on Twitter. Apparently, Heavenly feels like Cecil shaded her on Twitter. Cecil tweeted a joke about Mariah telling Heavenly to pressure wash her house. So Heavenly went after him with tweets of her own. Simone says when Heavenly feels like she's been shaded, she always goes down to the gutter.
Heavenly and Quad go to a V*ginal Hydro Therapy center.  Now that Quad and Greg are nearly finished with their divorce process, Heavenly wants Quad to remove Greg from her v*gina. Later on, Mariah goes out to eat with Toya and Simone. They discuss the podcast. Mariah feels Jackie stated with certainty that she did drugs. And Jackie should have fact-checked before she said that on the podcast. In Mariah's opinion, Jackie is no different from Heavenly and Quad.
As for Quad, Quad stands by the accusations she made about Mariah. She is taking back nothing. And she won't because she and Mariah are no longer friends. Simone herself is feeling some type of way about Quad. And Quad also has her own feelings. Their relationship is now strained. Heavenly changes the subject and says that she's planning an event to celebrate Dr. Damon opening his own surgery center. He's been working on this for years. She's inviting all the women and hoping everyone can be cordial.
There are some updates with some of the couples. 
Jackie has a nurse practitioner over to check on Curtis. He had a recent food poisoning episode thanks to some chicken wings. But he's feeling much better. After the nurse practitioner leaves, they catch up. They have moved into a new home. The couple is going to gut it and rebuild it. So they are still deciding on the changes they want to make. But Jackie is happy they are in a much better place.
Contessa has been in Tennessee to go back to school to study Public Health. She wants to become Surgeon General one day. Scott has been taking care of the kids by himself to be supportive. Contessa sees her family a couple of days a week.
Toya and Eugene take the kids to see their new house. A lot of progress has been made on their custom house. It's been a difficult process. But Toya has been focused on getting everything she placed on her vision board.
Cecil and Simone are back living under one roof. The couple goes out to eat with their two sons. Cecil was laid off last year, but he's now a real estate agent. Now that Cecil has more free time, he's been also acting as Simone's part time Executive Assistant.
Awkward moments happen at Damon's event.
On the way to Heavenly's event at Damon's new surgical center, Simone chats it up with Cecil, her friend Buffie and Buffie's husband. She says she's not happy with Heavenly and blocked her after her Twitter beef with Cecil. Simone also hasn't spent much time with Contessa, Quad or Heavenly since the reunion.
Mariah arrives with Lake and Aydin. In a green screen interview, Heavenly says it was low for Mariah to bring Lake after she accused Quad of sleeping with Lake's husband. Meanwhile, Mariah isn't excited to see Jackie. She's still feeling some type of way about what Jackie said on the podcast. Cecil and Heavenly have a cold exchange. Heavenly says she hopes he isn't tweeting her still in her green screen interview. When Quad sees Simone, they don't speak.
Contessa slams Eugene.
Eugene says he's proud of Damon. And Damon was the first person to give him a job when he moved to Atlanta. All the women get together outside and sit. Lake and Contessa speak. Quad says nothing. It doesn't take long for Jackie to bring up the podcast. Mariah tells Jackie she's glad she knows who Jackie really is as a person to repeat the accusations about her as facts. In a green screen interview, Jackie says she just repeated what was already said.
Simone brings up her beef with Heavenly. When Heavenly says it was "b*tch sh*t" for Cecil to tweet about her, Contessa says that if the husbands are going to do this, she can call them b*tches. Mariah then says Scott has already done just that when he clashed with Simone. Toya agrees and says Eugene would never fight with b*tches. Contessa gets angry and says that Eugene is "literally a big a*s b*tch."
Quad calms Contessa down. And Contessa says that Toya must be unhappy with Eugene to be coming fo Scott all the time. Toya remains calm, even after Quad escorts Contessa away. But Toya says she likes to sit back and let Contessa show her true colors. When she tells Eugene what Contessa said, he laughs.
What are your thoughts on the episode?
View this post on Instagram
View this post on Instagram
View this post on Instagram
View this post on Instagram