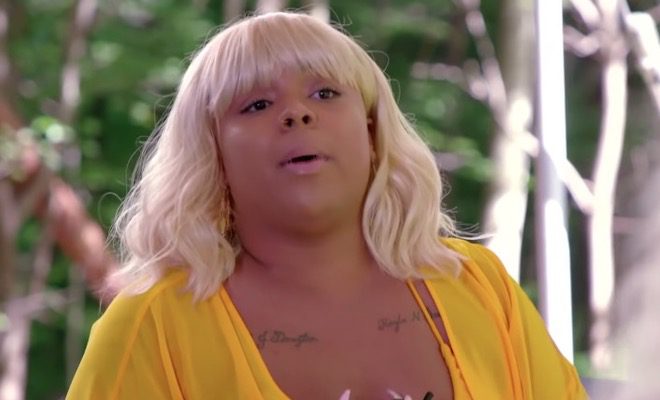 Ja Rule's throwing Jeff a birthday party.
Brittney, Jeff, and JJ are excited about their pool party but Ja Rule's even more hyped. They're all celebrating Jeff's graduation. Unfortunately for Brittney and Jeff, Ja set some house rules which include no s*x in or around the pool or house.
Ryan's getting ready for the pool party when JoJo calls. JoJo lets Ryan know Vina's going to show up and Ryan tells him they're good. Despite their previous argument, Ryan's still calling her family. He also tells JoJo Madina isn't managing him anymore. Fat Joe calls next, but Ryan ignores the call.
Da'Zyna and Quantizing are the first ones to show up as Ja Rule reminds Jeff not to have the music too loud because their neighbor down the hill likes to call the police on him. The rest of the cast shows up and everyone is having a good time. Ja Rule is also playing the enforcer chaperone keeping his kids' guests in line.
Ja Rule's neighbor calls the police on him.
Things get tense when the police come by to disturb the party. Ja Rule already knows who called and calls this a declaration of war. Ja Rule works his charm with the officer and things go smoothly during this interaction. The party goes on with food trucks and drinks galore. Madina and Vina arrive and they're talking. They notice Quan and they bring him over in an effort to recruit him for management. They're surprised when Quan tells them he doesn't have a website bio set up for his rap career. Madina tells Quan Da'Zyna needs to do a better job with him.
Madina's blunt tone rubs Quan the wrong way. Da'Zyna notices what's going on and comes over. When Madina tells Da'Zyna she and Quan need to get it together, this causes an argument. Vina pulls Quan away before things go overboard. When they leave, Da'Zyna and Madina still go back and forth. Things escalate even more when Madina tells Da'Zyna to check her resumé. JoJo overhears this and he knows it's time to go.
Da'Zyna and Kushy have a heated argument.
Da'Zyana throws shade of her own when Madina throws age shade, saying she's old enough to be her grandmother. Luckily, Da'Zyna walks away before things escalate further.
After the commotion, Ryan shows up and he immediately notices Vina. He notes that she looks good but the vibe just isn't there. Vina notices how Ryan didn't say hello to most of the cast and producers at the party. She then lists in her interview the reasons why she doesn't mess with him.
Meanwhile, Angie, Brittney, and Siaani are talking about the tour and how Charli's trying to get her a DJ set. However, Siaani isn't too confident in her DJ abilities. After she failed her audition for Kid Capri, she's not feeling Charli as her manager. Da'Zyna comes over to tell them how she got into an argument with Madina. Siaani hears this and she now feels some type of way.
Charli and Siaani are irritated.
When Ja Rule toasts Jeff, Madina's with her crew and throwing shade about Da'Zyna. He then has Jeff play his song "F*** is Up." Ja Rule is using the moment to really anger his neighbor who called the cops on him. Later on, Charli came by and Siaani tells her about Madina's argument with Da'Zyna. This also makes Charli feel some type of way with Madina. Charli tells Siaani not to get involved with Da'Zyna's beef with Madina.
Madina notices Charli with Siaani and Madina goes over to figure out why Charli hasn't been supportive of Siaani's career. Charli couldn't care less about what Madina thinks. Their conversation gets disrespectful quickly. Siaani brings up her audition with Kid Capri and Madina calls it a total disaster.
Charli doesn't appreciate Madina's attitude but Madina stands her ground in her approach. But overall, their talk goes well until Madina says she had no idea Charli was a rapper. Things get worse when Madina tells them she doesn't need a crazed mom coming to Siaani's gigs. The episode ends when Siaani walks off out of anger.
What are your thoughts on the episode?