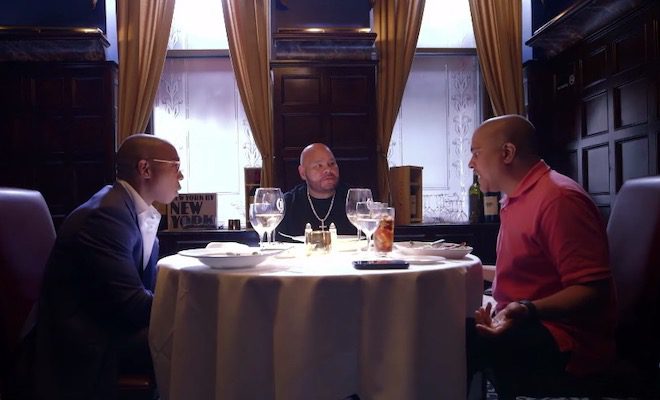 Things almost get physical between Da'Zyna, Vina and Madina.
Tempers flare with Kushy getting into it with Madina and Vina. Vina's furious with Kushy because she believed Kushy was going to apologize to her aunt Madina. Before things get physical, security separates them. With Quan and Will, Kushy vents about Madina and Vina. Will decides he's going to stop pursuing Madina, saying family is first.
Meanwhile, Vina goes off about what just happened. Vina's done and Madina calls Kushy a bum b****. Eventually, they pull off once police drive by.
The next day, Fat Joe meets with Irv Gotti. Fat Joe calls the way he's treating Ryan's career, tough love. In fact, he said he's trying to get Ryan set up for life outside Hip Hop. Ja Rule joins them and they bring up the Murder Inc. reunion. Irv says he doesn't regret the relationship he had with Ashanti. He says they can't do the tour without her.
Da'Zyna and Vina get their fathers involved.
After the blowup between Da'Zyna, Madina , and Vina, Da'Zyna and Vina get their fathers involved. First, Da'Zyna has her brothers and Flavor Flav out bowling. As this goes on, Madina and Vina drop their perspective of what happened to Kid Kapri. Both Flavor and Kid are surprised. Flavor Flav tells Da'Zyna to stay above it. However, Kid Kapri wants to talk to Flavor Flav about this.
As this goes on, Lil Mama's in the studio with her family. Lil Mama feels honored when her latest track being worked on reminds them of their mom. Things get deep when Arnstar brings up his biological father Kippy D who was a dancer in the Rock Steady crew. Unfortunately, his father was shot and he passed away when their mom was pregnant with Arnstar. Lil Mama's father Captain helped raised Arnstar and Arnstar is appreciative of this.
Flavor Flav and Kid Kapri keep the peace.
While out shopping with her daughters, Charli Baltimore understands Siaani's frustration with Madina. Siaani feels Madina needs to be called out but Charli wants her to just focus on her career. Meanwhile, Flavor Flav stops by Kid Kapri's house to talk about Kushy's altercation with Madina and Vina. Kid Kapri doesn't appreciate Kushy telling Madina to "suck her d**k."
Flavor Flav doesn't want their daughters wasting time with this frivolous beef and hopes they can become as close as he and Kid Kapri. But unfortunately for Madina and Vina, they found themselves involved in another confrontation. It begins at a picnic hosted by Lil Mama, Arnstar and captain. Vina's venting to Arnstar about her confrontation with Da'Zyna and Madina's last episode.
Lil Mama's father Captain is furious with Madina.
Siaani arrives with Brittney and Jeffrey and she's ready to DJ at the picnic. While she's rocking the picnic, Madina shows up. While Lil Mama's guests having a good time and vibing, Madina says Siaani should've never agreed to DJ at a small event. When Siaani prepares to leave, she didn't say anything to Madina and Madina's confused. So, Madina approaches Siaani but Siaani isn't in a mood to talk.
As Madina and Siaani have their back and forth, Lil Mama's father sees what's going on. Vina sees it as well. Captain calls Lil Mama over to see what's going on. Captain and Lil Mama want to keep their event drama free and want them to squash everything. Siaani walks away after telling Madina she doesn't want her to manage her anymore.
At this point, Captain comes over to Madina and begins to spazz out. He felt Madina should've never approached Siaani the way she did. Madina feels threatened and the episode ends with chaos.
What are your thoughts about the episode?