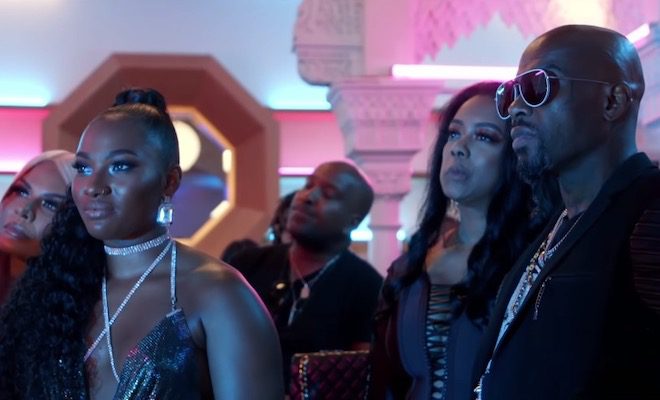 Romeo is home.
Romeo's home from filming. He's back and he's focused on starting new chapters and doesn't want to speak about Angela. To honor his new spirit and his spiritual awakening, he's getting new tattoos. While in the tattoo chair, Egypt calls to invite him to her engagement party. The engagement news shocks Romeo.
She brings up that Angela's going to be there and Romeo's unbothered.
Meanwhile, Vanessa's doing a press photoshoot for her show "Monogamy." Her Co-Star Blue is also in the press shoot and Vanessa wants to introduce Angela to him. Angela suspects Vanessa's trying to hook Blue up with her. She tells Vanessa that Blue's a nice guy but she isn't interested.
They then talk about Egypt's engagement party and how Romeo may show up. Angela wants zero drama and Vanessa hates she got caught up in the middle of their beef.
Pepa learns about Sam's shocking secret.
Next, Egypt and Sam talk about the upcoming party with Pepa. They go over the engagement guest list. Egypt's worried about Briana and Pepa getting into it, Angela and Romeo and whether or not Tee Tee's showing up. Then Sam brings up how his speech will bring up his wild lifestyle past, and how he experimented. This surprises Pepa with the vulnerability. However, Pepa says it was brave to even tell her and she still supports them. Sam also brings up that Briana and Tee Tee would try to use this against him.
Pepa warns Sam it may not be best to reveal the secret at the party, in front of Treach.
JoJo and Tanice vent to their parents.
It's four days before the wedding and JoJo's not sure he and Tanice will even make it. Tanice's mom also had oral surgery and may not be healed in time for the wedding. This adds even more stress for Tanice, who hasn't spoken to JoJo since their argument. Rev Run visits JoJo during his meeting and JoJo tells Rev about their blowup. Tanice also tells her mom about the argument.
Rev Run tells JoJo he needs to listen to Tanice and compromise. JoJo pushes back, telling Rev that if she can't understand what he does for a living, they can't do this. Tanice feels the same way, which surprises her family.
Meanwhile, Lil Twist and Briana hang out and Briana tells him about her time with Troy's friend Chanel. Briana dishes about all she learned about Sam's past and how she believes it all. Twist jokes and says Egypt should've let him hit. Briana tells him about the engagement party and how she wants to deliver the news to Egypt. Twist volunteers to escort Briana to the party.
Sam open's up at the Engagement party.
It's the night of the engagement party. Egypt and Sam's friends and family show up. Tyran learns Sam has a surprise and is nervous at how Treach will handle it. Treach shows up with his wife and greets Sam. As the night goes on, the rest of the cast show up including Angela and Vanessa. Romeo also shows up with his large entourage. Romeo does his best to ignore Angela.
Angela's trying to do the same thing, but Vanessa isn't going to let that happen. Vanessa pulls Romeo aside to talk about him and Angela, but Romeo says that chapter closed. He starts shutting Vanessa down, saying it isn't a big deal. Master P steps in and says life's too short for all the B.S. Vanessa reports back what happened to Angela. At this point, Romeo's getting ready to leave and Angela notices. As they're leaving, Egypt and Pepa finally show up.
Twist and Briana show up finally just in time for Sam to give his speech. Troy also shows up. Pepa's prepared to have security escort them out if they cause trouble. But Sam doesn't care, he's ready to let the world know his truth.
Sam first sings his new song. In the song, there's a lyric that reveals his secret.
"I'm not straight but I'm not gay."
After the song, Sam begins his speech. Everyone's floored when Sam says he had an experience with a trans woman. Pepa's ecstatic about the speech but Treach isn't too thrilled about the news.
What are your thoughts about the episode?