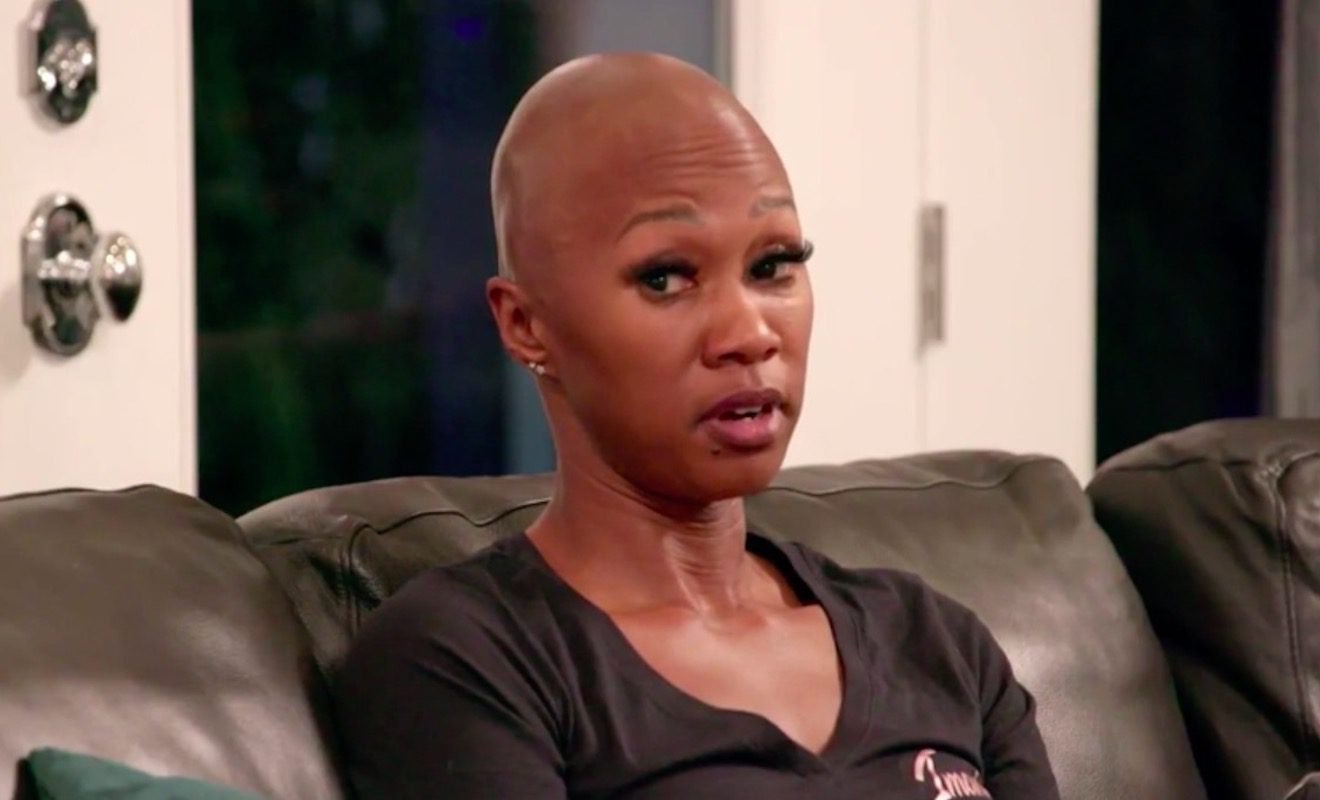 Kendra has a secret.
Kendra meets Jazmin and Shanique at the gym. Since Kendra really wants to lose weight, Jazmin has been helping her. However, Jazmin feels as if Kendra hasn't been serious. And she needs to step it up to meet her weight goals.
But Kendra says she's just been overwhelmed trying to lose the weight. She's getting busier and busier at work. Plus, she had a job interview recently and she hasn't told her husband Hobart, yet. She's ready to work full-time and she didn't want to tell him what her plans are yet since he doesn't want her working full-time at the moment.
Imani and Phil have a cold conversation.
Phil FaceTimes Imani while she's still in New Orleans to speak at a forum at her alma mater Xavier. He still doesn't know when he's going to see her again. When she asks him if he's dying for her to come to him in Oklahoma, he tells her it's "deeper than that" and he just has a lot of work he has to do on his new business. This answer appears to disappoint Imani.
Robert is on board.
Shanique gives her presentation to Robert about transitioning into becoming a Real Estate Broker. He's impressed and tells her he just wanted to see that she's really serious about this. She's going to need a year to get things in order. And he's happy to support her career change.
After speaking at the forum, Contessa, Imani, and Britten spend some time on Xavier's campus. Contessa ends up running into her ex-boyfriend from her college years. It's a little awkward, but Contessa is happy she upgraded with Scott.
Later on, they grab some beignets. And they discuss Phil. Imani says she just wants Phil to remember that he promised to spend more time with her. Now he's in another state working on his new business. It's a hurtful situation. But the women all are committed to supporting each other during trying times like rough patches in their marriages.
Depression has been a battle for Imani.
Imani is prepping to shoot photos for the book cover for her new book. In the book, she talks about mental health. And she reveals her past struggles. She has struggled with depression. And she thinks it's important for the black community to talk about mental health.
Lia takes her 15-year-old daughter Kayla to see Dr. Kendra for a gynecologist appointment. This is a scary moment for mother and daughter. Kendra isn't giving Kayla an exam, but she does want to have an honest conversation regarding body changes and what Kayla has to look forward to as she becomes a woman.
Kayla gets a little giggly and Kendra has Lia leave the room.
As for now, Kayla tells Kendra that she doesn't have a boyfriend or crush. And she has no questions about s*x.
In a green screen interview, Lia says she had Kayla before she turned 19. Back then, it wasn't easy for her. And she was in survival mode.
So she really doesn't want Kayla to go through any of that.
Ivy is ready to work on her attitude.
Britten catches up with her 9-year-old daughter Ivy about her moodiness as of late. Ivy says it's just puberty and she's going to work on it now that she's aware she's been "saucy" towards her mother and father.
Imani and Jazmin hang out. They talk about Phil and Imani tells Jazmin they don't even have phone s*x. Imani says Phil isn't really affectionate like that and she's sexual so it's a weird situation. And at this point, Imani is used to not getting any action.
Imani freaks out when Jazmin whips out a blood sugar meter after sampling some ice cream (one taste cup to be exact). She tells Imani she checked her blood sugar three times that day.
Phil and Imani's marriage could be over.
Robert has planned a birthday celebration for Shanique at a ranch and he's invited all the women. However, when Britten comes over to pick up Imani, Imani isn't dressed to go. And she reveals that she told Phil that she wants a divorce.
What are your thoughts on the episode?
View this post on Instagram
View this post on Instagram
View this post on Instagram