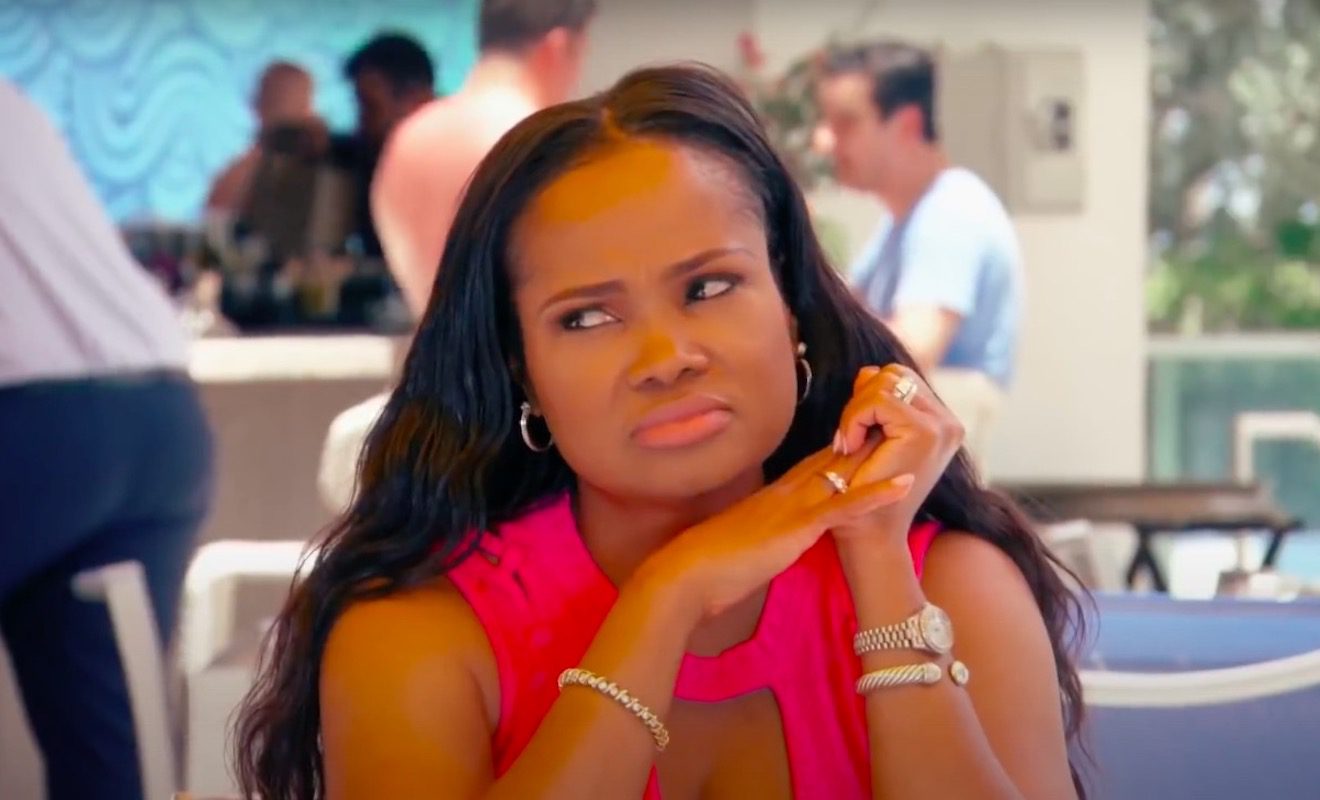 People have been discussing the cancelation of "Married to Medicine LA."
"Married to Medicine LA" star Lia Dias recently said the show was canceled. She made the revelation on social medial. And people have had a lot to say about its demise. While the ratings weren't the best, some wondered if it could have prevailed with "Real Housewives of Potomac" as a lead in.
Interestingly enough, the LA show was always compared to the original, "Married to Medicine." In fact, Dr. Imani Walker discussed this in an interview with Funky Dineva. And she said that the LA cast couldn't do things like the Atlanta cast. The issue was they didn't own their own practices. So they were always nervous that their onscreen actions could cause problems in their professional lives.
When it comes to the cancelation, Dr. Heavenly Kimes has her theories.
Dr. Heavenly Kimes recently discussed the cancelation. While chatting it up with Funky Dineva on her YouTube channel, someone asked about why the show may have failed in the comment section.
In response to the question, Heavenly said, "I think that it failed because or it may have failed, I don't know, they tried to do a different formula to an equation that's already been proven. You already know the answer to this question and now you're trying to change the answer by changing the formula. For example, and I may be talking too much, 'Married to Medicine LA,' Britten all them h*es, they thought that and they would say, 'Dr. Heavenly, y'all ratchet. We not what y'all are, we classy, we this, that and the other. We talk about baby dolls and we gon talk about nappy hair. Light-skinned, dark-skinned. We gon go deep with you.'"
She continued, "I can get deep with you. Please understand, I ain't dumb. I ain't never been dumb in my life. Y'all people don't wanna see that on reality TV. And if you wanted to see it, you wouldn't be on Bravo."
Heavenly had more to say about Bravo's audience, "Y'all come to Bravo for what? The reads, the show, the who did who…you can try to change it, you can. But don't be mad when it don't work. And it's not working."
Support of Mariah Huq is addressed.
They also discussed Mariah Huq. Days ago, NeNe Leakes defended Mariah on Instagram Live with Attorney Ben Crump. And she alleged that "Married to Medicine" was stolen from Mariah. She also said that she knows others on the show have said that Mariah sold the show. But this isn't true and none of them have even seen Mariah's paperwork. Ben Crump made similar comments.
A lot of fans of the show have said the same things. And they have been accusing the other stars of the show of not standing up for Mariah.
In response to these opinions, Heavenly said, "Y'all keep saying this girl, y'all doing the girl wrong, y'all done pushed her out of her show. Can you push Mona Scott away from her d*mn business? Or is the paperwork wrong because we not just making up stuff when we say she sold that show."
She added, "Have I seen the paperwork? No. But have y'all seen it? No."
Accusations are made.
Funky then chimed in. And he said he had a conversation with a producer who was involved with the show at its inception.
"The deal was she was offered two deals. She was offered a cast member deal and an EP deal. The cast member deal paid more upfront. And she took the cast member deal. Therefore, she was a cast member." He continued, "And she did get a credit. Now from a moral and ethical perspective, or from a feelings perspective, sure I can see how it looks messed up. I came up with this idea and now I'm no longer on it or part of it. But you were a cast member which means you were an employee, okay?"
Funky also believes likability played a part, "And going back to like versus qualified, You went over there and caused all kind of h*ll, not only with the cast but with the production people and everything else. And the people just didn't want to work with you anymore and that's just the God's honest truth. They didn't like you. Regardless of how good of TV you were. She was good TV. But those people have to work every day and be happy. And they did not like you."
Dr. Heavenly Kimes has more to say.
As for Heavenly, she once again brought up the paperwork.
"The paperwork wasn't there. Just like you said, I have the insight just like everybody does. Have we seen the paperwork? No, I have not seen the paperwork. But common sense, like we say wear a mask, common sense tells you paperwork couldn't have been right because they couldn't have done it. Can they take it from Mona Scott? No. You could sell it."
The duo discussed a lot more, including the current drama surrounding "Real Housewives of Potomac," as well as the dwindling ratings of "Real Housewives of Atlanta."