Chad's tweet upsets Evelyn.
"Basketball Wives" star Evelyn Lozada is getting a lot of backlash on social media after she responded to one of Chad Johnson's recent tweets.
In the tweet, Chad responded after a follower asked how he's able to stay so positive.
Chad wrote, "I lost my temper for once in life for 3 seconds & it cost me a lifetime's worth of work, I got it all back plus some after getting a 2nd chance & NOTHING will ever get me out of that happy space again…"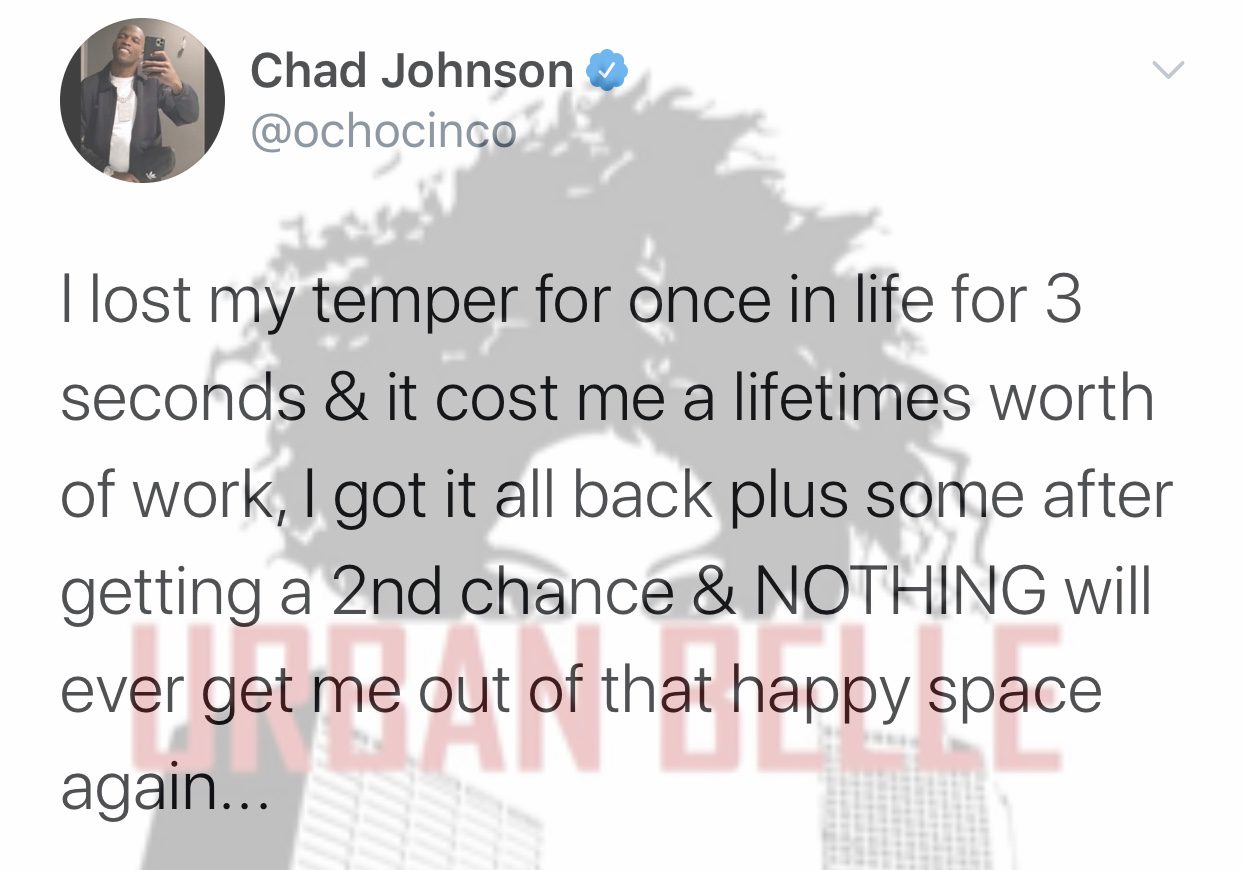 Evelyn makes more accusations.
After Evelyn found out about the tweet, she responded in a video posted to Instagram. In the caption she wrote, "I'm sorry to my kids, my family & friends, my fellow cast-members, their kids & family, the viewers & anyone else I hurt or affected with my actions. I hope & pray my message is received and that this video makes sense. I'm sorry for being so upset but this is HEAVY on my heart. #ILoveAllOfYou"
In the video, Evelyn explained why the tweet upset her. She said, "For this man to sit up there and say that he lost his temper for three seconds is infuriating to me, you know? And as much as I'm trying to heal from this situation…I've been dealing with this situation for years, you know, not only because I'm on a show, just everything is just so public so you know, as much as I'm trying to heal from this, it's messages like this, his tweets or whatever the h*ll it was that are triggers for me."
She added, "People read this on social media and then are coming at me talking about, 'Oh you made this man lose his job.' If you're going to speak the truth, I want you to speak the truth as to what the situation was, okay? It wasn't the first time, it wasn't the first time."
Evelyn apologizes for her actions on the show.
Evelyn also addressed the fact that people bring up her actions on "Basketball Wives" when they discuss what happened with Chad, "When it comes to 'Basketball Wives,' I know that people tend to connect my character on the show with what happened to him. And I understand that to a certain degree, you know. I get it. I take full responsibility, I know I'm the one on the show, I know I'm the one who hasn't been the most positive person, I know I'm the one that has made us look bad. And I'm sorry and I understand that I didn't always handle things the right way. I'm embarrassed. I am. I'm embarrassed sometimes for my family because this is a forever thing."
She also said she's a different person outside of the show, "The person that I am on 'Basketball Wives' and who I am as a mother and how I've been in my personal relationships with whether it be with Carl or Chad are two totally different things. And what happened to me that day and other days, I didn't deserve. I didn't deserve that because I have always been a good woman. I've always been a great mom, I've always been a great stepmom."
Evelyn also offered an apology, "I apologize to just the world and everybody just for not being the most positive person."
Evelyn receives backlash.
Although some people did show Evelyn some support, some were critical. They took issue with the fact that Evelyn said all of this but contacted Chad on the latest season of the show. She did so after getting into a nasty feud with OG. Not too long ago, OG and Chad even teamed up for an event.
One person wrote, "But you called him for screenshots for a show, you just said you guys moved past it. No matter what you won't let him heal and grow either."
Another wrote, "If attention seeker was a person."
And also, "Not to mention you wasn't so hurt you couldn't ask for reality TV receipts."
Check out the video below.
View this post on Instagram