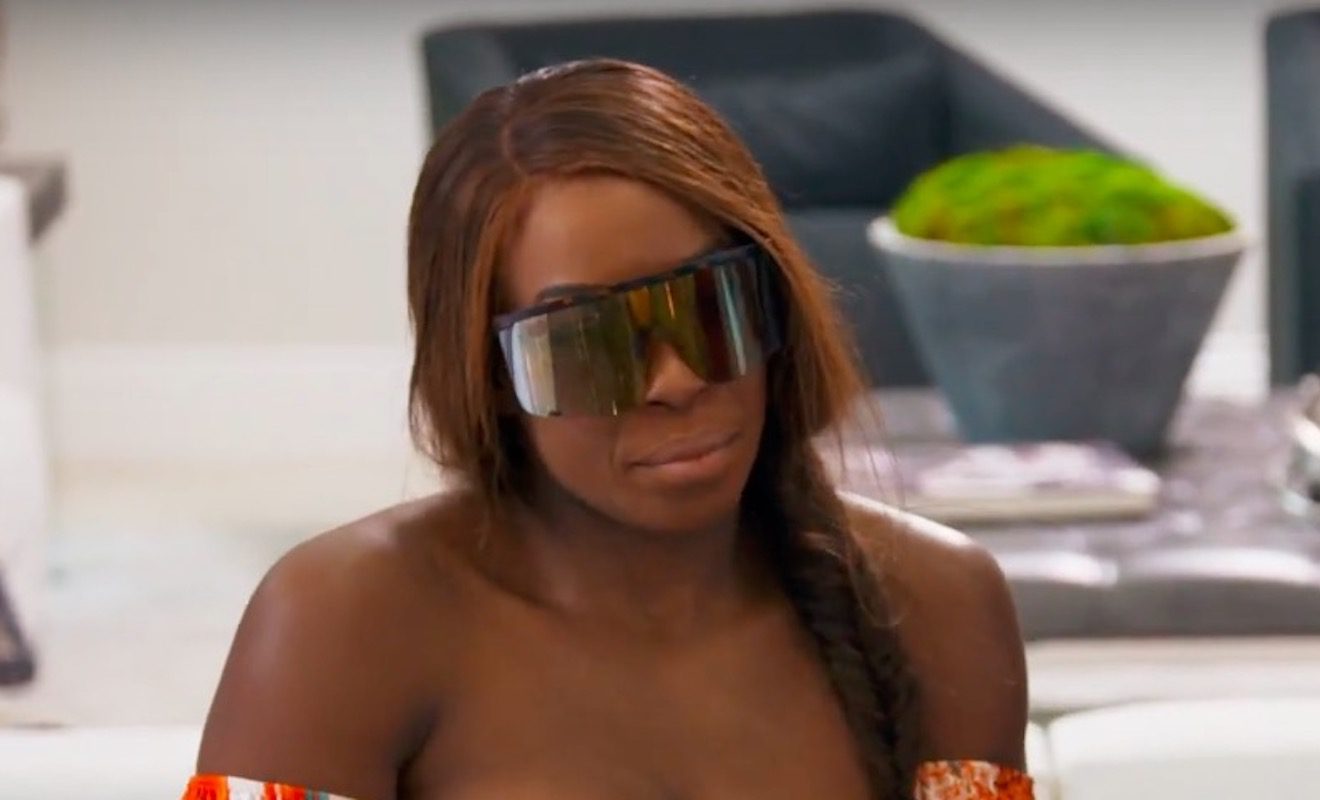 Malaysia and Jackie make up.
Jackie and Malaysia are both hurt by their fallout. As they talk about what transpired, Jackie says that she was hurt that Malaysia got up in her face at the skating rink party last season. For Malaysia, she says she knows Jackie didn't create the rumors. But it hurt that Jackie spread the rumors to the rest of the group.
So Jackie apologizes and she says that moving forward, she's going straight to Malaysia if she ever hears another rumor about her.
Malaysia says that she loves Jackie and she'd be hurt if something bad happened to her. But she needs Jackie to know that she can't hurt her like that again.
They agree to move forward and hug it out.
While they continue their conversation, the rest of the ladies get to know Nia and Noria. They give them a tour of Evelyn's mansion.
Jennifer is annoyed with OG. 
Nia tells Shaunie that she thinks OG may still be hurt by her old teacher's comment to her when she was a child.
Shaunie says that she hopes OG can be open to having that conversation with her, but the allegations OG made about her and Evelyn are so damaging. And she's never really been around OG outside of her not getting along with a few of the others. So maybe it's time for Shaunie and OG to have a conversation of "understanding." But Shaunie just needs OG to not feel like it's about her being right.
Back at Jackie's mansion, OG and Jennifer hang out. In a green screen interview, Jennifer says she's trying not to be awkward with OG after they had some tension the night before as they discussed Kristen.
But she's starting to feel like OG wants to make everything all about herself.
Nia makes a messy revelation.
When Jackie and Malaysia return to Evelyn and the others, everyone is happy to see that they made up. But Evelyn makes it clear that the same may not happen between her and OG because it's two different situations.
Noria tells the others about her husband. And Nia says that Lance Stephenson is her ex. He happens to be a former NBA player and the father of Feby's children.
This revelation shocks the others and they think that things could get messier from here.
They change the topic and the sisters discuss losing their father to Covid. Noria breaks down in tears and says the last time she spoke to their father was on Father's Day. Evelyn and the others console them.
The others wonder if they can have a breakthrough with OG.
OG and Jennifer discuss Jackie and Malaysia talking. Both agree that they aren't ready to necessarily hash things out with the others just yet.
Shaunie brings up what Noria said about OG's old teacher. Everyone agrees that it was horrible what was said to her, and Kristen says that she understands because she dealt with colorism in her own family. So she's hoping that everyone can discuss this as a group.
Malaysia takes OG's revelation to Noria and Nia to be a sign that maybe she's ready to talk to the others. It's time for a resolution.
OG has some words for Nia and Noria.
When Jackie, Noria, and Nia return to the mansion, they give a recap on everything. OG isn't happy that Nia told them about what her teacher said. She says she doesn't want the sisters speaking for her because they don't know everyone in the group yet.
In a green screen interview, Jennifer says she doesn't have time for this kind of petty stuff.
As for Noria, in a green screen interview, she says she doesn't like the tone OG used when she speaks to people at times.
After the ladies work out at Jackie's mansion, OG tells Nia and Noria to talk to her before they go back and repeat what she said to the collective. It's clear that the sisters are becoming irritated.
As Jennifer and Jackie talk, Jennifer says that she doesn't think she can stay in the house with OG anymore.
Feby reacts to Nia's arrival.
Evelyn and Shaunie call Feby via FaceTime. They update her about Nia saying that she dated Lance. Feby says that Nia is a stalker and sent her direct messages of people having s*x on Instagram and asking if it was Feby in the video. Plus, she created fake accounts to contact Feby.
Feby is convinced that Jackie is messy for bringing Nia around the group.
When Jennifer decides not to eat breakfast with the others, Jackie asks OG if something happened between her and Jennifer. OG says not that she knows of.
They then discuss the fact that Nia used to date Lance.
Jennifer finally comes to breakfast and refuses to eat or take her mask off. She says that this is best so she won't say anything that causes problems.
OG has an emotional moment.
Kristen and Malaysia prepare for their talk with OG.
Nia tells Noria that she's not feeling the fact that OG asked her about Feby and Lance. But she didn't like her and Noria telling the collective what OG said about her teacher. At this point, they are starting to think OG may be the issue.
Malaysia and Kristen head to Jackie's mansion to talk to OG.
In a green screen interview, OG says that if she doesn't get a genuine apology, she's not willing to hear anything else.
Malaysia asks OG if she did or said anything colorist to her because she doesn't want OG to feel like she's not supported.
OG says she needs a minute and then goes off to the kitchen to shed some tears. But she quickly collects herself and says she just has a lot on her plate. In a green screen interview, OG says she just feels like she always has to defend herself.
Malaysia hugs her and asks her how they move forward.
The conversation takes a turn.
OG says passing the blame can't continue and she thinks people are just trying to talk to her because they can't handle the backlash they received on social media.
In a green screen interview, Jackie says that OG's response was so disappointing because she went back to having such a hard exterior.
What are your thoughts on the episode?