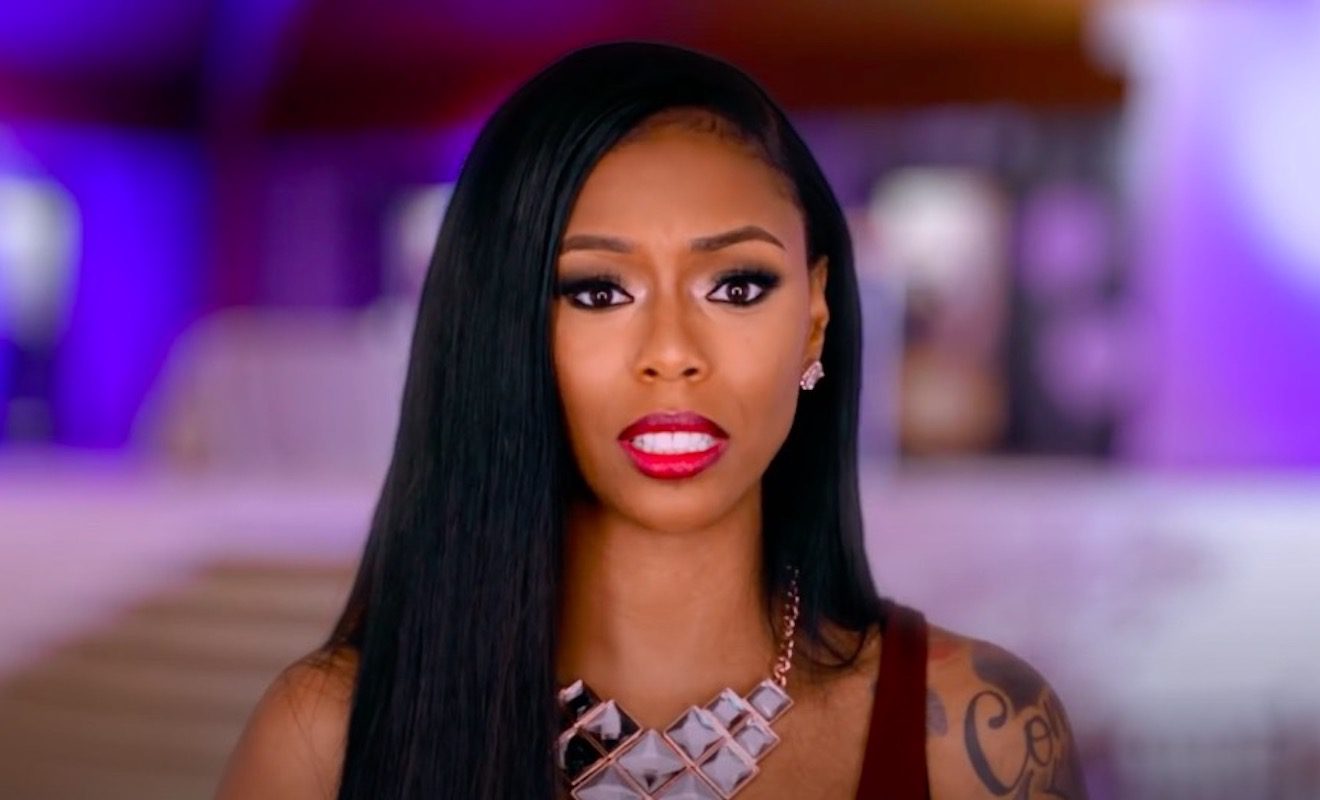 Things are moving forward for Spice.
Spice is getting ready to drop her first album. She's been signed to her label for years but there has been conflict behind the scenes. Fellow Reggae artist Shaggy was able to intervene and get the ball rolling finally for Spice. He's on her new record and so is Sean Paul. So Spice is throwing a party to celebrate her new album.
Rasheeda and Yandy catch up at Spice's party and discuss Infinity. Apparently, Infinity was so upset about what transpired that she went back to New York.
Spice is thankful to see so many of her friends in attendance and she confirms that she's found love with one of the producers of LHHATL. His name is Justin.
A visit to her father's grave puts things in perspective for Omeretta.
Omeretta visits her father's grave. She says her father died when she was just one year old. He was murdered and her mother was there. She heard gunshots and ran outside to see Omeretta's father on the ground. With all the issues Omeretta has with her mother, she can't help but think her father's death is the root of it.
Scrappy, Safaree, and BK hang out. Things are still not good between Scrappy and Bambi. He feels he's being disrespected. And Bambi isn't supportive of him focusing on his music career. Safaree is still having issues with Erica so both aren't thrilled that their wives have decided to have a joint baby shower. And Sierra is planning it.
Bambi has had enough.
Joc and Yandy attend the Ahmaud Arbery birthday celebration. Ahmaud's mother started a foundation is his honor. So she continues to do the work to make a change. Little Mendeecees attends as well. And Joc is disappointed that his son isn't there. Things are rocky between Joc and his son because he's still hanging out with the young man who caused a shootout at Joc's club.
Bambi, Erica, and Sierra have lunch. While they are talking, Bambi brings up Scrappy. She says he's been saying he wants a divorce and she's over it. So she contacted a divorce attorney. And she honestly feels like Scrappy doesn't help her enough during her pregnancy. In a green screen interview, Erica says she's surprised that things are so bad between Scrappy and Bambi.
Scrappy and Bambi have a shouting match.
Omeretta and her mother have a breakthrough. She finally gets the apology she's been wanting from her mother for years. They were able to have a productive conversation after they addressed how her father's death impacted them both. Now they can move forward mending their relationship.
Scrappy goes by Bambi's shop. She tells him she's been unhappy lately. She feels like Scrappy hasn't been helping her enough when he knows she's pregnant. Scrappy gets upset and says that she doesn't appreciate all he does for her. And he insinuates that he helped her get her shop. This causes Bambi to go off and she says that she's the one who helped Scrappy pay his bills in the past when he needed help. And she had money before him so he had nothing to do with her getting her shop.
Bambi also says Scrappy isn't a good husband anymore. He spends too much time outside of the house recording music in Miami. But he acts like a great dad by posting the kids on Instagram. After more shouting ensues between them, Scrappy storms out of the store.
Joc's son storms off.
While Spice and Justin are alone, Justin says he thinks Spice needs to clean up her image because she's in a serious relationship now. This angers Spice and she tells him he knew how she was as a dancehall artist before they got together. So she shouldn't have to change for him. This makes Justin feel like her career and fans come before him.
When Joc tries to talk things out with his son Amoni, it goes nowhere. His son feels like Joc is trying to make him out to be a bad guy on television. But Joc doesn't understand why his son would want to continue to hang around someone who put his life in danger and nearly cost Joc to lose his nightclub.
Things worsen between Safaree and Erica, and Scrappy and Bambi.
It's the day of Bambi and Erica's joint baby shower. Erica and Safaree had a fight before they got there. And Erica says that Safaree texted her, "I will forever put myself before you, so let's separate." Feeling like Erica is speaking negatively on him, Safaree tells Scrappy and Mendeecees that he's leaving to go to Miami. He refuses to stay at the baby shower when he feels the energy there is too negative.
Erica breaks down when she finds out Safaree left.
Meanwhile, Bambi and Scrappy continue to voice their frustrations with each other to their friends. Kirk and Mendeecees tell Scrappy he needs to fix his marriage. He says he took off his wedding ring after Bambi took off hers.
What are your thoughts on the episode?