Marlo Hampton has been coming for Kandi Burruss a lot as of late.
Marlo Hampton has been very critical of Kandi Burruss and Kenya Moore. However, her comments about Kandi have been causing plenty of discussions on social media. When she appeared on "Reality with The King," she told Carlos King that she didn't feel like Kandi has done enough for the Black culture. She also said that Kandi has been "coasting" on "Real Housewives of Atlanta." So her intention is to make Kandi "work for that check" since she makes more money than Marlo.
When Kandi was asked about this, it was clear that Marlo's words had upset her. Kandi pointed out all of the things she's done for the Black community over the years. This included paying college tuition for strangers. Kandi also said that she has done a lot for Marlo. She advocated for Marlo to get a peach. Plus, she was the one who secured Marlo a television show on another network. However, Marlo didn't take the opportunity seriously. And she preferred being a friend on RHOA.
Well, Kandi also reacted to Marlo's comments about her and Kenya on Twitter. On the recent episode, Marlo told Sheree Whitfield that Kenya is just a video ***. She also called Kandi a ***. And she said that Kandi had to date men under her tax bracket because she couldn't keep the more successful men interested. Sheree agreed.
Marlo Hampton responded when fans said she crossed the line.
In a tweet, Kandi wrote, "Someone is worried about my anatomy and sexual history more than my gynecologist this season #RHOA." And Marlo responded, "I feel you sis, they been doing it to me for 10+ years, let em hate #rhoa."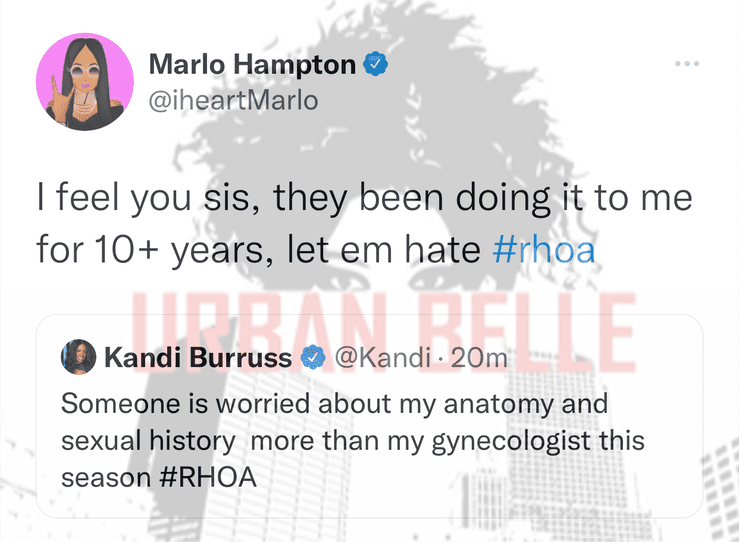 Kandi continued, "If someone shows you who they are believe them…because they talking about me more than they talking about their own stories and businesses. #RHOA"
Kenya also had something to say, "When people pretend to be your friend and kill you behind your back for no reason at all other than jealousy. #ICUandSodoestheWorld #RHOA"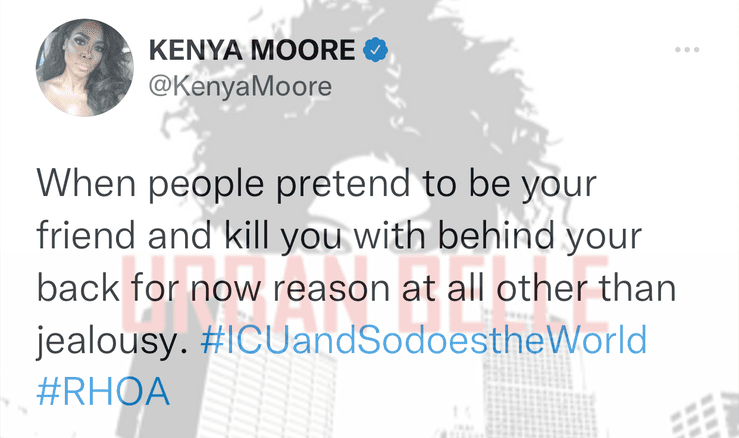 As for Kandi, she told fans to keep watching because Marlo will continue to come for her as the season progresses, "Keep watching this season because the lady with the heavy tongue keeps my name in her mouth! #RHOA"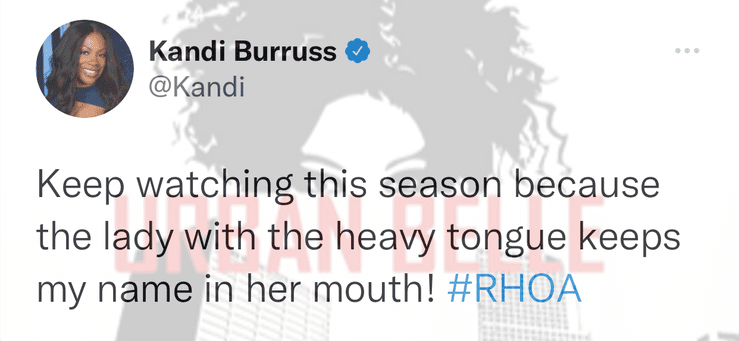 Marlo believes that she is keeping the show interesting, "Keep watching because the lady with the heavy tongue is keeping everybody storyline juicy and paychecks coming in! #rhoa"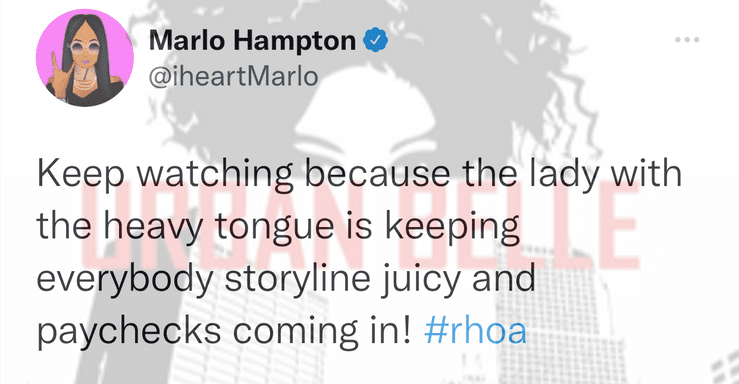 She also had something to say to those who feel she went too far by calling the other ladies ****, "Where y'all been the past 10 years when I've been called every negative name in the book except a child of God? #rhoa"