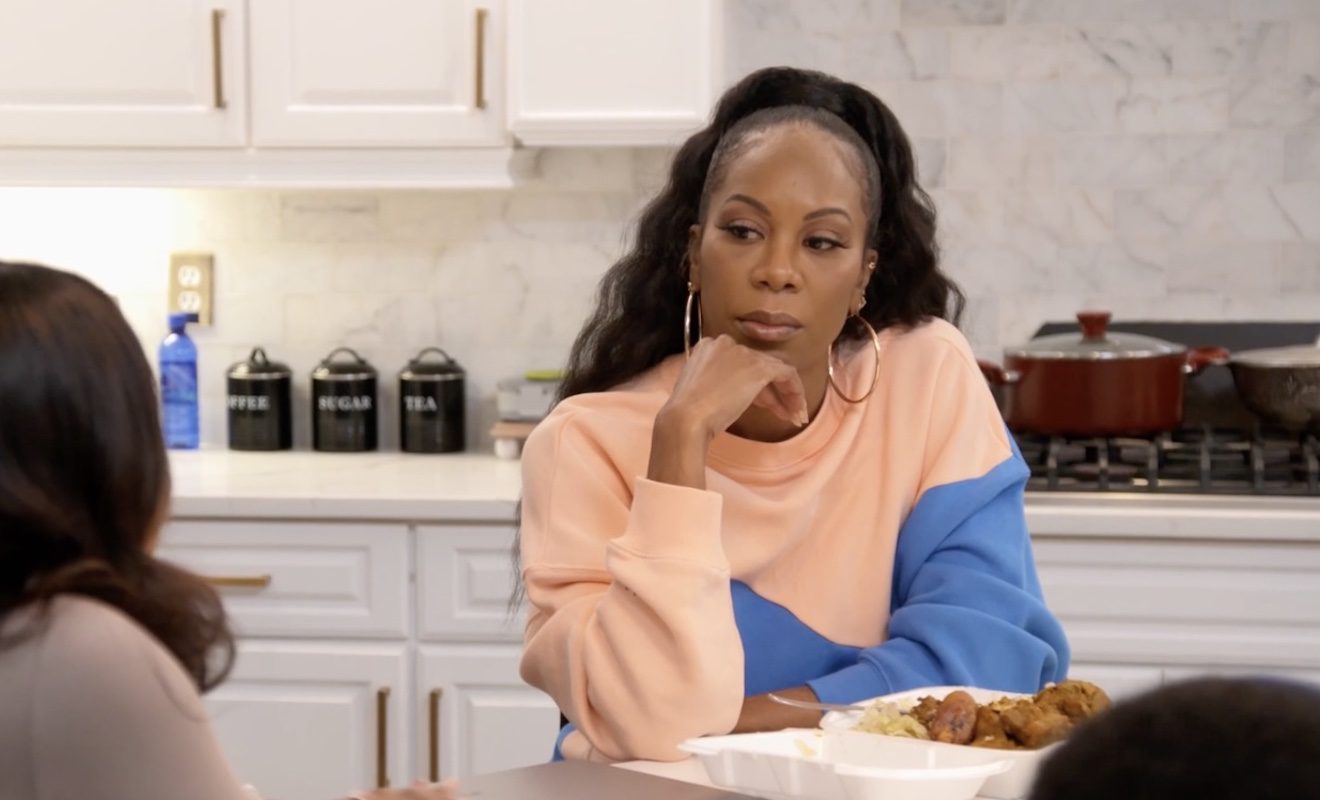 Marlo has more to say about Kandi.
The episode starts off with producers showing footage over the years of Kandi and Marlo's rocky friendship. They even show the unaired footage of when Marlo told Kandi her nephew was killed by his roommate. Kandi offers her condolences and even hugs her. In a green screen interview, Kandi says she understands how much Marlo's nieces and nephews mean to her. 
Back in the present, Marlo meets with her managers. They discuss Kandi. Marlo really thinks Drew was afraid to say too much about the Blaze incident. And it's time to hold Kandi "accountable." 
Marlo tells them Kandi should have done more when she was told that her nephew was killed. She thinks catering from Old Lady Gang would have been the appropriate thing to do. And she doesn't even recall Kandi even being sympathetic at all. 
Kandi and Marlo have a heated exchange.
Kenya FaceTimes Kandi about the things Marlo has been saying regarding her nephew's death. Kandi is furious because she feels like Marlo is wrongly trying to attach her to the situation. And she denies that the killer ever worked at any of her restaurants. This comes up again when Courtney hosts an event that brings all the women back together. 
The tension is thick between Kandi and Marlo. So Kandi doesn't waste any time and she and Drew go off to the side to talk to Marlo. Marlo denies trying to attach Kandi to her nephew's death. She says she just wanted Kandi to acknowledge it but she didn't. Kandi says Marlo told people that the killer worked at her restaurant and this isn't true. And she's just trying to use the situation to make Kandi look bad. 
As voices raises, things become very chaotic. Both women scream at each other and have to be broken up before an altercation can take place. 
Sanya thinks Marlo isn't being treated fairly.
Kandi decides it would be best for her to call it a night before she does something she can't take back. She and Kenya briefly discuss Marlo's criminal past. Drew labels Marlo as too aggressive to be around. 
Meanwhile, Sanya tells Marlo and Sheree that it's not fair that Marlo was labeled aggressive because she thinks Kandi was being aggressive as well. And she thinks Drew has been brown-nosing Kenya and Kandi. 
What are your thoughts on the episode?