Days after the season premiere of Love And Hip Hop Atlanta in which K. Michelle reveals the details of her abusive relationship with ex boyfriend Memphitz, she takes to her Twitter account to throw a little shade to the couple as they continue to deny the allegations.
By: Amanda Anderson-Niles
The internet just won't stop talking as the speculations continue on what really happened between Love And Hip Hop's K. Michelle and ex boyfriend Memphitz. Although K. Michelle claims the relationship was an abusive one at
the hands of her ex boyfriend, Memphitz and his new wife, Toya Wright, continue to hold steady to their denials of Memphitz's alleged abusive past to K. Michelle. As we recently reported, K. Michelle claims Toya's new hubby beat her down numerous times, and spent all of her deal money on wife to be Toya, while he left her with no real career in tow.
K. Michelle has now joined the ranks of other VH1 reality stars who have used the platform as a means to get back into the good graces of a mainstream audience, and rebuild their damaged careers with drama themed programming. But once she recounted the abusive relationship that left her career shattered and virtually over, immediately a magnifying glass was placed back on a scandal that took the urban gossip blogs by storm. Toya and Memphitz were only dating then when they defended their relationship and outed K. Michelle as a bitter liar, but now, newly married and celebrating their first wedding anniversary in Paris, the couple must again get on the defensive to protect the image of a marriage that most deemed damn near perfect.
When Toya took to her Twitter to once again answer the allegations that her husband Memphitz had been abusive to K. Michelle, the young singer tweeted her response shortly after: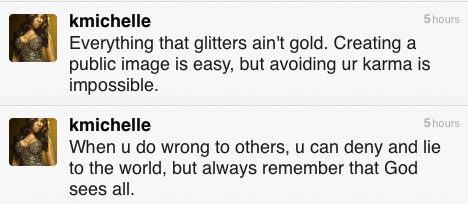 K. Michelle also exchanged some harsh words for her co-star Karlie Redd on Twitter over a re-tweet and aired out some very dirty laundry in the process, souring their relationship:
(Read from the top down)
If this is any indicator of what the rest of the season of Love And Hip Hop Atlanta will be like, I expect someone to come to blows soon.