By: Amanda Anderson-Niles
K. Michelle may be beefing with a whole lot of folks at the moment, but in her spare time, she seems to be squashing beef with others. Since K. Michelle's reality television debut on Love And Hip Hop Atlanta, she's made headlines for her beef with Karlie Redd, Rasheeda, and the most recent beef with Toya Wright over K. Michelle's ex Memphitz. While many are still speculating that K. Michelle came to blows with Rasheeda at the Reunion, she's 5 steps away from coming to blows with Toya as well. But that hasn't stopped K. Michelle from making amends with people she still has the greatest respect and admiration for. So it should come as no surprise that she has finally buried the hatchet with fellow R&B singer Keyshia Cole.
Last year, Keyshia Cole and K. Michelle made their "beef" public on Twitter due to some rather subliminal tweets initiated by K. Michelle. Apparently, K. got wind of some nasty things she heard Keyshia Cole was saying about her due to the comparisons everyone was making between the two:
Keyshia's response:
I guess the fresh beef with Toya encouraged K. Michelle to squash the one she already had with Keyshia Cole that most always considered petty in the first place. K. Michelle took to her Twitter account to reveal that she had an uplifting and fulfilling conversation with Keyshia Cole and it seems like the two are finally on good terms: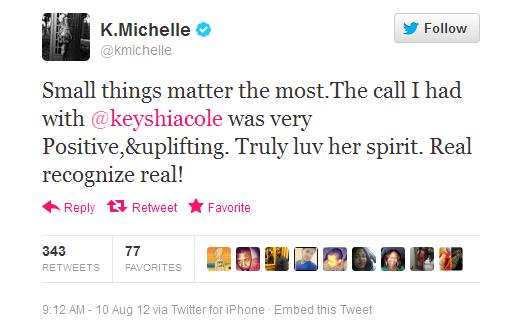 Good for them.