By: Amanda Anderson-Niles
K. Michelle and Rasheeda might have started a full fledge war with their internet beef that intensified last night after Rasheeda got word of what K. Michelle said in her latest interview on the Bitch I Said It radio show. As we previously reported, Rasheeda and K. Michelle have been at odds since the end of taping, but things have gotten worse between the two since they keep taking shots at one another in their interviews. This even led some to believe the two got into a fight at the reunion, but Rasheeda denied fighting K. Michelle at the taping. Regardless, the beef between K. Michelle and Rasheeda has become pretty epic. with Memphitz's wife Toya and even reality star Kandi Burruss getting thrown into the mix. Specifically, Toya and K. Michelle have been beefing on Twitter since K. Michelle revealed that Memphitz allegedly abused her on the first episode of Love And Hip Hop Atlanta.
In the midst of the Twitter and Instagram war that popped off last night between K. Michelle, Rasheeda, and Toya; there was even more drama popping of between some of K. Michelle's friends and random Rasheeda supporters once they felt enough was enough. I guess one of K. Michelle's closest friends could sit back no longer and watch K. Michelle be accused of lying and "faking" her story of being a victim of domestic violence at the hands of Memphitz. She went after Rasheeda last night and dropped a major bomb about the Atlanta rapper. Turns out, she's claiming Rasheeda pursued her husband Kirk while he was married to another woman!
She even suggested that she knows both Memphitz and K. Michelle, and even claims that she knows for a fact that he abused K. Michelle and that he hasn't been right in the head since his father was murdered.
Peep the tweets: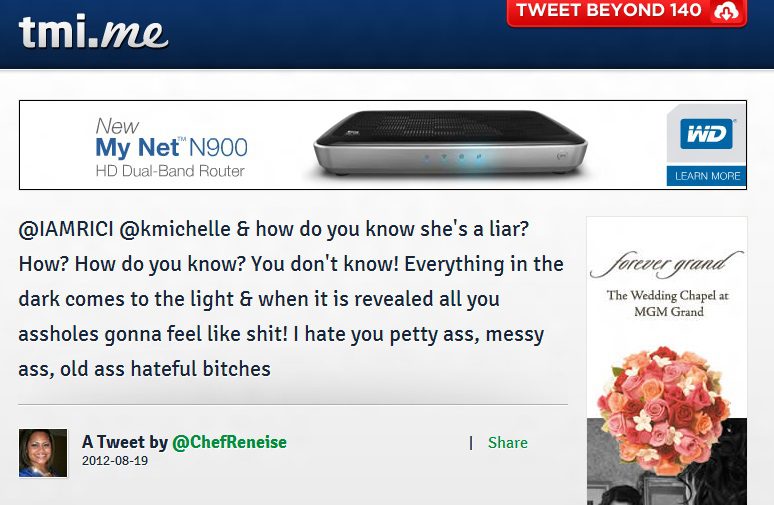 Damn! Of course we don't know how true any of this is, but we're just in shock of how crazy this whole situation has gotten. Regardless, both sides claim they have proof that the other is lying, with Toya even suggesting last night that she is thinking about dropping some kind of audio to expose K. Michelle as a liar. Peep her tweet which eventually got deleted: